2019 Past Exhibitions
Glimmers of the Radiant Real
Katie Bethune-Leamen, Broadbent Sisters, Daniel Griffin Hunt, Sanaz Mazinani, Sandy Plotnikoff, Mary Pratt, Cole Swanson, Catherine Telford-Keogh, Xiaojing Yan
Organized and circulated by The Robert McLaughlin Gallery, in collaboration with the Art Gallery of Peterborough and McIntosh Gallery. Curated by Ruth Jones and Sam Mogelonsky  
January 20 – March 16, 2019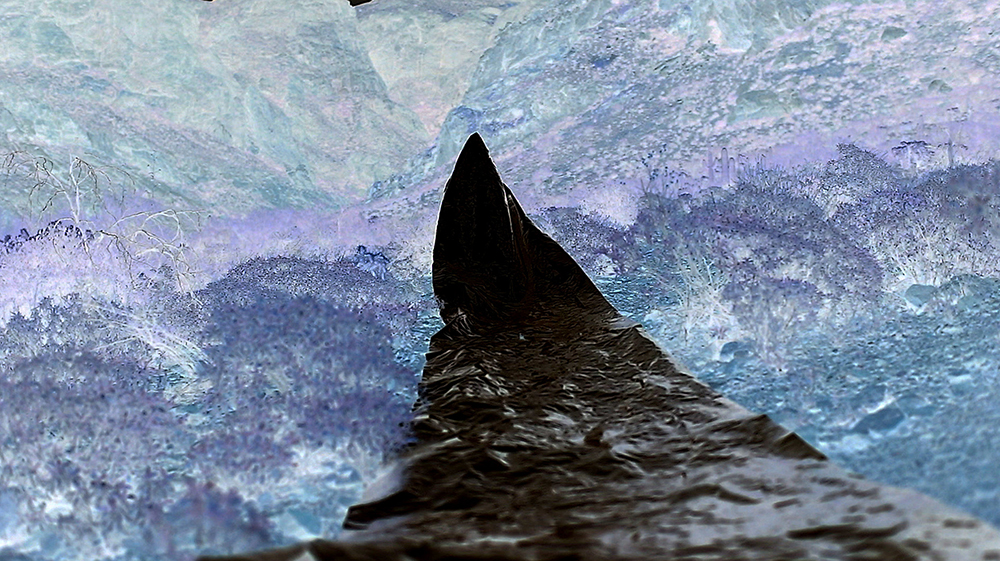 Image: Broadbent Sisters,
Midnight Forms
, short film, 2017. Courtesy of the artists.
Opening Reception and Performance by Daniel Griffin Hunt:
Sunday, January 20, 2-4 PM
What happens when surfaces glitter, gleam, sparkle, and shine? In
Glimmers of the Radiant Real,
radiance, that quality of projected light we associate so often with the marvellous and the modern, is subverted by the relationship between the quality of a surface and what it covers, reflects, or contains. Surface is the point of contact for the body, its skin and texture and touch. The glistening, shining surfaces of works by Katie Bethune-Leamen, the Broadbent Sisters, Daniel Griffin Hunt, Sanaz Mazinani, Sandy Plotnikoff, Mary Pratt, Cole Swanson, Catherine Telford-Keogh, and Xiaojing Yan manipulate the viewer's perception of dimension through reflections and refractions, thereby un-forming the object and making the familiar strange.
The artists and works featured in the exhibition use a variety of materials to generate these surface effects, from glass to gold, foil, plastic, and pearls. Each material has its own qualities of shine and reflection, and each combination of qualities reacts with a work's source and subject to yield a different effect: gilded insect wings sketch a house's morbid geography, material treatments upend expectations of form and colour, and dollar-store detritus, sunk in resin, seems to glow behind glass. For the viewer, the result is a combination of material familiarity and perceptual distortion.
In video, sculpture, painting, drawing, and installation, these works invite us to transform as they do, through interactions with surfaces that dazzle, using light to obscure or fracture the images and clarity we expect. They answer a craving for radiance, a desire to be like them, shining and seemingly limitless. They offer the promise of the object made new, but even if they speak in the same material language of the glittering and the precious, the modern, and the transcendent, they speak its opposite, too, a language of obscurity and disappearance, complicating the shining and ideal. They layer the surface substances that gloss the world we know, offering glimmers of a radiant reality where light becomes, not truth illuminated, but something else.
For more information about the artists, events and the exhibition's tour, please visit the
exhibition website
and follow the exhibition on Instagram
@radiantreal
.
For more information about McIntosh Gallery and its iteration of
Glimmers of the Radiant Real
, contact Abby Vincent, Communications and Outreach Coordinator,
avince5@uwo.ca
, 519.661.2111 ext. 87576
Image: Skawennati,
Celestial Tree: She Falls for Ages
, 2017. Courtesy of the artist.
In
From SkyWorld to Cyberspace
, artist Skawennati (Mohawk, turtle clan) traces a line from our place of origin somewhere in the heavens to the virtual realm, one of the newest territories on Earth. Investigating concepts of time and self, Skawennati engages various mechanisms of gaming and play, interweaving traditional Mohawk stories and ritual objects with new technologies and processes through representations of avatars, most notably her online persona, which she has maintained for over a decade in the virtual world, Second Life.
From SkyWorld to Cyberspace
is a result of Skawennati's continuing investigation of cultural construction, contemporary Indigenous self-representation in cyberspace, and of our relationships with the digital world.
About the artist:
Skawennati makes art that addresses history, the future, and change from an Indigenous perspective. Her innovative new media projects include the online gallery/chat-space, and mixed-reality event,
CyberPowWow
(1997-2004); a paper doll/time-travel journal, Imagining Indians in the 25th Century (2001); and
TimeTraveller™
(2008-2013), a multi-platform project featuring nine machinima episodes. These works and others have been presented in New Zealand, Germany, Italy, Ireland and across North America in major exhibitions such as Now? Now! at the Biennale of the Americas and Looking Forward (L'Avenir) at the Montreal Biennale. Skawennati is represented by ELLEPHANT and her award-winning work is included in both public and private collections. Born in Kahnawà:ke Mohawk Territory, Skawennati holds a BFA from Concordia University in Montreal, where she is based. Currently, she is Co-Director, with Jason E. Lewis, of Aboriginal Territories in Cyberspace (AbTeC), a research network of artists, academics, and technologists investigating, creating, and critiquing Indigenous virtual environments.
For more information contact Abby Vincent, Communications and Outreach Coordinator,
avince5@uwo.ca
, 519.661.2111 ext. 87576
---
We Are From Nicodemus
Deanna Bowen
Curated by The Family Camera Network
March 21 – April 27, 2019
Opening Reception: Thursday, March 21 at 8pm


Image: Deanna Bowen, We Are From Nicodemus, video still, 2017. Image courtesy of the artist.

In We Are From Nicodemus, Deanna Bowen traces threads of her family history as it relates to historical accounts of African American migration from the Midwest to the Canadian Prairies. The installation, first shown at the Royal Ontario Museum as part of The Family Camera exhibition (2017), explores intersections between photography and migration and recovers a history of struggle and emancipation. The video documents Bowen's first meeting with her cousin, Angela Bates, with whom she connected after finding a photograph of Angela's grandmother, Elizabeth Risby Williams, during her genealogical research. Through a series of interviews presented in eight episodes, she builds connections with extended family members, recovering stories of her family's migration from Nicodemus, Kansas to Campsie, Alberta in the early 1900s.

About the artist:
Deanna Bowen is an interdisciplinary artist based in Toronto. She is a descendant of African Americans who migrated from Kansas to Alberta, Canada, over one hundred years ago, and her research-based practice explores counter narratives of slavery and migration. Bowen holds a Master's Degree in Visual Studies from the University of Toronto (2008) and is a graduate of the Emily Carr College of Art and Design (1994). She is the recipient of numerous awards, including a Guggenheim Fellowship (2016) and the William H. Johnson Prize (2014). Her work has been exhibited and screened in Canada and internationally.

For more information contact Abby Vincent, Communications and Outreach Coordinator, avince5@uwo.ca, 519.661.2111 ext. 87576
ESSAYS:
Heads
Stephen Andrews, Sarah Cale, Colin Dorward, Lili Huston-Herterich, Patrick Howlett, Jay Isaac, Harold Klunder, Mack Ludlow, Katie Lyle, Vanessa Maltese, Kim Moodie, Kim Neudorf, Gordon Peterson, Adam Revington, Janet Werner
Curated by Sky Glabush
May 3 - June 16, 2019
Opening reception: Friday, May 3, 7:00-9:00p.m.
Curator-led tour: Thursday, May 9 at 12:00p.m.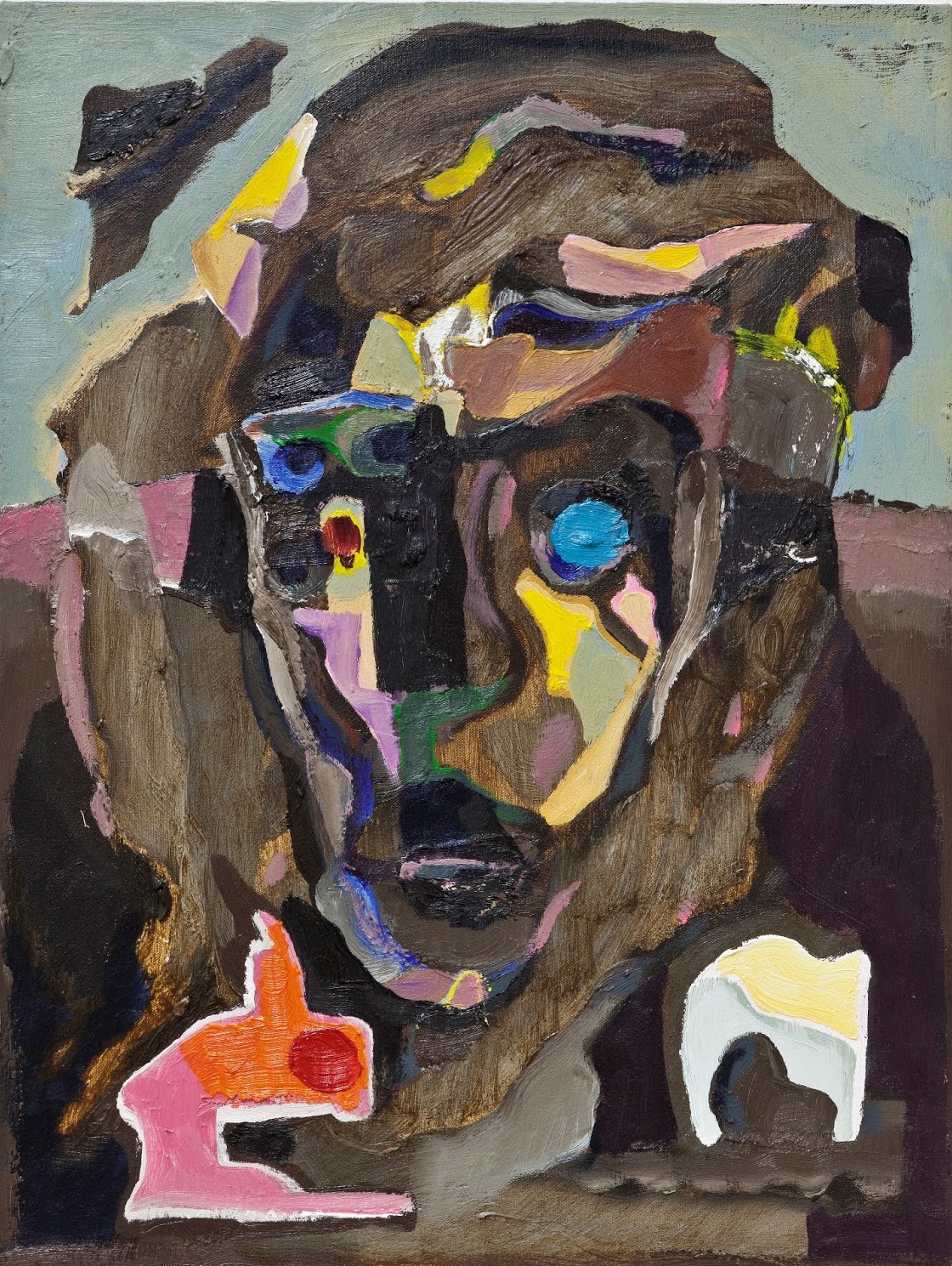 Image: Harold Klunder,
Hart Street (Self-Portrait)
, 2011. Oil on canvas. Courtesy of the artist and Clint Roenisch Gallery.
In an age where images are more ubiquitous than text, where pictures bombard the psyche in a fleeting, buzzing, ephemerally digitized omnipresence, the corporeality of art offers something else. It is viscous, bodily, physical. It holds the trace of the hand and the gesture is preserved and registered like a Paleolithic butterfly trapped forever in amber.
It is easy to fetishize the materiality of painting and sculpture, but here it is held in distinction to the selfie, the photo-shopped, the sterilized, branded commodity of popular media.
Heads
is an exhibition that revels in the distinctive language of the portrait as a place where the poetic potential of the mind is located centrally in the body, in the gut, in the hand, in the foot.
About the curator:
Born in 1970 in Alert Bay, British Columbia, Sky Glabush lives and works in London, Ontario, Canada where he teaches studio art at Western University. He holds a BFA from the University of Saskatchewan and an MFA from the University of Alberta. Recent exhibitions include
The Valley of Love
 at Clint Roenisch Gallery, Toronto,
The New Garden
at MKG127 in Toronto;
The Window is also a Door
at Prosjektrom Normanns, Stavanger Norway;
What is a Self?
at Oakville Galleries, Oakville Ontario; and
The Painting Project
at Galerie de l'UQUAM, Montreal, Quebec. Glabush's work is in many public collections including the Canada Council Art Bank, Bank of Montreal, Toronto Dominion Bank, Scotiabank, Royal Bank, Ivey Collection, McIntosh Gallery, Museum London, Mackenzie Art Gallery, Mendel Art Gallery, The Canadian Institute for Advanced Research, and The National Gallery of Canada.
---
Sanaugavut: Art from Kinngait
Curated by Nakasuk Alariaq
May 3 - June 16, 2019
Opening reception: Friday, May 3, 7:00-9:00p.m.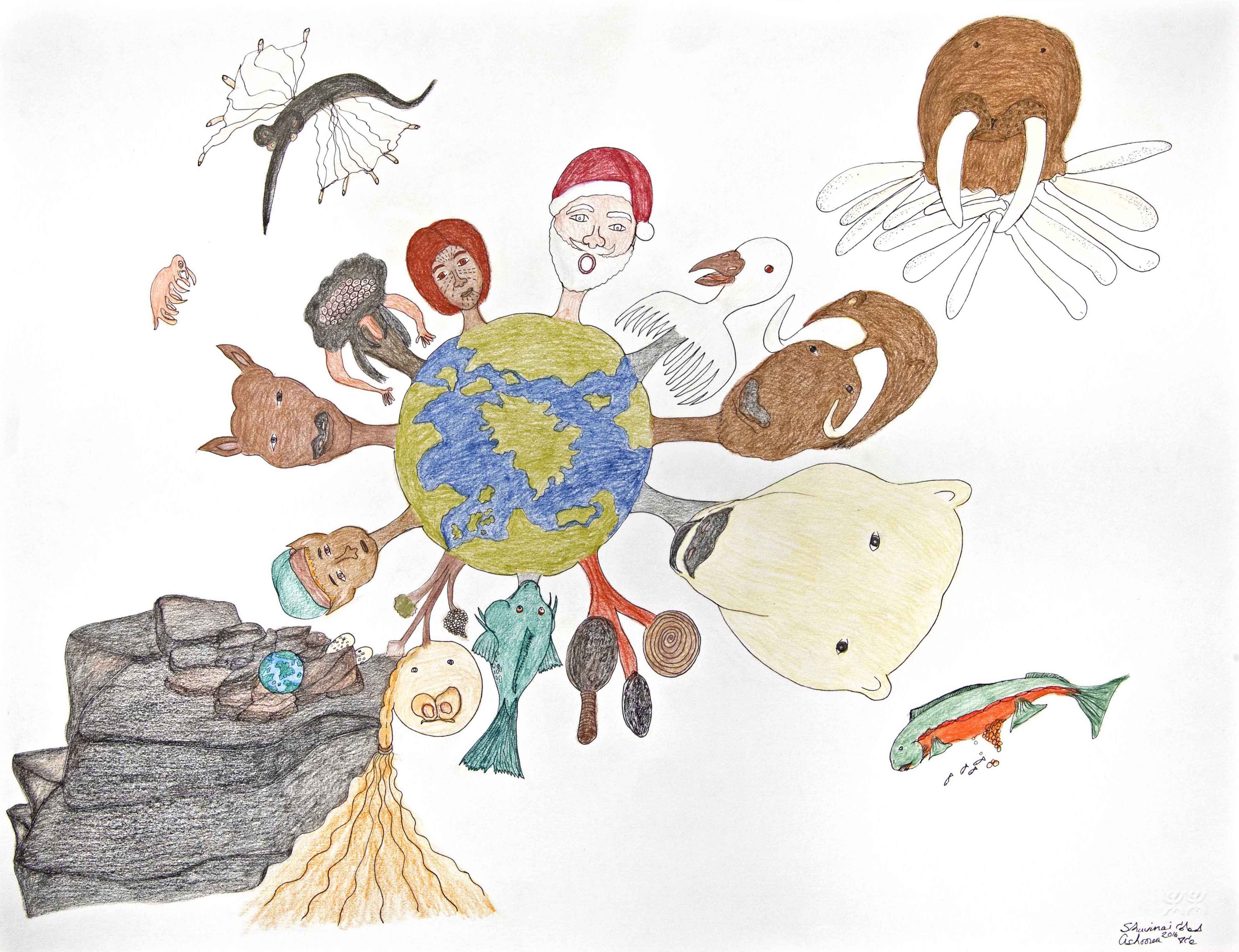 Image: Shuvinai Ashoona,
Untitled
, 2016. Coloured pencil and ink on paper. Collection of McIntosh Gallery, Western University, 2018.
Curatorial statement, Nakasuk Alariaq:
Sanaugavut: Art from Kinngait
marks McIntosh Gallery's first time inviting an Inuk graduate student to curate an exhibition, making it a very special occasion for supporters and advocates of indigenous self-representation on Western University's campus and in London and Canada more broadly. Having sifted through McIntosh Gallery's database, which includes 200 Inuit artworks from all across Northern Canada, I could see that their collection consists of a lot of drawing, sculpture, and print from the 1960s-1980s, which is awesome.
I chose to specifically focus on Kinngait, because Kinngait is my hometown. I thought it was important to highlight a number of different events and people who contributed to the development of the commercial market and who continue to support of the local market. The 1960s-80s was a time of experimentation in Kinngait's studios. Local co-ops such as Sananguabik and Tititurarvit ran many workshops that encouraged exploration of different mediums and styles of art, while continuing their own art forms, such as sewing and beading.
I have chosen to add textile and sculptural pieces from both my personal collection and my parents' collection, including the beaded
amauti
by Eliyah Mangitak and jewelry made by my uncle Tim Pitseolak as a way to highlight the work of several artists not typically recognized in the Kinngait art record. Similarly, I have included several artworks by my own grandparents, my namesake Nakasuk Alariaq and grandfather Adamie Alariaq, about whom there is very little written. This demonstrates how many amazing artists and key leaders' stories have been forgotten. Camp leader and shaman Kiakshuk and his son, Lukta – one of the first master stone cut printmakers in Kinngait during the late 1950s and 1960s – were influential in the development of Sananguabik.
Art, in an Inuk's perspective, not only consists of the subject and material from the traditional canon, such as drawing and printmaking, but also media such as seamstress-work, beading and techniques that academia previously classified as "craft". Sculpture and carving hold a special place for many Inuit men, as they were tasked with making the tools and equipment needed to survive in the Arctic. Many Inuit men had mastered carving stone and bone before any European set foot in the Arctic and encouraged them to carve stone, bone, and ivory for the art market.
The title of this exhibition,
Sanaugavut
, is the Inuktitut saying for "that which we have made", and I wanted to show the many different types of art forms that have emerged within my hometown of Kinngait (Cape Dorset), Nunavut. The opening reception will include a qulliq (oil lamp) lighting, and a moment of silence for a number of artists exhibited who passed away this last year, such as Annie Manning Lampron, Axangaju Shaa and Eliyah Mangitak, all well-respected elders from Kinngait who not only supported Kinngarmiut (people from Kinngait) but Inuit cultural preservation and revitalization. Their lives are missed but their stories and the love they shared with their family and friends will never be forgotten.
About the curator:
Nakasuk Alariaq is currently a Master of Art candidate at Western University. Her thesis focuses on her hometown of Kinngait (Sikusilak/Cape Dorset), Nunavut, and its role in the development of the commercialization of Inuit art.
Sanaugavut: Art from Kinngait
is the first exhibition she has curated. She holds a Bachelor of Arts Honours in Anthropology and a Minor in Art History and Criticism. Alariaq has been involved in the digitization of the Inuit art record under Anna Hudson at York University, along with the McMichael Canadian Art Collection in 2014 and 2015.
For more information about McIntosh Gallery and these exhibitions, contact Abby Vincent, Communications and Outreach Coordinator,
avince5@uwo.ca
, 519.661.2111 ext. 87576.