2020 Past Exhibitions
Broken Body
Gerard Pas
Curated by James Patten
January 10 - February 22, 2020
Opening reception: Friday January 10, 7:00–9:00 p.m.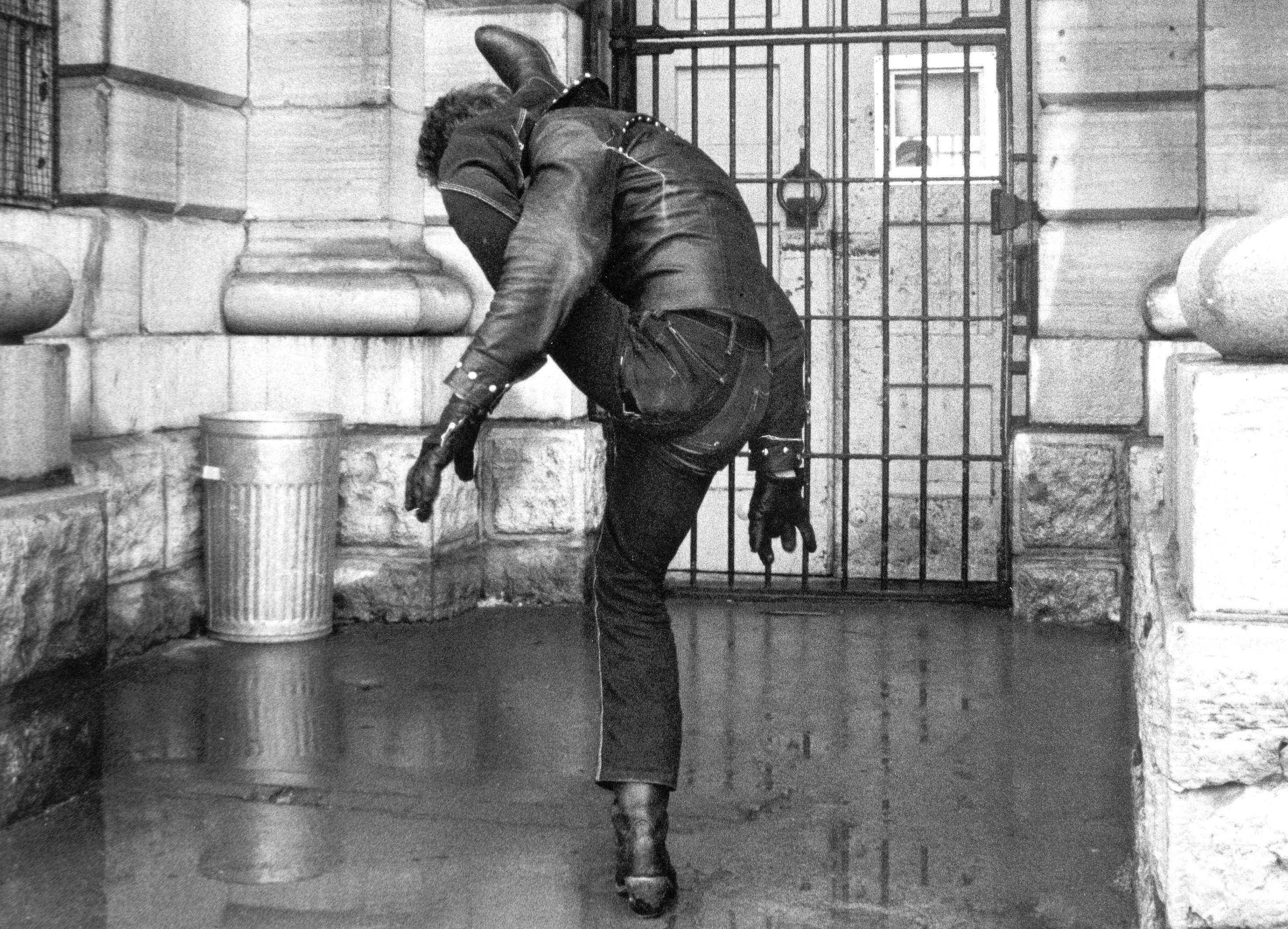 Gerard Pas, Un Autre Faux Pas (detail), 1978. Performance documentation courtesy of Tobey Anderson.

London artist Gerard Pas has been a pioneer of disability arts in Canada since the 1970s. He is among the first generation of international artists who expressed their identities as disabled people in order to challenge prevailing attitudes and stereotypes.

Pas' self-reflective performances, photographs, sculptures, and paintings are informed by the radical political activism of the 1960s and motivated by the frustration of being culturally and socially marginalized because of his atrophied leg, which was the result of having polio as a child. Pas fought back with profound, moving works informed by the conflicting traditions of Modernism and Realism particularly in his native Holland. At the same time, he realized that both aesthetic movements were dependent on idealization, rationalism, and depersonalization. Modernism's seductive claim to "pure form", as represented by Piet Mondrian and Gerrit Rietveld, whose Red and Blue Chair, 1918–1923, was the basis of Pas' bathetic wheeled version, was in striking contrast to his own more complex and nuanced lived experience.

The angst and cynicism of contemporary punk aesthetics, combined with Pas' experience with disability, was a potent entanglement that produced an entirely new way of enacting disability through raw, energetic performance. His art practice embodied the intersections of disability, migration, class and the negation of social systems that were at the core of punk aesthetics. Standing in front of the Kingston Penitentiary, his left leg behind his head, he lit a cigarette in defiance and contempt of the penal system's rule-based authority and emphasis on eroding individualism by controlling and standardizing the body and everyday life.

Pas enacts a Brechtian critique of oppression and the strictures of modernist purity and formalism. His dialectical approach reveals the contradictions inherent in conventional representations of idealized bodies in a harmonious, utopian world. Even within the seemingly defiant world of performance art, most artists still perpetuated the idealized beauty standards of the day. Both funny and confrontational, Pas' performances deftly dismantled pre-conceived ideas about how he was supposed to interact with the world and how the world was going to react to him. This in turn informed his work in other media in which he carefully breaks social and aesthetic conventions to uncover hidden realities and awkward truths.
---
Related exhibition programming:
Artist-led exhibition tour with Gerard Pas
Thursday, February 13 at 2:00 p.m.
McIntosh Gallery

Curator-led exhibition tour with James Patten
Thursday, February 20 at 12:30 p.m.
McIntosh Gallery
For more information about McIntosh Gallery and this exhibition, contact Abby Vincent, Communications and Outreach Coordinator, avince5@uwo.ca, 519.661.2111 ext. 87576.
Accountability
Kelly Greene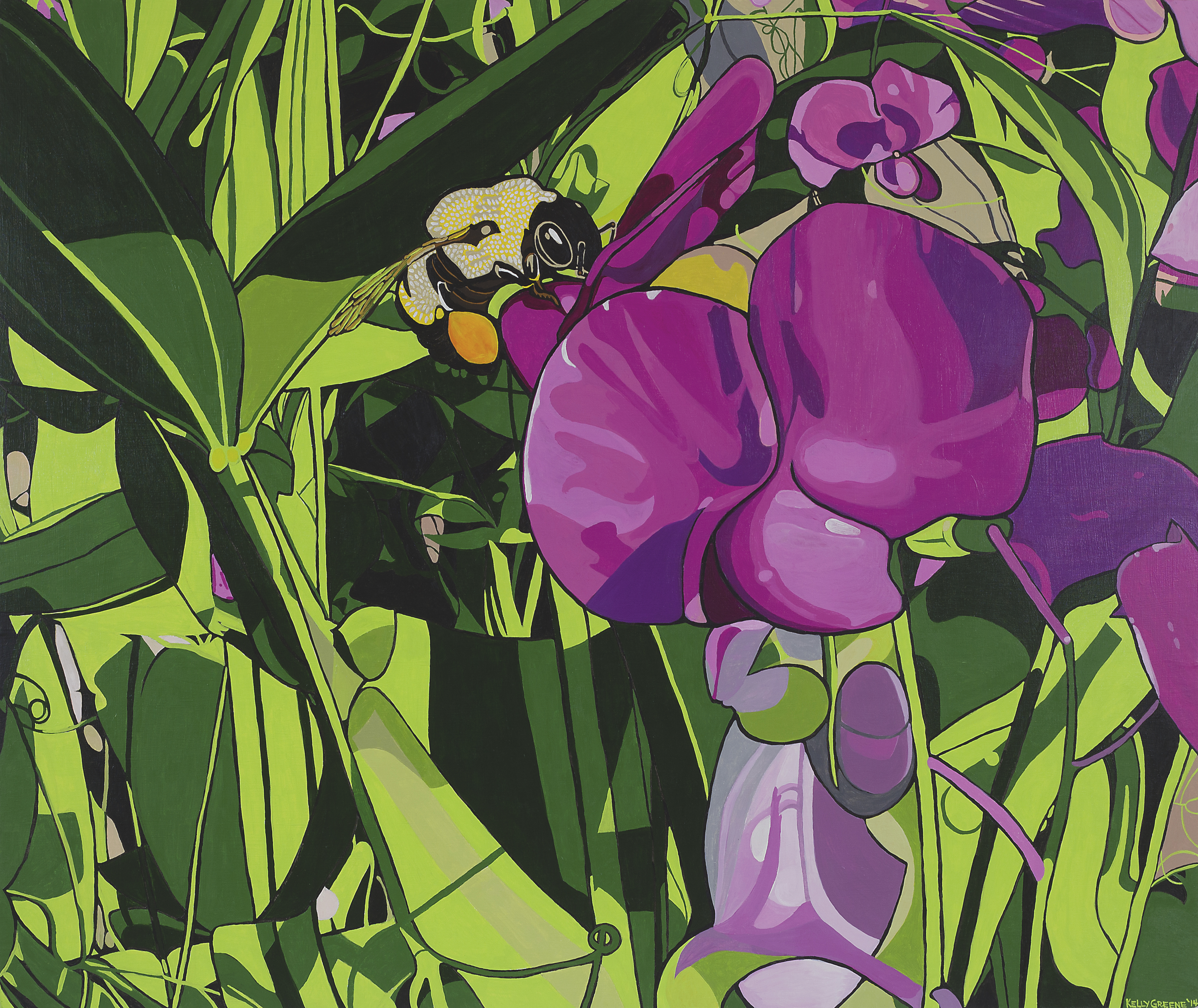 Kelly Greene, Attempting to Correct Disorder 2014, acrylic on panel. Courtesy of the Woodland Cultural Centre.

McIntosh Gallery is pleased to present Accountability, an exhibition of work by London, Ontario-based artist, Kelly Greene. Greene is a multi-media artist who works in painting, sculpture, installation, and photography. A Mohawk member of the Six Nations of the Grand River in Ohsweken, Ontario, Greene focuses on topics that include environmental concerns as well as the impact that colonization has had on Canada's First People. Although she wasn't raised within her Indigenous heritage, Greene has spent much of her adult life learning about her Haudenosaunee identity.

As she works towards a deeper understanding of her own culture, Greene investigates the multiple ways in which the notion of accountability occurs across key issues affecting Indigenous people. As a nation with its roots in colonization by European settlers, Canada must remain accountable to the history of injustices by honouring past treaties and recognizing the importance of restitution in the healing process. Indigenous people must remain accountable to themselves by taking on the responsibility for keeping their languages and traditions alive and, by passing them on to younger generations, mitigating further loss of vital knowledge and culture. And we must all take on the responsibility of caring for our Earth that sustains us. In her work, Greene makes specific references to the Haldimand Treaty granted to the people of Six Nations, as well as the Mohawk Institute Residential School, or "Mush Hole", which her Grandmother attended in the 1920s. Greene's ongoing concern towards increasingly pressing environmental issues has inspired work that represents Earth as Mother, honouring Haudenosaunee belief.

Greene began her visual art studies at the University of New Mexico and went on to earn a BFA from Western University. Her work has been exhibited at the Woodland Cultural Centre (Brantford, Ontario), Saw Gallery (Ottawa, Ontario), Walter Phillips Gallery (Banff, Alberta), Thunder Bay Art Gallery (Thunder Bay, Ontario), Iroquois Indian Museum (Howes Cave, New York), Gary Farmer Gallery (Santa Fe, New Mexico), and others. Greene has been the recipient of grants from the Canada Council for the Arts and the Ontario Arts Council.

McIntosh Gallery acknowledges with gratitude the financial support of the McIntosh Gallery Art and Travel Committee that made this exhibition possible.
For more information about McIntosh Gallery and this exhibition, contact Abby Vincent, Communications and Outreach Coordinator, avince5@uwo.ca, 519.661.2111 ext. 87576.