Upcoming
COVID-19 Information 
Effective Saturday, April 3, 2021, McIntosh Gallery will be closed to the public until further notice as mandated by the Province of Ontario. 
In-person gallery visits are not permitted at this time. In light of these restrictions, 
Ellen Moffat:
becoming again beginning undone
and Faith Patrick:
The No No-Exit Closet

 
will open virtually. Throughout the exhibitions' run, documentation and virtual walk-throughs will be posted online.
For ongoing coverage of COVID-19 protocol and operations at Western University, visit 
https://www.uwo.ca/coronavirus/
---
becoming again beginning undone
Ellen Moffat
June 24 - July 24, 2021

Ellen Moffat,
becoming again beginning undone,
2021. Techno-organic. Courtesy of the artist.
becoming again beginning undone
is an intermingling of sensorial, temporal, visual, and cognitive aspects of sound, space, and listening. Sound art expands our thinking and understanding about boundaries, space, and social relations with the world and with each other. Listening situates us to the world in relation to others. The ubiquity and expansive character of sound means we are always within sound; we cannot turn it off. Active listening to sound extends our awareness to others and to difference as mutable relations within the resonant space of the gallery. Moffat's research is informed by such ideas and texts as Rosi Braidotti's "as if" as the interconnectivity of events, forces, and bodies; Yves Lomax's "conjugation" in which the coincidence of discrete actions results in a sonic event; and Salomé Voegelin's "listening" from the position of the sonic subject engaged with the world as sonic perception.
In the exhibition, small sounds, image, text, rhythms, and tonalities bleed into and mix with each other, transgressing the borders of the gallery space. A techno-organic sound installation of matter and found materials extends to an evolving notation of sound objects and text. Video animations mix and remix the language of sound in fleeting text-images of sense and non-sense. A bench-platform augments the physical sensation of sound. The sonic sensibility of becoming, beginning, undoing, and redoing connects the listener to sounds of difference and to language as a new symbolic space of subjective, objective, and collective relations. Sound, text, the senses, and cognition perform their becomings and beginnings, undone again.

About the artist
Ellen Moffat explores sound, space, and listening as relations of materials, sense, and bodies using electro-acoustic methods and experimental processes for sound generation. Listening connects the subject to the world and to others in a sonic space of fluctuation and difference with transformative potential for communication and social relations. Her work has been presented throughout Canada and in international exhibitions. Ellen Moffat is a PhD candidate in the Department of Visual Art at Western University. becoming again beginning undone is her graduate thesis exhibition.

www.ellenmoffat.ca

---
The No No-Exit Closet
Faith Patrick
June 24 - July 24, 2021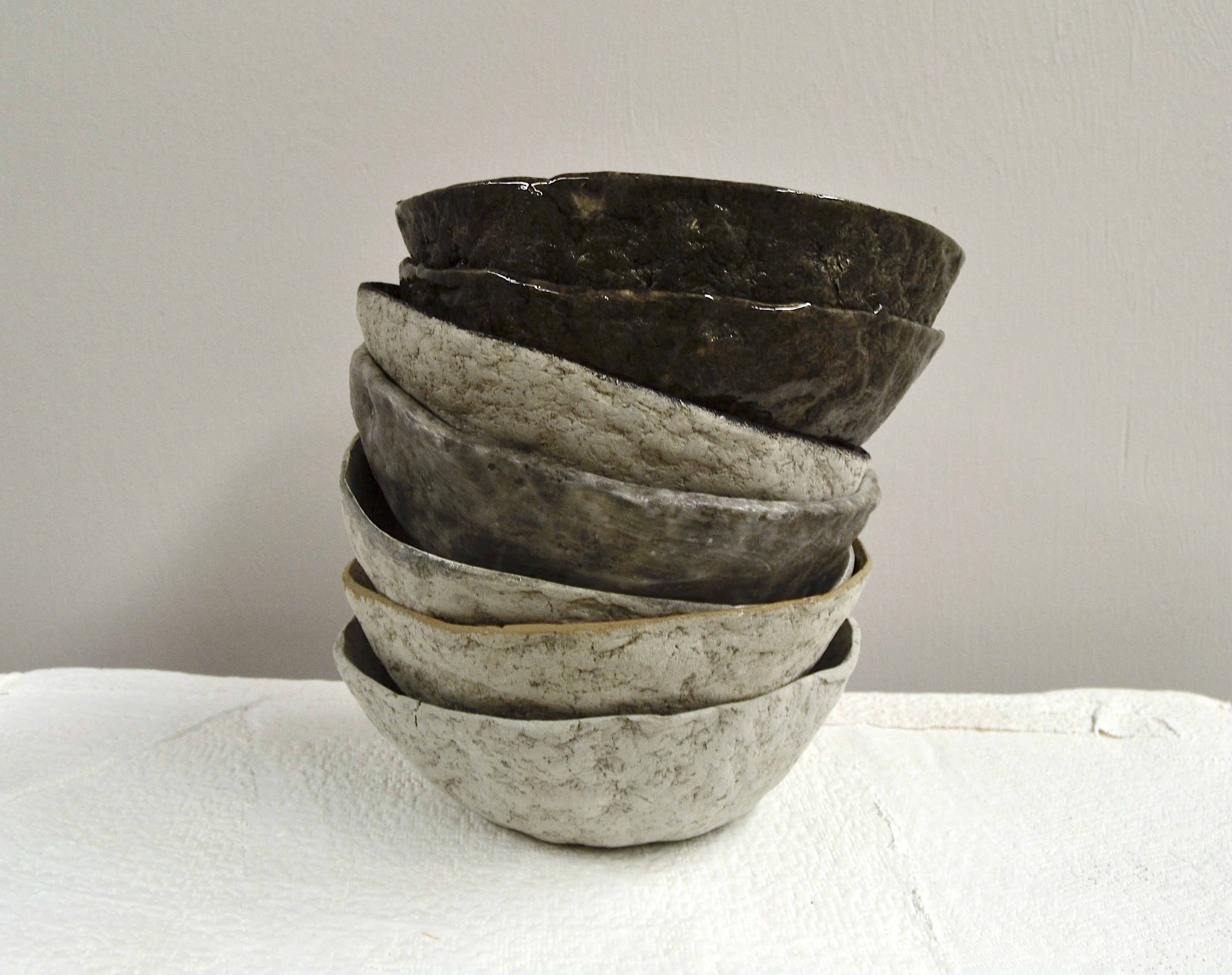 Faith Patrick, in collaboration with Maxwell Lucas. Containers, 2020. Pulped wastepaper, beeswax, resin. Courtesy of the artist.

It is human nature to put things in places, boxes, and closets, expecting them to never reappear. Invariably, however, these things come back to confront and even haunt us and others, including those who survive us. After having been dispatched to places that we imagined would provide no exit, these objects reappear and demand of us, or those entrusted with our property, decisions we had hoped would never have to be made - decisions that are now even more complicated and unresolvable than they would have been had we faced them the first time around. The hoped for no exit does not exist.

About the artist
Faith Patrick seeks to heighten our conscious and ethical relationship to the labours, habits, rhythms, and materials of our domestic lives by directing attention to the otherwise overlooked meanings of these everyday encounters. Storage structures as they present within the realm of the everyday, specifically the closet, have been consistent and recurring themes throughout her practice. The closet is the structure through which Patrick has developed a heightened ethical awareness of how she consumes, stores, throws away, and reuses the materials that enter and exit her life. Faith Patrick is based in London, Ontario where she is completing her MFA in studio art at Western University. The No-No Exit Closet is her graduate thesis exhibition.

www.faithirenepatrick.com

Some of the works in this exhibition were made in collaboration with Maxwell Lucas. Maxwell Lucas is an artist, musician, and composer based in London, Ontario.

www.maxrlucas.com