Plan Your Visit
McIntosh Gallery is located at the centre of Western's campus tucked between University College and Physics and Astronomy (directions below). Look for the stone building with bright red doors. Admission to the gallery is by donation. We regret that McIntosh Gallery is not wheelchair accessible.
Hours of Operation: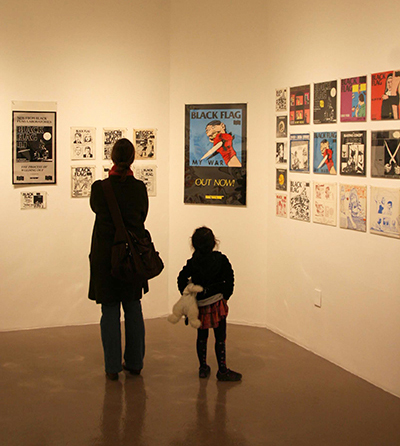 Public Hours:
Monday to Friday: 10:00 A.M. to 5:00 P.M.
Saturday: 12:00 P.M. to 4:00 P.M.
Sunday: closed
Please Note: occasionally throughout the year, the galleries are closed to install exhibitions. Please check exhibition dates to ensure access.
Office Hours:
Monday to Friday 9:00 A.M. to 5:00 P.M
Curatorial Study Centre Hours:
Monday to Friday 10:00 A.M. to 5:00 P.M.
How to get to McIntosh Gallery:
Walk or cycle:
From Richmond Street:
Turn onto University Drive at the gates on Richmond Street
Cross the bridge over the Thames River
Continue straight through the stop lights on Middlesex Drive
The road curves to the right and then turn left towards the Physics and Astronomy Building
McIntosh is next to Physics and Astronomy
From Western Road:
Turn onto Lambton Road at the Western Road gate
Exit the traffic circle onto Oxford Drive
Turn right after Stevenson Hall
McIntosh Gallery is on the left
Public Transit:
Four London Transit Commission buses (6 Richmond, 2 Dundas, 10 Wonderland, and, after 7:00 P.M., 9C Whitehills) stop directly behind McIntosh Gallery in front of the Natural Sciences building.
Parking

Paid parking is available at the Social Sciences and Weldon Library lots. For other parking options you can review the visitor parking map (PDF) or call McIntosh Gallery at (519) 661-3181.
Find McIntosh Gallery on Google Maps
View Larger Map