Current
PLEASE NOTE: Based on advice from local health officials and in keeping with decisions being made across the City of London, effective March 16, 2020, McIntosh Gallery will be closed until further notice.
For ongoing coverage of COVID-19 protocol and operations at Western University, visit https://www.uwo.ca/coronavirus/
---
Accountability
Kelly Greene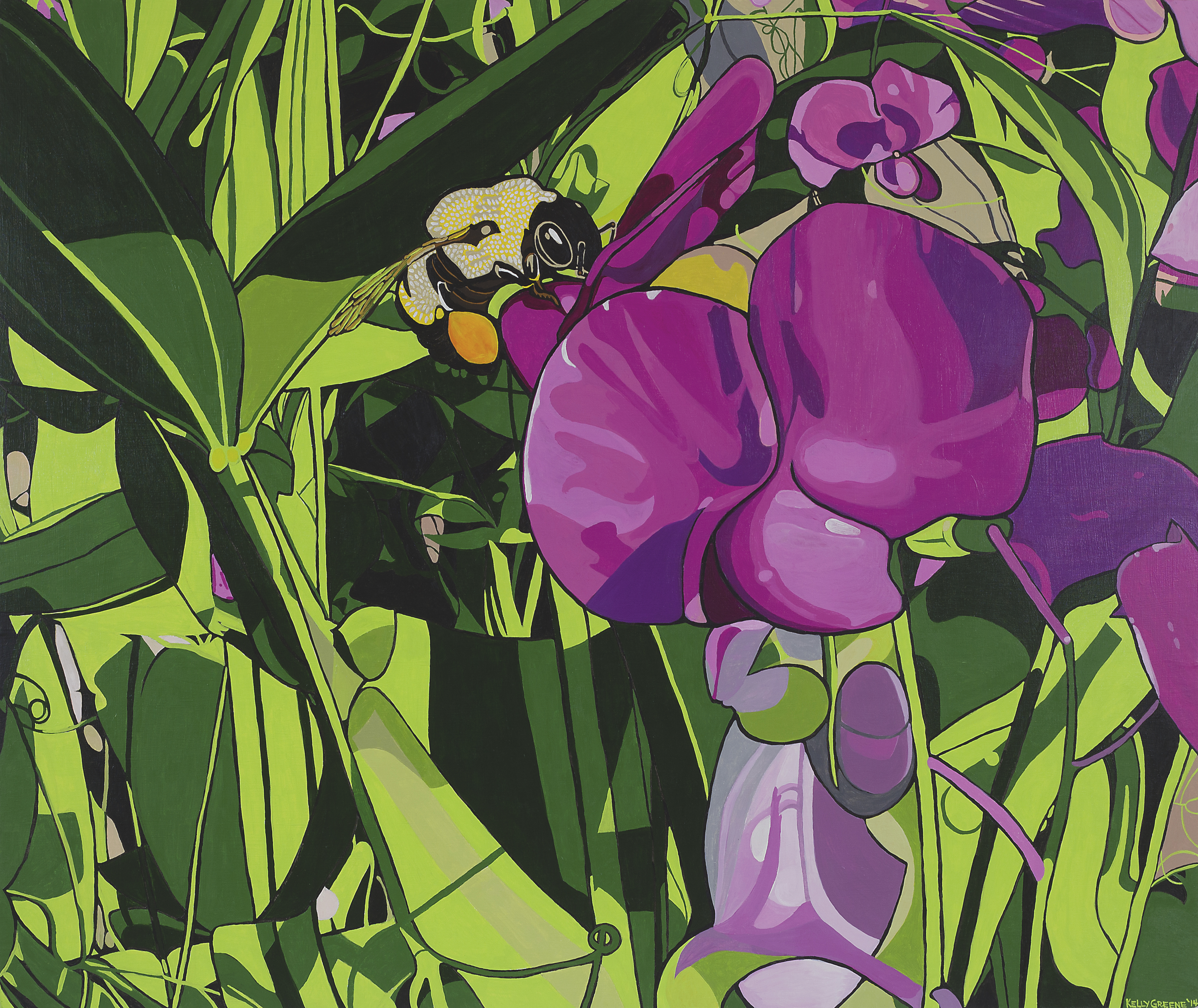 Kelly Greene, Attempting to Correct Disorder 2014, acrylic on panel. Courtesy of the Woodland Cultural Centre.

McIntosh Gallery is pleased to present Accountability, an exhibition of work by London, Ontario-based artist, Kelly Greene. Greene is a multi-media artist who works in painting, sculpture, installation, and photography. A Mohawk member of the Six Nations of the Grand River in Ohsweken, Ontario, Greene focuses on topics that include environmental concerns as well as the impact that colonization has had on Canada's First People. Although she wasn't raised within her Indigenous heritage, Greene has spent much of her adult life learning about her Haudenosaunee identity.

As she works towards a deeper understanding of her own culture, Greene investigates the multiple ways in which the notion of accountability occurs across key issues affecting Indigenous people. As a nation with its roots in colonization by European settlers, Canada must remain accountable to the history of injustices by honouring past treaties and recognizing the importance of restitution in the healing process. Indigenous people must remain accountable to themselves by taking on the responsibility for keeping their languages and traditions alive and, by passing them on to younger generations, mitigating further loss of vital knowledge and culture. And we must all take on the responsibility of caring for our Earth that sustains us. In her work, Greene makes specific references to the Haldimand Treaty granted to the people of Six Nations, as well as the Mohawk Institute Residential School, or "Mush Hole", which her Grandmother attended in the 1920s. Greene's ongoing concern towards increasingly pressing environmental issues has inspired work that represents Earth as Mother, honouring Haudenosaunee belief.

Greene began her visual art studies at the University of New Mexico and went on to earn a BFA from Western University. Her work has been exhibited at the Woodland Cultural Centre (Brantford, Ontario), Saw Gallery (Ottawa, Ontario), Walter Phillips Gallery (Banff, Alberta), Thunder Bay Art Gallery (Thunder Bay, Ontario), Iroquois Indian Museum (Howes Cave, New York), Gary Farmer Gallery (Santa Fe, New Mexico), and others. Greene has been the recipient of grants from the Canada Council for the Arts and the Ontario Arts Council.

McIntosh Gallery acknowledges with gratitude the financial support of the McIntosh Gallery Art and Travel Committee that made this exhibition possible.
For more information about McIntosh Gallery and this exhibition, contact Abby Vincent, Communications and Outreach Coordinator, avince5@uwo.ca, 519.661.2111 ext. 87576.