Current
McIntosh Gallery is open by appointment. Gallery visits for up to five members of one household or social bubble can be scheduled online here. Visitors to McIntosh Gallery are required to complete a symptom check through the Government of Ontario's COVID-19 self-assessment and provide proof of vaccination or proof of accommodation under the Ontario Human Rights Code.
If you have questions or are seeking additional information about visiting the gallery, feel free to reach out to us at mcintoshgallery@uwo.ca.
For ongoing coverage of COVID-19 protocol and operations at Western University, visit https://www.uwo.ca/coronavirus/
---
The Botanical Turn
September 23 - December 11, 2021

Carrie Allison, Paul Chartrand, Joscelyn Gardner, Zachari Logan, Sarah Maloney, Amanda White, and ZOFF 
Curated by Helen Gregory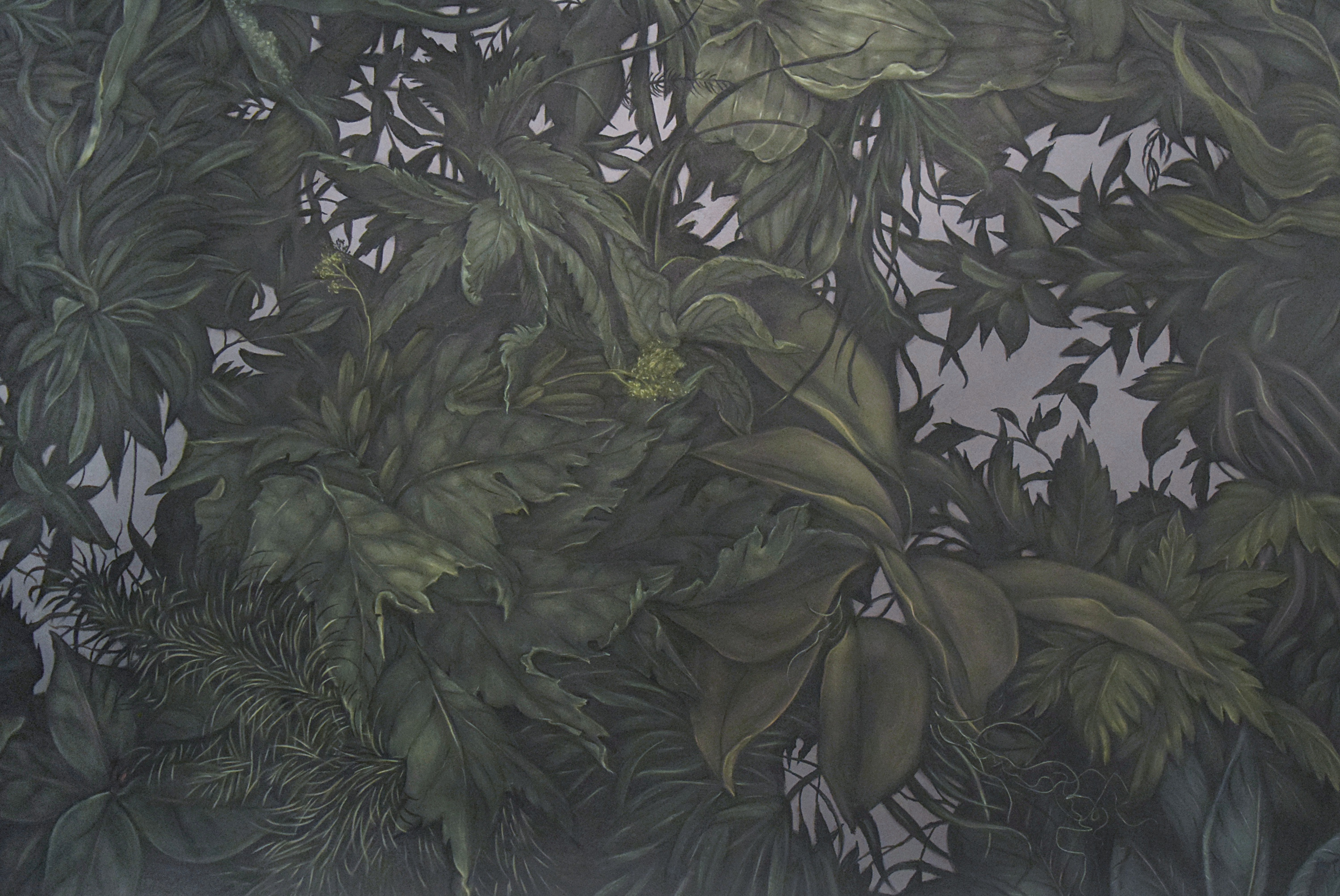 Zachari Logan,
Nel Mezzo Del Cammi Di Nosta Vita (The Gate)
  2018 (detail). Courtesy of the artist and Paul Petro Contemporary Art.
Bringing together artists working across media including beadwork, embroidery, drawing, printmaking, sculpture, and hydroponics,
The Botanical Turn
examines how botanical imagery has been used to explore issues of agency, identity, gender, empowerment, and colonization. In recent years, there has been a proliferation in the use of botanical imagery in contemporary art to explore complex ideas and to articulate embodied knowledge. Given the current focus on human/non-human relationships as we consider our impact on the natural world, it is unsurprising that the examination of the role of plants within human systems of meaning is increasingly extending beyond the scientific and ecological to encompass the socio-cultural and metaphysical. As Donna Haraway reminds us, no species acts alone. "We have a mammalian job to do, with our biotic and abiotic sympoeitic collaborators, colaborers … Who and whatever we are, we need to make-with—become with, compose-with—the earth-bound." Each of the artists in this exhibition considers interspecies relationships between humans and plants through various perspectives, be they concerned with the making of kin, self-determination, or critique of use-value.
For this exhibition, Nêhiýaw/Cree and Métis artist
Carrie Allison
utilizes the slow, meditative practice of traditional beadwork to depict a series of plants with healing properties, drawing parallels between beading as an act of care and our collective responsibility to care for the earth's flora. With a focus on the relationship between people and plants, Allison references the Indigenous belief that the plant family was the first family on earth and sustains all other life forms, both human and non-human. 
Paul Chartrand
's practice engages with environmental issues through the construction of sculptural life support apparatuses populated with living plants. Here he critiques a human-centred view of plants, positioning science in relation to gender and use-value as it relates to cannabis cultivation in which an unpollinated "virgin" sinsemilla clone is valued for its medicinal value rather than its reproductive value. Creole-Canadian artist
Joscelyn Gardner
weaves together images of intricately braided Afrocentric hairstyles, brutal iron slave collars used to punish enslaved women who had been accused of inducing abortions, and the botanical specimens purportedly used as abortifacients, highlighting the imbrication of the slave trade, colonization, print culture, and the Enlightenment pursuit of natural history. 
Zachari Logan
explores queer identity, memory, and place using depictions of Saskatchewan wildflowers to challenge accepted images of the male body. Often using images of ditch-weeds, Logan draws parallels between plants that are regarded as undesirable and relegated to the margins, and queer sexuality which often occupies a similarly peripheral space. 
Sarah Maloney
applies a feminist lens to consider the scientific, cultural, and economic values of botanical specimens and how they have shaped history and material culture, and have been implicated in the construction of nature and gender. Concentrating on maligned and overlooked common weeds,
Amanda White
considers the use of language and rhetoric around such species, in particular the distinctions between the categories of introduced, invasive and noxious, and examines the language used to describe them in the context of settler and Indigenous relationships, nationalism, and xenophobia. The exhibition also includes the extraordinary "The Land is the Word The Word is the Land" Cape, created by Toronto-based designer
ZOFF
with LUXX Ready-to-Wear, and worn by Jeremy Dutcher for his performance at the 2019 Juno awards. The cape combines floral embroidery and Cree syllabics to celebrate the protectors of this earth, Dutcher and the Wolastoqiyik peoples, and to inspire all nations, faiths, ethnographic identities, sexualities, and gender identities.
An exhibition catalogue is forthcoming, featuring essays by Giovanni Aloi, Helen Gregory, and Franchesca Hebert-Spence.
Carrie Allison is a nêhiýaw/Cree, Métis, and European descent visual artist based in K'jipuktuk (Halifax, Nova Scotia). She grew up on the unceded and unsurrendered lands of the Sḵwx̱wú7mesh (Squamish), Stó:lō and Səl̓ílwətaʔ/Selilwitulh (Tsleil-Waututh) and xʷməθkʷəy̓əm (Musqueam) Nations. Allison's maternal roots are based in maskotewisipiy (High Prairie, Alberta), Treaty 8. She is an active member of the arts community and is currently Co-Chair of the Eyelevel Artist Run Centre Board.

Allison holds a Master in Fine Arts, a Bachelor of Arts in Art History, and a Bachelor in Fine Arts from the Nova Scotia College of Art and Design University. Her work has been exhibited nationally in The Textile Museum of Canada, Toronto; Urban Shaman, Winnipeg; and Beaverbrook Art Gallery, Fredericton. She has had solo exhibitions at Mount Saint Vincent University Art Gallery, Halifax; the Owens Art Gallery, Sackville; The Museum of Natural History, Halifax; and The New Gallery, Calgary. Allison has received grants from the Social Sciences and Humanities Research Council, Arts Nova Scotia, and Canada Council for the Arts, and is the recipient of the 2020 Melissa Levin Award from the Textile Museum of Canada. Allison's work has been published in Canadian Art, Esse, and Visual Arts News.

Paul Chartrand works with constructed habitats built from found objects and integrated living components. His projects include various mediums and practical methodologies but focus particularly on sculpture and drawing. Chartrand finds inspiration in the blurry definitions of culture and nature; intending for his work to foster dialogue regarding this problematic dichotomy. His influences include many artists, writers and philosophers dealing with environmental discourses including Helen and Newton Harrison, Hans Haacke, Mary Mattingly, Martin Roth, Jane Bennett, Timothy Morton, Vanessa Watts and others. Paul completed his undergraduate degree at the University of Guelph in 2013 and his Master of Fine Arts degree at Western University for which he earned Ontario Graduate Scholarships and SSHRC funding. He has exhibited at numerous galleries including the Niagara Artists Centre, St. Catherine's; Roadside Attractions, Toronto; Xpace Cultural Centre, Toronto; Younger Than Beyonce Gallery, Toronto; Boarding House Gallery, Guelph; Artlab and Satellite Gallery, London; Idea Exchange, Cambridge; the CAFKA Biennial, Kitchener; Y+ Contemporary, Scarborough; and Main Squared Festival, Toronto. He now lives and works along the O:se Kenhionhata:tie (Willow River in Mohawk) also known as the Grand River in Dunnville, Ontario.

Joscelyn Gardner is a Caribbean / Canadian visual artist working primarily with printmaking and multimedia installation. Her contemporary practice probes colonial material culture found in British / Caribbean archives in order to explore her (white) Creole identity from a postcolonial feminist perspective. Born in Barbados to a family that has been resident on the island since the 17th century, she spent her early childhood in West Africa, South America, and the Caribbean, later receiving her secondary education at Queen's College in Barbados (1980 Barbados Scholar). Since 2000, Gardner has been living in Canada where she is a full-time Professor in the School of Art & Design at Fanshawe College in London, Ontario, and founding Chair of the artist collective Print London.

Gardner holds a BFA (Printmaking) and BA (Film) from Queen's University, and MFA from Western University. She has been exhibiting internationally since 1993 and has held solo exhibitions in the USA, Canada, Spain, and several Caribbean islands. Most recently, her exhibition Staging Mary Prince was held at the Bermuda National Gallery (2016). Her work has also been shown in numerous international biennials (Sao Paulo, Santo Domingo, Pontevedra, Vienna, Krakow, Torun, Norway, San Juan) as well as in curated group shows in several prestigious museums (Brooklyn Museum, Centre Pompidou). She has received international awards for her work, including the Grand Prize of 7 Biennale Internationale d'Estampe Contemporaine Trois Rivières (Québec 2011). Her work is held in public collections worldwide including the Yale Centre for British Art, Yale University Art Gallery, Museo de Arte Contemporaneo de Puerto Rico, Tropenmuseum (Amsterdam), KADIST (Paris), and the Victoria & Albert Museum (London, UK). Her work has also appeared in many international art publications and she has presented it in lectures at Yale University and Princeton University in the US, and at several universities in Canada. She recently co-edited "Art as Caribbean Feminist Practice" in Small Axe: A Caribbean Journal of Criticism (issue 52).

Zachari Logan works mainly with large-scale drawing, ceramics and installation practices, evolving a visual language that explores intersections between identity, memory and place. Logan has exhibited widely throughout North America, Europe and Asia and his work is held in private and public collections worldwide, including the National Gallery of Canada; Art Gallery of Ontario; Remai Modern; Leslie-Lohman Museum (NYC); Nerman Museum of Contemporary Art (NMOCA); McMichael Canadian Art Collection; Mackenzie Art Gallery; 21cMuseums Hotel Collection, Louisville KY; Scarfone-Hartley Gallery, University of Tampa; Morris & Helen Belkin Art Gallery, University of British Columbia; Toronto Dominion (TD Trust); Cadillac Fairview; Schulich School of Business, York University; the Canada Council Art Bank; Saskatchewan Arts Board; Global Affairs Canada; and Thetis Foundazione, Venice. Logan has attended residencies in Paris in conjunction with Galerie Jean Roch Dard; in rural Tennessee at Sassafras ARC/Liberty; in Calgary through Alberta College of Art + Design: Visiting Artist Program; in Vienna through both the Museum Quartier's quartier21: Artist in Residence Program and project space Schliefmuhlgasse 12-14; and in London at Angus-Hughes Gallery. In the spring of 2015, Logan attended the International Studio and Curatorial Program (ISCP) and returned to NYC during the winter of 2016 as artist in residence at Wave Hill Botanical Gardens in the Bronx. During the summer of 2017, Logan was Artist in Residence in the Tom Thomson Shack on the site of the McMichael Canadian Art Collection, part of a special commission to create a work in responses to the centenary of Thomson's death. Logan has worked collaboratively with several celebrated artists, including Ross Bleckner and Sophie Calle, and his work has been featured in many publications worldwide.

Sarah Maloney, RCA, is a Nova Scotia artist who completed an MFA at the University of Windsor and a BFA at the Nova Scotia College of Art and Design. She has received numerous grants and awards, including from the Canada Council for the Arts, Arts Nova Scotia, the New Brunswick Arts Board, and the Ontario Arts Council. In 2012 she was elected to the Royal Canadian Academy of Arts and awarded the Creative Nova Scotia Leadership Council Established Artist Recognition Award. Her work is held in numerous permanent collections, including those of the Beaverbrook Art Gallery, the Art Gallery of Nova Scotia, the Dalhousie Art Gallery, the Nova Scotia Art Bank, the Canada Council Art Bank, the New Brunswick Art Bank, and the Department of Foreign Affairs. She has had solo exhibitions at the Beaverbrook Art Gallery, the St. Mary's University Art Gallery, and the Kelowna Art Gallery, among many others. Group exhibitions include Manif d'art 8 – Quebec City Biennial, 2017; Terroir: A Nova Scotia Survey, the Art Gallery of Nova Scotia, Halifax, NS; and the nationally touring Making Otherwise: Craft and Material Fluency in Contemporary Art, organized by Carleton University Art Gallery, Ottawa. Her work was included in Fait main /Hand Made at the Musée national des beaux-arts du Quebec, summer 2018. Most Recently, her work was included in Maud Lewis and the Nova Scotia Terroir, a group exhibition of Nova Scotia women artists curated by Sarah Fillmore and organized by the Art Gallery of Nova Scotia that toured Guangdong province of China in 2019 and 2020. She currently teaches in the foundation and fine art programs of NSCAD University.

Amanda White is an interdisciplinary artist working at the intersection of art, environment and culture, with a current focus on plant studies. Amanda is a SSHRC postdoctoral fellow at the Centre for Sustainable Curating in the department of Visual Arts at Western University. She holds a PhD (Cultural Studies) from Queen's University, an MFA (Visual Art) from the University of Windsor and a BFA from OCADU. She has exhibited and published work with support from SSHRC, the Canada Council for the Arts and the Ontario Arts Council among others. Amanda's current research includes several ongoing studio-based works in progress as well as collaborative projects including a forthcoming co-edited book and a graphic novel.

Related Programming:
Panel Discussion
October 7, 2021, at 7:00 p.m. EST
Featuring Carrie Allison, Paul Chartrand, Joscelyn Gardner, Zachari Logan, Sarah Maloney, and Amanda White.
Moderated by Dr. Helen Gregory

McIntosh Gallery hosted a panel discussion on Zoom in partnership with the Western University Department of Visual Arts Art Now! Speaker Series on Thursday, October 7 at 7:00 p.m. EST. Moderated by exhibition curator Dr. Helen Gregory, The Botanical Turn artists discussed how plants and botanical imagery have informed their art practices. More info