Current
COVID-19 Information 
Effective Monday July 13, 2020, McIntosh Gallery will be open by appointment. Interested in scheduling your next visit? Please do so online through this link. If you have questions or are seeking additional information about visiting the gallery, feel free to reach out to us at mcintoshgallery@uwo.ca.
For ongoing coverage of COVID-19 protocol and operations at Western University, visit https://www.uwo.ca/coronavirus/
---
Theatre from the Jungle
September 17 – October 24, 2020
Richard Ibghy & Marilou Lemmens
With the participation of: Weldemariam Bahta, Mekides Belete, William Lopez Beltran, Tesfagergis Geberezgabier, Miao Yan Huang, Robel Kibrom, Jianwen Kuang, Belaynesh Mekonnen, Juan Mendez, Eduardo Rogriguez, Chen Xuhong, and Yanfang Yang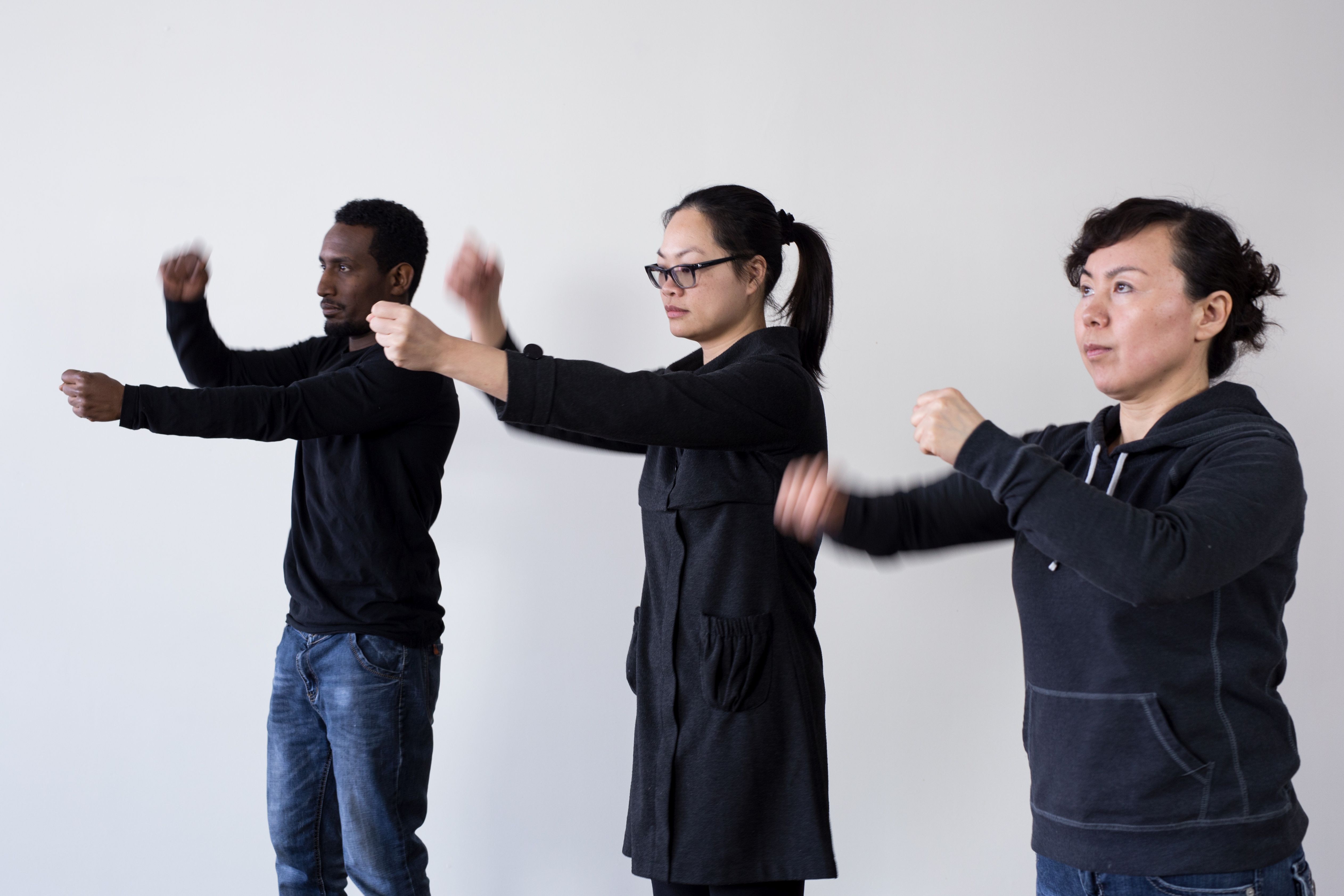 Richard Ibghy & Marilou Lemmens, Meatpacking from Theatre from the Jungle, 2018. HD video (33 minutes). Video Still.

Theatre from the Jungle, a collaborative video installation by artist-duo Richard Ibghy and Marilou Lemmens, investigates the experience of immigrant labour in the Canadian meatpacking industry. Developed with the participation of workers who come from different cultural horizons and migratory circumstances, the project addresses life in the midst of interlaced socio-cultural, economic, legal, and cross-border labour issues. During the spring of 2018, Ibghy and Lemmens invited recent immigrants who were current or ex-employees of Maple Leaf Foods in Brandon, Manitoba, the largest hog processing plant in Canada, to participate in a series of workshops in which the group explored personal and collective experiences, and developed modes of representation that were specific to each. Using passages from Upton Sinclair's 1906 novel The Jungle—a story that documents the struggles of immigrant labour in the Chicago meatpacking industry at the turn of the 20th century—participants rehearsed a script that interweaves events depicted in the novel with their own experiences in a meat processing facility. Footage from these workshops became the catalyst for a multi-channel video, presented in tandem with a series of interviews in which the participants describe their experience of immigrating to Canada and working in the meatpacking industry.

Many of these immigrant workers arrived in Canada under the Temporary Foreign Worker Program and the Provincial Nominee Program, the latter of which requires immigrants to work at the Maple Leaf factory for two years in exchange for permanent residency. These "Pathway to Permanent Residency" programs, which exist in every Canadian province, expose a vulnerable labour workforce to potential abuse and exploitation. Although Theatre from the Jungle was created in 2018, the issues that Ibghy and Lemmens address are particularly resonant in light of current circumstances. The precarity faced by such workers has become increasingly visible as a result of the COVID-19 pandemic. The culture of meatpacking factories is characterized by working long hours in close proximity. Unlike the many other industries that shut down as a safety measure last March, these plants were deemed an essential part of the food supply chain and stayed open even when social distancing was not possible. Over the past few months, meatpacking plants around the world have become the sites of COVID-19 outbreaks, bringing into sharp relief the risk of physical harm and psychological distress that such work has on vulnerable workers who often have limited other opportunities for employment.

An earlier iteration of this exhibition was shown at the Art Gallery of Southwestern Manitoba (April 12 - June 9, 2018), curated by John G. Hampton.

About the artists:
Based in Durham-Sud, Québec, Richard Ibghy and Marilou Lemmens have developed a collaborative artistic practice that spans across multiple media, including video, performance and installation. Working both sculpturally and with the body, their practice engages the possibility of escaping the productivist logic of modernism and its incarnations in areas of labour, economics, management, psychology, biology, and ethology. Their projects challenge the concept of objectivity and the scientific obsession with measurement by opting for idiosyncratic methodologies in practical experiments, processes of translation, and craft-based data visualisation techniques. These processes allow for contingency, association, and playfulness while also enabling the duo to collaborate with performers, activists, anthropologists, scientists, and communities.

Most recently, their work was presented in solo exhibitions at Bemis Center for Contemporary Arts, Omaha (2019), Musée d'art contemporain de Montréal (2018), Visningsrommet USF Gallery, Bergen, Norway (2018), Audain Gallery, Vancouver (2018), Agnes Etherington Art Centre, Kingston (2017), Jane Lombard Gallery, New York (2017), Owens Art Gallery, Sackville, Canada (2017), International Studio & Curatorial Program, New York (2016), Esker Foundation, Calgary (2016), Leonard & Bina Ellen Art Gallery, Montreal (2016). They have participated in a number of group exhibitions including Fiskars Biennale, Finland (2019), Columbus Museum of Art (2018), OFF-Biennale, Budapest (2017), Bienal de Cuenca, Cuenca, Ecuador (2016), Istanbul Biennial (2015), Herbert Read Gallery, Canterbury (2014), La Biennale de Montréal (2014), La Filature, Scene Nationale and La Kunsthalle, Mulhouse (2013), Henie Onstad Kunstsenter, Høvikodden, Norway (2013), and Sharjah Biennial (2011).


---

Related Programming:
Art Now! Panel Discussion
September 24, 2020, 7:00 pm
Featuring Richard Ibghy, Marilou Lemmens, Tony Weiss, moderated by Dr. Helen Gregory

Join us for a panel discussion hosted on Zoom in partnership with the Western University Department of Visual Arts' Art Now! Speakers Series on Thursday, September 24 at 7:00 pm. Moderated by McIntosh Gallery Curator, Dr. Helen Gregory, Theatre from the Jungle artists Richard Ibghy and Marilou Lemmens and Associate Professor of Geography, Tony Weis will discuss the exhibition presented at McIntosh Gallery as it relates to themes of industrial agriculture and socio-economic, cross-border labour issues.
Zoom Webinar link: https://westernuniversity.zoom.us/j/97926344515
---