Current
COVID-19 Information 
McIntosh Gallery is open to the public. Three-layer medical face masks (provided) should be worn indoors in all Western University facilities including McIntosh Gallery. Western staff, faculty and current students will be asked to present their OneCard upon entry. All other visitors will be asked to provide proof of vaccination upon arrival. 
If you have questions or are seeking additional information about visiting the gallery, feel free to reach out to us at mcintoshgallery@uwo.ca. For ongoing coverage of COVID-19 protocol and operations at Western University, visit https://www.uwo.ca/coronavirus/
---
Insect as Idea
Carl Beam, Christi Belcourt, Catherine Chalmers, Andrea Cooper, Aganetha and Richard Dyck, Jude Griebel, The Institute of Queer Ecology, Jennifer Murphy and Amy Youngs
Featuring insect specimens from the Zoological Collections, Department of Biology, Western University
April 28 - June 18, 2022
Curated by Dr. Helen Gregory and Dr. Nina Zitani

Jennifer Murphy, Scarab Butterfly  2020. Collage of cut images from second-hand books sewn together with thread. Courtesy of the artist and Clint Roenisch Gallery.
From the imperceptible flutter of a butterfly wing to the electric buzzsaw whine of summer cicadas, the thrum of insects forms a subtle soundtrack to our quotidian existence. Insects have captured human imagination for centuries. The ancient Greeks equated butterflies with the soul to such an extent that they used the same word – psyche – to refer to both. Aristotle devoted considerable attention to the study of natural history and was especially fascinated by the complete metamorphosis of insects. He regarded the transformation as a means by which an imperfect animal could attain the condition of perfection, which he associated with the notion of telos, meaning full potential or inherent purpose.
Insect as Idea examines insects within a multispecies framework, considering the role that they play throughout ecological systems. How have we learned from insects in the past and what can they tell us about the future? If we read insects as bellwethers or even, more poetically, as ideas made manifest, what does their disappearance say about human-earth relationships? This exhibition puts the work of artists Carl Beam, Christi Belcourt, Catherine Chalmers, Andrea Cooper, Richard and Aganetha Dyck, Jude Griebel, The Institute of Queer Ecology, Jennifer Murphy and Amy Youngs in conversation with the exquisitely beautiful historical collection of Riker Mounts housed in the Zoological Collections at Western University. Many of the specimens housed in the Zoological Collections were collected in the early twentieth century by former professors and scientists as part of their research projects. Other specimens were collected by local hobby naturalists and later donated to Western, including a collection of Riker mounts on display here. Such historical collections have roots in the history of colonialism and are characterized by the impulse to exhibit dominance over nature through the collection and display of rare species. Today, however, they collectively serve a new role in documenting past species occurrences allowing scientists to track changes in biodiversity locally and globally. They are also an important educational tool, allowing students to see real specimens of insect biodiversity from North America to the Amazon Rainforest, Africa, India, Southeast Asia and other localities around the globe.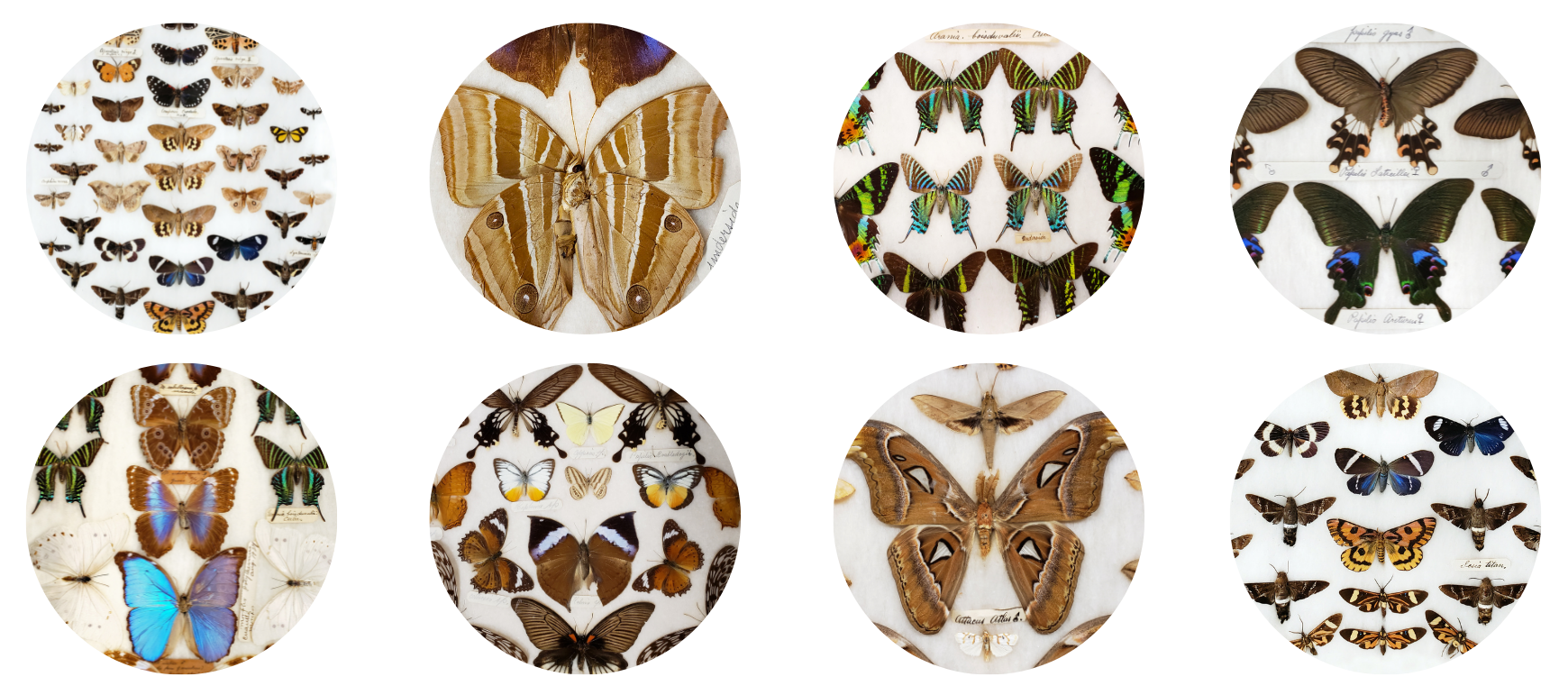 Zoological Collections, Department of Biology at Western University. Image credit: Brian Lambert.
Each of the artists in this exhibition considers insects within a multispecies ecology or cultural history. In a work from The Columbus Project, Carl Beam juxtaposes images of bees with a portrait of Christopher Columbus, addressing the historically imbricated impulses of exploration, discovery and colonization, with analysis and classification. Christi Belcourt intertwines bees, birds, strawberries, and other native plants to underscore the interconnectedness of living things within the natural world. Catherine Chalmers presents a series of extraordinary films, drawing parallels between the behaviour of neo-tropical leafcutter ant colonies and the human traits of language, ritual, war, and art, with the aim of blurring the lines between culture and nature. Originally created for Instagram, Andrea Cooper's film Wild Honey provides a metaphorical exploration of fertility, colony collapse disorder, and climate change. Aganetha and Richard Dyck work collaboratively with bees to co-create works of art, in this instance through the use of a flatbed scanner inserted into a beehive. New work from Jude Griebel takes inspiration from Victorian anthropomorphic illustration to imagine a tiny entomological protest against the current ecological crisis. The Institute of Queer Ecology's three-part film Metamorphosis is a call to reimagine and rebuild the planet, employing the metaphor of the life-cycle of an insect in which the organism fully restructures itself to adapt to its changing needs and ensure its survival. Jennifer Murphy combines images culled from old nature books to create composite forms that remind us of the complexity of ecological relationships. Amy Youngs "shakes hands" with a cluster of composting worms in an interspecies gesture of respect that acknowledges our dependence on the organisms that decompose our waste. Collectively, the work encourages us to consider the importance of monitoring insect biodiversity as an indicator of the health of an ecosystem, be it thriving or imperiled.
McIntosh Gallery thanks Dr. Kirsty Robertson for the original exhibition concept. Helen Gregory extends her gratitude and appreciation to her students in the Department of Visual Arts Museum and Curatorial Studies Practicum course for their input during the development of this exhibition: Avory Capes, Meghan Carnegie, Stephanie Fattori, Sarah Fletcher, Kaitlyn German, Megan Goddard, Emma Hennessey, ShaSha Hou, Kaede Kusano, Etienne Lavallee, Emma Morin, Roshieka Russell, Serena Shearly, Hanyu Xi, and Turing Xu. Nina Zitani wishes to thank her student volunteer curatorial assistants Fraser Allen, Ryan Chieu, Shukri Matan, Donald Tyler Watson M.Sc., and Natasha Weppler for their dedication and hard work helping to curate and maintain the Zoological Collections, and Staff member Mitchell Zimmer for photographing specimens. Without their input this exhibition would not have been possible.
Carl Beam (Carl Edward Migwans, 1943 – 2005) The first contemporary Indigenous artist to be collected by the National Gallery of Canada, Beam was one of Canada's most ground-breaking Indigenous artists. Between 1989 and 1992, Beam created a body of work titled The Columbus Project, raising a variety of issues surrounding the celebration of the 500th anniversary of Columbus' arrival in the Americas. The Columbus Project was exhibited at the Art Gallery of Peterborough and The Power Plant in Toronto as well as internationally. Beam's work has been included in many group exhibitions, including Indigena: Perspectives of Indigenous Peoples on Five Hundred Years, organized and circulated by the National Gallery of Canada in 1992. In 2000, Carl Beam was inducted into the Royal Canadian Academy of the Arts, and in 2005 he was a recipient of the Governor General's Award in Visual and Media Arts. Carl Beam, a posthumous exhibition of the artist's work, was organized by the National Gallery of Canada in 2011 and later travelled to the Museum of Anthropology in Vancouver and the Winnipeg Art Gallery.
Christi Belcourt is a Métis visual artist with a deep respect for the traditions and knowledge of her people.  The majority of her work explores and celebrates the beauty of the natural world.  Author of Medicines to Help Us (Gabriel Dumont Institute, 2007) and Beadwork (Ningwakwe Learning Press, 2010), Christi has won recognition for her fine artistry through numerous exhibitions.  Her work has been commissioned by the Gabriel Dumont Institute (Saskatoon), the Nature Conservancy of Canada and the Centre for Traditional Knowledge & Museum of Nature (Ottawa), the Indian and Inuit Art Collection (Hull) and is found in the permanent collections of the Thunder Bay Art Gallery and Canadian Museum of Civilization, First People's Hall.  Christi is a past recipient of awards from the Canada Council for the Arts, the Ontario Arts Council, the Chalmers Family Fund and the Métis Nation of Ontario. She has been studying traditional plants and plant uses for numerous years.
Catherine Chalmers holds a B.S. in Engineering from Stanford University and an M.F.A. in Painting from the Royal College of Art in London.  She has exhibited her artwork around the world, including MoMA P.S.1; MASSMoCA; Kunsthalle Vienna; Today Art Museum, Beijing; among others.  Her work has appeared in a variety of publications, including the New York Times, Washington Post, ArtNews and Artforum.  She has been featured on PBS, CNN, NPR, and the BBC.  Two books have been published on her work: FOOD CHAIN (Aperture 2000) and AMERICAN COCKROACH (Aperture 2004).  Her video "Safari" received a Jury Award (Best Experimental Short) at SXSW Film Festival in 2008.  In 2010 Chalmers received a Guggenheim Fellowship and in 2015 she was awarded a Rauschenberg Residency.  In 2018 she created a course called Art & Environmental Engagement and taught it spring quarter at Stanford University.  Her video "Leafcutters" won Best Environmental Short at the 2018 Natourale Film Festival in Wiesbaden, Germany and in 2019 it won the Gil Omenn Art & Science Award at the Ann Arbor Film Festival. She lives in New York City. 
Andrea Cooper is an interdisciplinary artist with a Master's in Visual Studies from the University of Toronto and a Bachelor of Fine Arts from the University of Concordia. Cooper's video Honey premiered at the Berlin International Film Festival's Forum Expanded in 2010. Strange Things premiered at the Berlin International Film Festival's Forum Expanded in 2007 and won the National Film Board of Canada's Emerging Filmmaker/Video Artist Award at the Toronto Images Festival. Previous group exhibitions include Mimetism at Extra City in Antwerp and Darkness Ascends at the Museum of Contemporary Canadian Art in Toronto. Cooper's video and installation work has been exhibited in galleries across Canada and internationally. Most recently, Starring Part 2 was shown at the Rooms as part of the exhibition Future Possible in 2019 in St. John's. Her live performance Mammoth premiered at the Festival of New Dance in St. John's in October 2019. In 2020 she received Canada Council for the Arts Creation Accelerator funding to create CRISIS VISION, augmented reality Instagram filters exploring societal change. In 2020 she also received a Canada Council for the Arts Digital Originals to adapt Mammoth. In 2021 she received NL Arts and Canada Council for the Arts Media Arts funding to create the virtual reality and volumetric film in the Tablelands of Gros Morne. Her video GONE recently premiered at the Video Recontres Internationales Festival in Toulouse France. The work was commissioned by the University of Quebec as part of the Intimités à l'épreuve du numérique project. She lives and works in St. John's, Newfoundland, Canada.
Aganetha Dyck (working with her son Richard Dyck for this exhibition) is an internationally acclaimed Canadian artist known for her sculptural collaborations with live honeybees and her transformation of domestic objects and processes. Dyck places objects into beehives and allows the insects to build honeycomb on the objects, sometimes over the course of years. She has collaborated with beekeepers and entomologists in making her sculptures, and has been featured on The Nature of Things with David Suzuki.  In addition to appreciating the beauty of the honeycomb, Dyck is interested in environmental issues, specifically the power of the small, and in inter-species communication. Her research asks questions about the ramifications all living beings would experience should honeybees disappear from earth. Since the late 1970s, her work has been shown in hundreds of solo and group exhibitions across Canada, the United States, England, France and in the Netherlands, and is held in the collections of numerous major galleries including the Vancouver Art Gallery, the Winnipeg Art Gallery and the National Gallery of Canada. She is presently mentoring 10 Saskatchewan artists for the beekeeping seasons of 2021 and 2022 for a project led by Sandee Moore, curator of exhibitions and programming at the Art Gallery of Regina. The Between Us project will involve the ten artists, four beekeepers, and four other Saskatchewan-based curators working in collaboration with hundreds of thousands of honeybees.
Jude Griebel Merging human forms with those of animals, insects, architecture and the natural environment, Jude Griebel's sculptures become intricate cosmologies of real and imagined spaces. His crafted forms construct idiosyncratic narratives that explore fantastic understandings of eco-anxiety and speculate on possibilities beyond planetary collapse. Using an elastic sense of anatomy and scale, he visualizes rampant cycles of human consumption and the resulting detriment to both the human self and surrounding world. Griebel's work has been supported by numerous residencies including Pioneer Works, New York; ISCP, New York; The Studios of MASS MoCA, North Adams and HALLE 14 Center for Contemporary Art, Leipzig. Recent exhibitions include the Art Gallery of Alberta, Edmonton; Illingworth Kerr Gallery, Calgary; the International Museum of Surgical Science, Chicago; Human Impacts Institute, New York; Galerie Sturm, Nuremberg; and the Spinnerei Archiv Massiv, Leipzig. Griebel is a recipient of grants from the Elizabeth Greenshields Foundation, the Canada Council and Alberta Foundation for the Arts. His work is in collections including Arsenal Contemporary Art, Montreal, the Frans Masereel Centrum, Kasterlee and the Volpert Foundation, New York.
The Institute of Queer Ecology (IQECO) is a Miami-based collaborative organism looking to find and create alternatives. The solutions to environmental degradation are found on the periphery and they seek to bring them to the forefront of public consciousness. Guided by queer and feminist theory and decolonial thinking, they work to undo dangerously destructive human-centric hierarchies—or even flip them—to look at the critical importance of things happening invisibly; underground and out of sight. They seek to democratize the production and reception of artistic research so that marginalized voices are given the space to tell their own stories, and audiences that have been historically excluded from institutions are invited into this one. They pass as an Institute as a means of infiltration: mimicking the academic model to support subversive ideas. Their mission is to make space for collectively imagining an equitable, multispecies future. With interdisciplinary programming that oscillates between curating exhibitions and directly producing artworks/projects, the Institute of Queer Ecology enacts utopia with a goal towards building a future that prioritizes a (bio)diverse world. 
Jennifer Murphy is a Toronto/Tkaronto based artist working in collage, assemblage, and sculpture using upcycled and reclaimed materials. She examines the interconnectedness of nature and ideas related to ecological mourning through lenses of beauty, chance, transformation, and materiality. Murphy has exhibited both nationally and internationally including exhibitions at White Columns (New York), The Contemporary Art Gallery (Vancouver), Galerie Kunstbuero (Vienna), The Power Plant (Toronto), MOCA (Los Angeles), Oakville Galleries (Oakville), Gallery 44 (Toronto) and 8eleven (Toronto). She is the recipient of numerous grants and awards and has been long listed twice for Canada's prestigious Sobey Art Award. Murphy has been an artist in residence at Banff Centre's A Paper A Drawing A Mountain thematic residency and recently attended The Alternative Art School's Culture of Nature: Animals in Art led by Mark Dion. She is represented by the Clint Roenisch Gallery in Toronto. 
Amy M. Youngs creates eco art, interactive sculptures, and digital media works that explore interdependencies between technology, plants and animals. Her research involves entanglements with the non-human, constructing ecosystems, and seeing through the eyes of machines. She has created installations that amplify the sounds of living worms, indoor ecosystems powered by a rocking chair, an interactive museum for live insects, and an augmented reality tour of real nature. Youngs has exhibited her works at venues such as the Te Papa Museum in New Zealand, the Trondheim Electronic Arts Centre in Norway, the Peabody Essex Museum in Salem, MA, and the public parks in New York City. She has earned an Individual Artist Grant from the Ohio Arts Council, has contributed writing to interdisciplinary publications such as Leonardo and the book Robots and Art, and has lectured at venues such as the Australian Centre for the Moving Image in Melbourne, Australia and the Walker Art Center in Minneapolis, MN. Youngs holds a B.A. from San Francisco State University and an M.F.A. from the School of the Art Institute of Chicago.
---
Related Programming
Insect as Idea Panel Discussion
Thursday, May 12 at 5:30 p.m. EST on Zoom
Join us for a panel discussion hosted on Zoom in partnership with the Zoological Collections, Department of Biology, Western University, on Thursday May 12. In conversation with exhibition curators Dr. Helen Gregory and Dr. Nina Zitani, participating artists Catherine Chalmers, Andrea Cooper, Aganetha Dyck, Jude Griebel, and Amy Youngs will discuss how their practices have been influenced by environmental issues and multispecies ecologies.

A recording of the panel discussion can be accessed here.