Current
At McIntosh Gallery:
McIntosh Gallery is open by appointment. Gallery visits for up to five members of one household or social bubble can be scheduled online here. Visitors to McIntosh Gallery are required to complete a symptom check through the Government of Ontario's COVID-19 self-assessment and provide proof of vaccination or proof of accommodation under the Ontario Human Rights Code.
If you have questions or are seeking additional information about visiting the gallery, feel free to reach out to us at mcintoshgallery@uwo.ca.
For ongoing coverage of COVID-19 protocol and operations at Western University, visit https://www.uwo.ca/coronavirus/
The Botanical Turn
September 23 - December 11, 2021

Carrie Allison, Paul Chartrand, Joscelyn Gardner, Zachari Logan, Sarah Maloney, Amanda White, and ZOFF 
Curated by Helen Gregory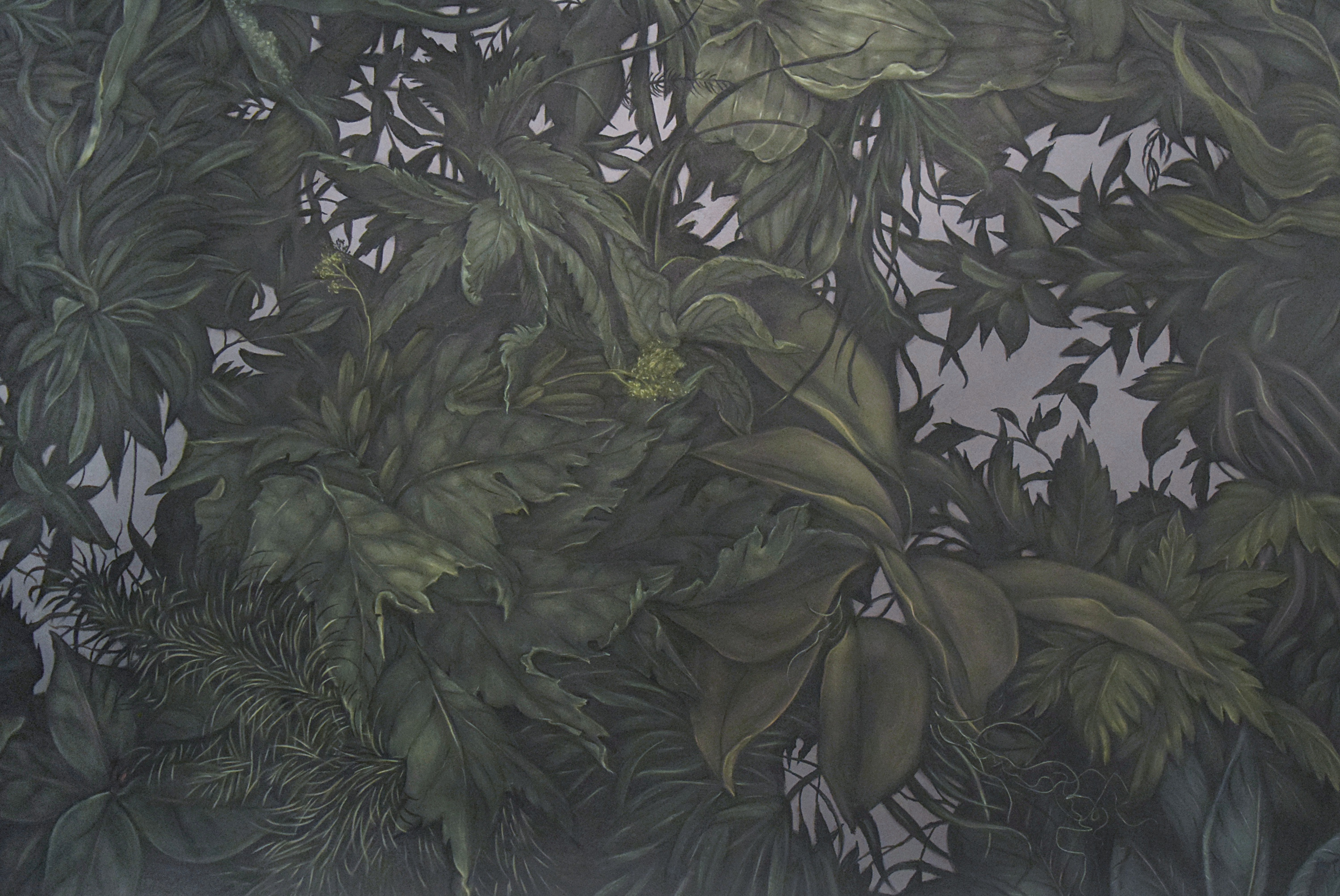 Zachari Logan,
Nel Mezzo Del Cammi Di Nosta Vita (The Gate)
  2018 (detail). Courtesy of the artist and Paul Petro Contemporary Art.
Bringing together artists working across media including beadwork, embroidery, drawing, printmaking, sculpture, and hydroponics,
The Botanical Turn
examines how botanical imagery has been used to explore issues of agency, identity, gender, empowerment, and colonization. In recent years, there has been a proliferation in the use of botanical imagery in contemporary art to explore complex ideas and to articulate embodied knowledge. Given the current focus on human/non-human relationships as we consider our impact on the natural world, it is unsurprising that the examination of the role of plants within human systems of meaning is increasingly extending beyond the scientific and ecological to encompass the socio-cultural and metaphysical. As Donna Haraway reminds us, no species acts alone. "We have a mammalian job to do, with our biotic and abiotic sympoeitic collaborators, colaborers … Who and whatever we are, we need to make-with—become with, compose-with—the earth-bound." Each of the artists in this exhibition considers interspecies relationships between humans and plants through various perspectives, be they concerned with the making of kin, self-determination, or critique of use-value.
For this exhibition, Nêhiýaw/Cree and Métis artist
Carrie Allison
utilizes the slow, meditative practice of traditional beadwork to depict a series of plants with healing properties, drawing parallels between beading as an act of care and our collective responsibility to care for the earth's flora. With a focus on the relationship between people and plants, Allison references the Indigenous belief that the plant family was the first family on earth and sustains all other life forms, both human and non-human. 
Paul Chartrand
's practice engages with environmental issues through the construction of sculptural life support apparatuses populated with living plants. Here he critiques a human-centred view of plants, positioning science in relation to gender and use-value as it relates to cannabis cultivation in which an unpollinated "virgin" sinsemilla clone is valued for its medicinal value rather than its reproductive value. Creole-Canadian artist
Joscelyn Gardner
weaves together images of intricately braided Afrocentric hairstyles, brutal iron slave collars used to punish enslaved women who had been accused of inducing abortions, and the botanical specimens purportedly used as abortifacients, highlighting the imbrication of the slave trade, colonization, print culture, and the Enlightenment pursuit of natural history. 
Zachari Logan
explores queer identity, memory, and place using depictions of Saskatchewan wildflowers to challenge accepted images of the male body. Often using images of ditch-weeds, Logan draws parallels between plants that are regarded as undesirable and relegated to the margins, and queer sexuality which often occupies a similarly peripheral space. 
Sarah Maloney
applies a feminist lens to consider the scientific, cultural, and economic values of botanical specimens and how they have shaped history and material culture, and have been implicated in the construction of nature and gender. Concentrating on maligned and overlooked common weeds,
Amanda White
considers the use of language and rhetoric around such species, in particular the distinctions between the categories of introduced, invasive and noxious, and examines the language used to describe them in the context of settler and Indigenous relationships, nationalism, and xenophobia. The exhibition also includes the extraordinary "The Land is the Word The Word is the Land" Cape, created by Toronto-based designer
ZOFF
with LUXX Ready-to-Wear, and worn by Jeremy Dutcher for his performance at the 2019 Juno awards. The cape combines floral embroidery and Cree syllabics to celebrate the protectors of this earth, Dutcher and the Wolastoqiyik peoples, and to inspire all nations, faiths, ethnographic identities, sexualities, and gender identities.
An exhibition catalogue is forthcoming, featuring essays by Giovanni Aloi, Helen Gregory, and Franchesca Hebert-Spence.
---
Related Programming:
Panel Discussion
October 7, 2021, at 7:00 p.m. EST
Featuring Carrie Allison, Paul Chartrand, Joscelyn Gardner, Zachari Logan, Sarah Maloney, and Amanda White.
Moderated by Dr. Helen Gregory
Join us for a panel discussion hosted on Zoom in partnership with the Western University Department of Visual Arts Art Now! Speaker Series on Thursday, October 7 at 7:00 p.m. EST. Moderated by exhibition curator Dr. Helen Gregory,
The Botanical Turn
artists will discuss how plants and botanical imagery have informed their art practices.
More info
At TAP Centre for Creativity:
At this time, TAP Centre for Creativity is open for scheduled events and activities only. Individuals can schedule a gallery visit to see this exhibition
here
.
On October 14 and 16, exhibition curator Brian Lambert will offer guided tours of
Greg Curnoe: What About Me?
 These events can be similarly scheduled through TAP's website. All visitors to Tap Centre for Creativity will be asked to review the gallery's COVID-19 visitor policy at the time of booking.
If you have questions about visiting or need additional information about visiting TAP, please email
info@tapcreativity.org
. 
Greg Curnoe: What About Me?
September 30 - November 6, 2021
Curated by Brian Lambert
at TAP Centre for Creativity 203 Dundas Street, London, Ontario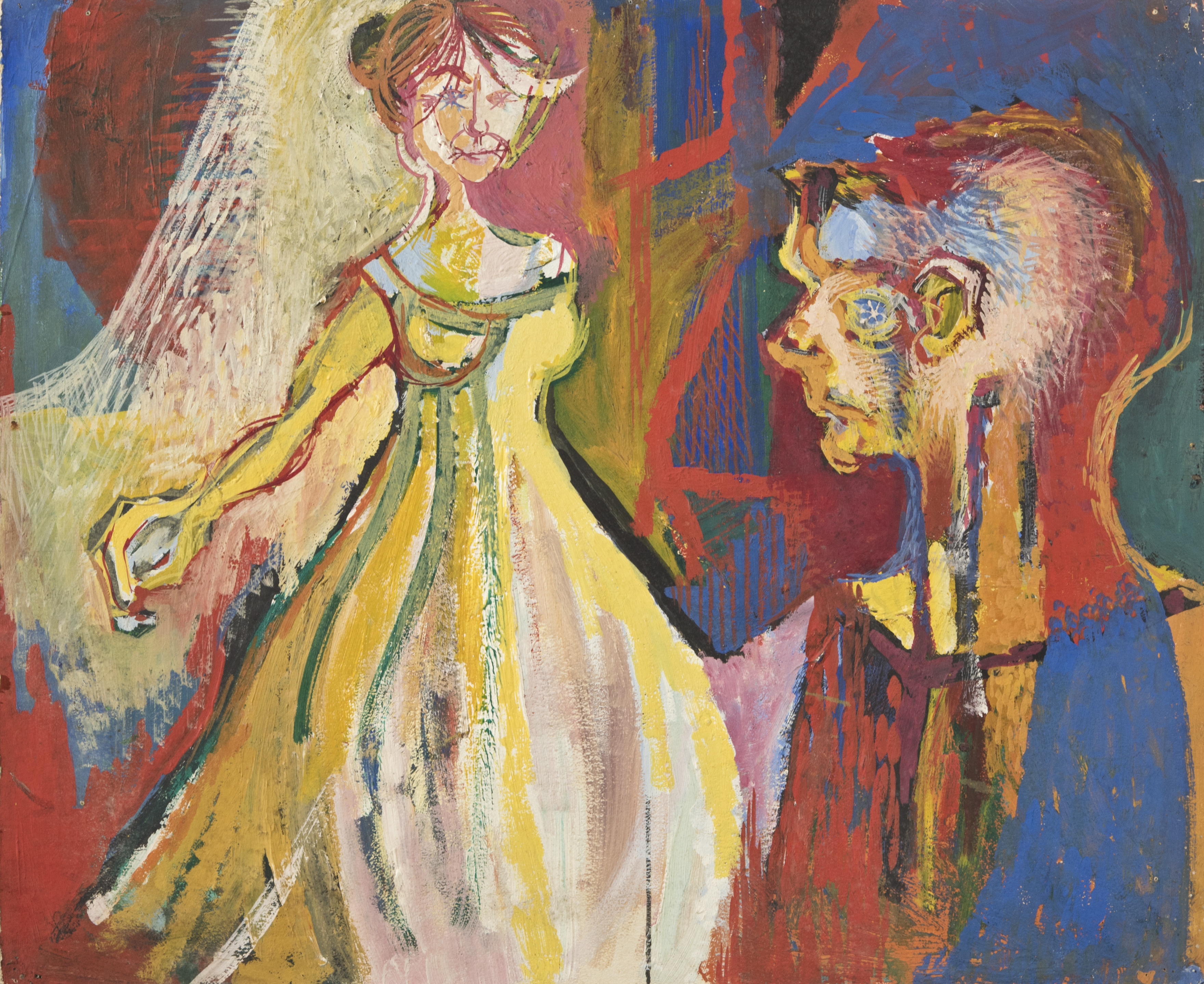 Greg Curnoe, Us And a New Dress (Self Portrait)  no date. Oil on board. McIntosh Gallery Collection, Western University. Gift of Sheila Curnoe, 2018.
In 2018, Sheila Curnoe donated over 500 artworks by her late husband, the celebrated London-based artist Greg Curnoe, to McIntosh Gallery. The donation included many early works completed while a student at the Ontario College of Art from 1957 to 1960. Together, they reveal the characteristic colour and line that would define his distinctive later style.
Other works in this important gift are from Curnoe's earliest studio practice with some of his satirical Dadaist constructions critical of prevailing art traditions.
McIntosh Gallery is pleased to present this exhibition in collaboration with
TAP Centre for Creativity
as an opportunity to share Greg's passion for alternative display spaces and reach new audiences for his art.
Greg Curnoe
(1936-1992) was an artist-activist who was central to the development of the 1960s London art scene into an important artistic centre. Rejecting the notion that an artist could thrive only in the big cities of Toronto or New York, he instead founded the Regionalism movement which celebrated everyday life and experience.
He was involved in organizing many firsts in the community: the first art "happening" in 1962; Region Magazine (1961-1990); Region Gallery (1962-1963); and Canada's first artist cooperative, the Forest City Gallery in 1973, still in operation today. He was also a founding musician in the Nihilist Spasm Band which specialized in improvisational music on homemade instruments. He was very supportive of fellow London artists Jack Chambers, Tony Urquhart and Kim Ondaatje who founded the Canadian Artists Representation/Le Front des Artistes Canadiens to demand recognition of artist copyright.
Curnoe exhibited extensively including representing Canada at the Sao Paulo Bienal (1969) and the Venice Biennale (1976) and in major exhibitions at the National Gallery of Canada (1968), the Musée des beaux-arts de Montréal (1981), and at the Art Gallery of Ontario (2001). His work is held in numerous major public and private collections.