Written on the Earth Panel Discussion
Written on the Earth Panel Discussion
April 7, 2021, 5:00 pm EST on Zoom
Featuring artists Hannah Claus, Patrick Mahon, Ellen Moffat, Joel Ong, Eeva Siivonen, and Matthew Trueman, and Northern Tornadoes Project researcher Dr. Greg Kopp. Moderated by Curator Dr. Helen Gregory.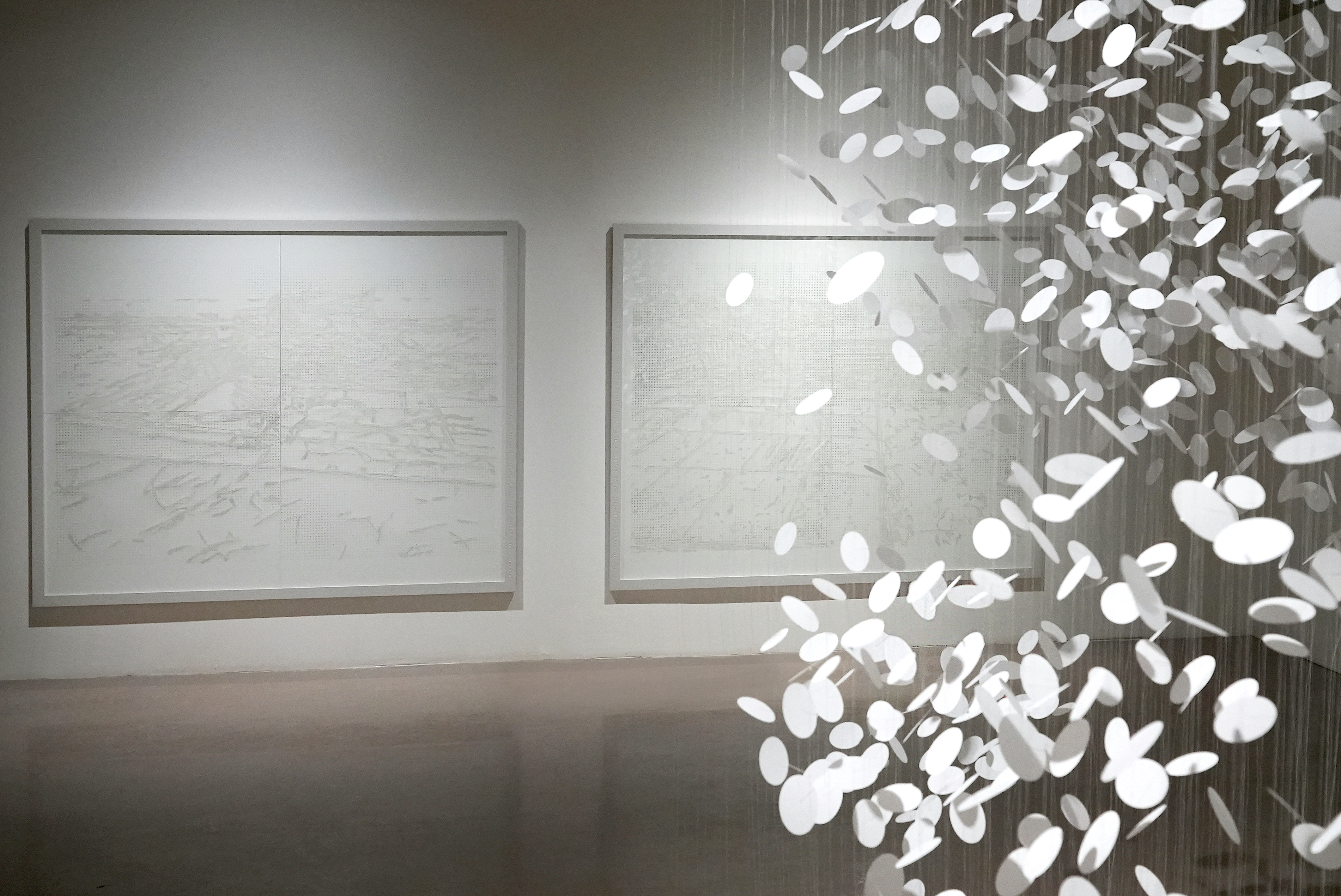 Written on the Earth, installation view. L-R: Patrick Mahon, Hannah Claus. March 4 to April 17 at McIntosh Gallery.
Zoom Webinar recording: https://www.youtube.com/watch?v=9SW1AzM5Nw8&ab_channel=McIntoshGallery

Join exhibiting artists and Northern Tornadoes Project (NTP) lead researcher Dr. Greg Kopp for a panel discussion on Zoom in response to our current exhibition Written on the Earth. Moderated by curator Dr. Helen Gregory, panelists will discuss how the project responds to research being conducted by NTP, the role of research in contemporary artistic practice, and how conversations between disciplines contribute to a meaningful dialogue around environmental and ecological concerns such as global warming, human/non-human ecologies, and Indigenous views on land and stewardship.
About the panelists:
Hannah Claus is a Kanien'kehá:ka / English transdisciplinary artist who engages with the idea of space shaped by language, material culture and place as transversal living concepts. In her artistic practice, she critiques dominant colonial histories and makes present other voices, narratives and ways of seeing. A 2019 Eiteljorg Fellow and 2020 Prix Giverny recipient, her installations have been included in Ábadakone (National Gallery of Canada 2019), the touring exhibition Inaabiwin (Robert McLaughlin Gallery 2018) and Insurgence / Resurgence (Winnipeg Art Gallery 2017). Recent solo exhibitions include spatial codifications (YYZ, Tkaronto) and trade | treaty | territory (Dunlop Art Gallery, Regina). Claus is one of four co-founders of daphne, a new Indigenous artist-run centre in Tiohtià:ke. She sits on the Board of Directors of the Conseil des arts de Montréal (2018 – 2024) and previously served on the working Boards of the Aboriginal Curatorial Collective (2013 – 2018) among others. In August 2020, she joined Concordia University as Assistant Professor of Frameworks and Interventions in Indigenous Art Practice. Claus was born in Fredericton, New Brunswick and lives / works in Tiohtià:ke. She is a member of Kenhtè:ke (Tyendinaga Mohawks of the Bay of Quinte).
Dr. Greg Kopp is the ImpactWX Chair in Severe Storms Engineering, lead researcher in the Northern Tornadoes Project, and a professor in Western University's Department of Civil and Environmental Engineering. He received a BSc in Mechanical Engineering from the University of Manitoba in 1989, a MEng from McMaster University in 1991 and a PhD in Mechanical Engineering from the University of Toronto in 1995. His expertise and research relate to mitigating damage to structures during extreme wind storms such as tornadoes and hurricanes. He works actively to implement research findings into practice, currently serving as Chair of the ASCE 49 Standards Committee on Wind Tunnel Testing For Buildings and other Structures, and as a member of various other Building Code committees. A former Canada Research Chair in Wind Engineering, he is also the lead researcher for the Three Little Pigs Project at The Insurance Research Lab for Better Homes.
Patrick Mahon is an artist, a writer/curator, and a Professor of Visual Arts at Western University, in London, Ontario. Currently, he is Director of the School for Advanced Studies in the Arts & Humanities at Western. Mahon's artwork has been exhibited in Canada at The Art Gallery of Hamilton, the Southern Alberta Art Gallery, Museum London, The Museum of Contemporary Canadian Art, Toronto; internationally in exhibitions in China, France, Norway, and Switzerland; and in numerous print biennales since the early 1990's. Recent Canadian solo exhibitions include McMaster Museum of Art (2013); Wilfred Laurier University (2013); and University of Winnipeg (2014). Patrick's collaborative project, Immersion Emergencies and Possible Worlds, resulted in a ten-artist group exhibition, The Source: Rethinking Water through Contemporary Art, presented at Rodman Hall, Brock University, Canada, in 2014, with a second iteration, The Living River Project, at the Art Gallery of Windsor in 2019. Current and forthcoming solo and group exhibitions include: Patrick Mahon: Messagers' Forum, Thames Art Gallery Chatham (2020-21); and GardenShip and State, Museum London, co-curated by Patrick Mahon and Jeff Thomas, with a forthcoming group exhibition, 2021, and ongoing community projects, beginning in 2020. 
Ellen Moffat's projects range from multi-channel sound installations to interactive electroacoustic instruments, and from gallery installations with performative elements to community projects. Rooted in the vocabulary of sculpture, her primary media is sound. Her work explores sound and space, the body and materiality as solo, collaborative and interdisciplinary projects. Her current creative research into the acoustic properties of materials uses various processes and actions for the live sound generation of sound using physical interfaces, materials, transducers, and real-time sound processing. Her work has been presented throughout Canada and internationally in solo, group and touring exhibitions in galleries and off-site locations including Remai Modern Gallery, Saskatoon (2018), Gallery 1214, Vienna (2017), Dunlop Art Gallery, Regina (2015); NAISA, Toronto (2015); CAFKA, Kitchener (2013); Dalhousie Art Gallery, Halifax (2012); Kentler International Art Gallery, Brooklyn (2011); Epcor Centre, Calgary (2011-2012); Tel Aviv (2008). Her collaborations with performance artists, dancers, and musicians have been presented in Toronto, Saskatoon and Vancouver. Born in Toronto, she has lived and worked across the country. She is currently a PhD candidate at Western University in the Visual Arts Department in Studio.  
Joel Ong is a media artist whose works connect scientific and artistic approaches to the environment, particularly with respect to sound and physical space. He is an Assistant Professor in Computational Arts and Director of Sensorium: The Centre for Digital Arts and Technology at York University. Professor Ong's work explores the way objects and spaces can function as repositories of 'frozen sound', and in elucidating these, he is interested in creating what systems theorist Jack Burnham (1968) refers to as "art (that) does not reside in material entities, but in relations between people and between people and the components of their environment". A serial collaborator, Professor Ong is invested in the broader scope of Art-Science collaborations and is engaged constantly in the discourses and processes that facilitate viewing these two polemical disciplines on similar ground.  His graduate interdisciplinary work in nanotechnology and sound was conducted at SymbioticA, the Center of Excellence for Biological Arts at the University of Western Australia and supervised by BioArt pioneers and TCA (The Tissue Culture and Art Project) artists Dr Ionat Zurr and Oron Catts.  His current artistic practice builds on his doctoral studies in data aesthetics and social activism (University of Washington, 2017) in the emerging environments of a post-pandemic future.
Eeva Siivonen is a moving image artist originally from Helsinki, Finland. In her work, she sutures together visual and sonic spaces where the small and forgotten becomes visible and amplified in an effort to create space for attention and empathy. She holds an MFA in Video Art from Syracuse University where she studied as a Fulbright scholar. She also has an MFA in documentary film directing from Aalto University in Helsinki. She is currently pursuing a practice-based Ph.D. in Art and Visual Culture at Western University in London, Ontario. Her work has been screened internationally at film festivals, gallery exhibitions, and video art events. Most recently, her work has been screened at San Francisco Cinematheque's Crossroads festival, at Barcelona International Short Film and Video Festival, and at Transient Visions Festival of Moving Image. Previously, her work has been screened at Black Maria Film Festival, Montreal Underground Film Festival, and Aubagne International Film Festival among others. She has also participated in gallery exhibitions such as Visions at the Nunnery Gallery in London, UK, and Were the Eye Not Sunlike — a collaborative video art exhibition organized by ACRE TV, Fernway Gallery, and the Museum of Contemporary Art in Chicago. She has received residency fellowships at multiple international artist residencies, most recently Helene Wurlitzer Foundation in New Mexico, Goetemann Artist Residency in Massachusetts, Terra Foundation in Giverny, France, and Munson Williams Proctor Arts Institute in Utica, NY.
Matthew Trueman is an artist based in London, Ontario. He works primarily in sculpture, site-responsive installation and video exploring Western Culture's relationship with the landscape through technology. This focus on technology was inspired by his background in engineering. He holds an MFA from Western University. His recent series of site-responsive installations, Instruments for Landscapes: Black Rocks, was the recipient of the 2019 Environmental Installation Award at Ocean Alliance in Gloucester, Massachusetts. In 2018 his Instruments for Landscapes: Pine Grove was created during a residency at I Park Foundation in Connecticut. Matthew has had previous exhibitions at DNA Art Space, McMaster Museum of Art, Thames Art Gallery, Westland Gallery, Museum London: Nuit Blanche and Hear Here London. His photographic works have been published in So Long South Street by Huron and Erie Press.