Remnants, Outlaws, and Wallows Virtual Symposium
Remnants, Outlaws, and Wallows Virtual Symposium
September 10, 2021, 2:00 pm EST on Zoom
Watch recording here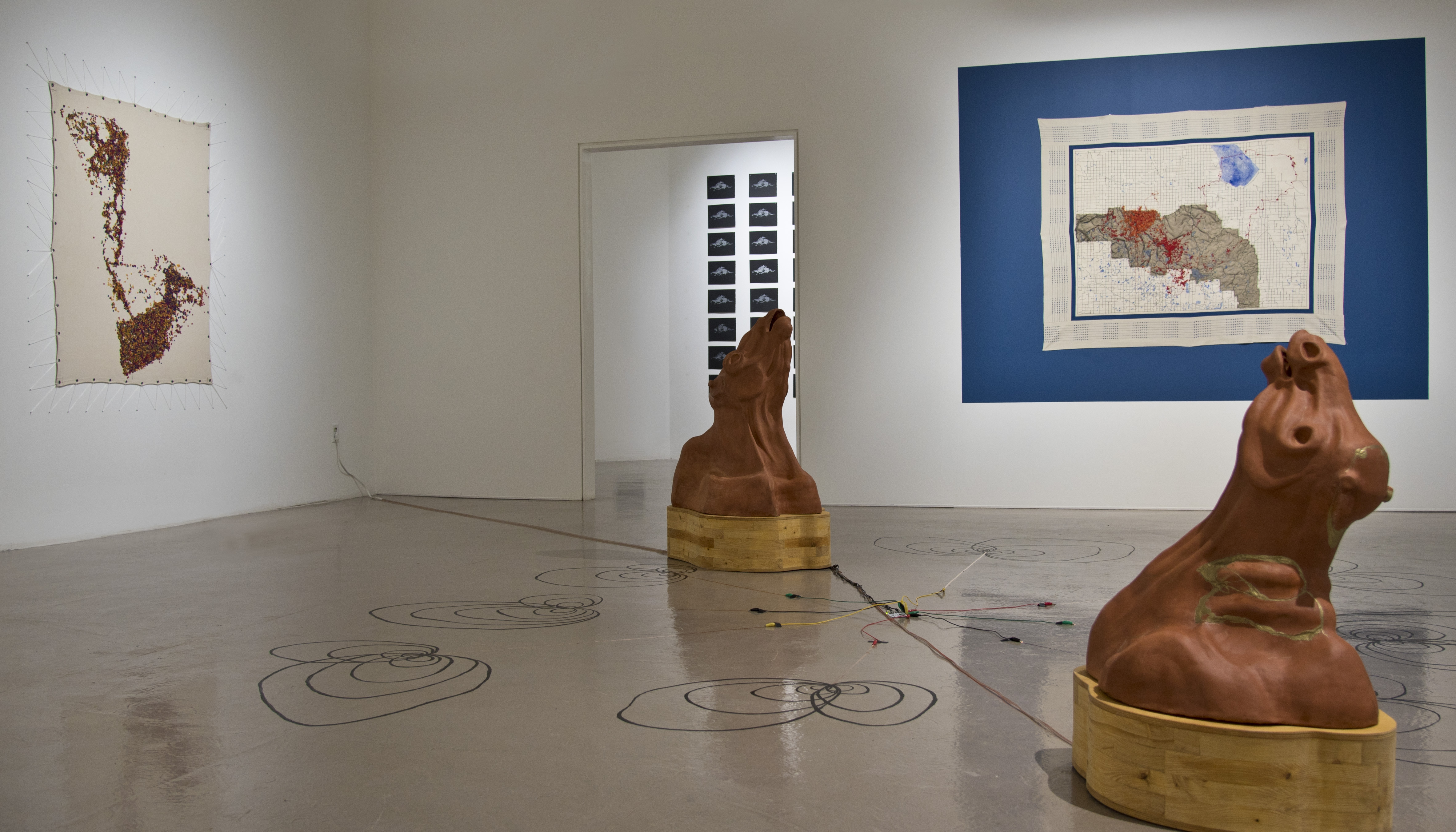 Michelle Wilson, Remnants, Outlaws, and Wallows: Practices for Understanding Bison. Installation view, McIntosh Gallery. August 5 - September 11, 2021. 
Join us for a virtual interdisciplinary symposium on the themes of Practices for Understanding Bison on Friday, September 10 at 2:00 p.m. on Zoom. Artist Michelle Wilson (Ph.D. Candidate, Western University) will moderate a virtual roundtable discussion on the interconnectedness of bison, settler colonialism, conservation, and Indigenous peoples. Mary Lou and Dan Smoke will present a greeting and musical performance. Guest panelists include Wes Olson, Bison Specialist and Retired Park Warden (Elk Island National Park), Les Campbell, Indigenous Affairs Manager (Riding Mountain National Park), and KC Adams, a Nêhiyaw, Anishinaabe, and British social practice artist and educator (Winnipeg, MB).
For more than 40 years Wes Olsen has worked in the field of wildlife conservation and management. Prior to retirement in 2012, he worked for more than three decades as a National Park Warden in Banff, Waterton Lakes, Elk Island, Prince Albert and Grasslands National Parks, with a focus on plains and wood bison management. In addition to his career with Parks Canada, Wes has published two books about bison and is an accomplished artist.
KC Adams is an artist, educator, activist, mentor and a mother. She is of Nêhiyaw, Anishinaabe and British descent based in Winnipeg, Manitoba. She graduated Concordia University with a BFA in studio arts and is currently enrolled at University of Winnipeg's Master of Arts in Curatorial Studies. Adams specializes in social activist art and her focus is on the dynamic relationship between nature (the living) and technology (progress). Adams creates work that explores technology and how it relates to identity and knowledge. Adams has had several solo and group exhibitions and has participated in three biennales, including the PHOTOQUAI: Biennale des images du monde in Paris, France. Adams has participated in residencies at the Banff Centre, AB; the Confederation Art Centre, PEI; the National Museum of the American Indian, DC, and the Parramatta Artist Studios, NSW. Adams' work is held in many permanent collections nationally and internationally. Adams was awarded the Winnipeg Arts Council's Making A Mark Award and was Canada's Senate 150 medal recipient for her photo series Perception.
Les Campbell is Anishinabe from Waywayseecappo First Nation and has a background in Outdoor Recreation, Tourism, and Environmental Management. He spent his early years living on the west coast of BC, but his career in public service brought him back to his ancestral homelands in Manitoba, which include Riding Mountain. Through his work with Parks Canada, Les can support awareness and build relationships around protecting and presenting natural and cultural values in and around Riding Mountain and Wagiiwing. Les will be presenting on his master's thesis, which described some of the existing values and relationships within his home community. His research opens many questions about how indigenous and non-indigenous peoples can work together moving forward.
Mary Lou and Dan Smoke are an exceptional couple. Mary Lou is Ojibway Nation, from Batchawana, on Lake Superior, and Dan is Seneca Nation from the Six Nations Grand River Territory. They have been happily married for 43 years. For 21 of those years, they have hosted "The Smoke Signals Aboriginal Radio Program," a Western University campus-based radio program offering interviews with indigenous cultural workers and advocates from across Turtle Island.
Mary Lou and Dan Smoke received honorary doctorates and are Adjunct Assistant Professors in the Schulich Interfaculty Program in Public Health, Schulich School of Medicine and Dentistry, Western University. In 2006, they were invited to teach a course at Western University's Faculty of Information and Media Studies (FIMS).
Mary Lou is a gifted traditional and contemporary singer and has recently been inducted into the Forest City London Music Hall of Fame for Lifetime Achievement. Over the years they have won several radio and TV Awards as well as a Teaching Award from the University Students Council for their teaching methods at Western. Recognized as Elders with many organizations and institutions, they are frequently called upon to teach indigenous protocols and ethics, as well as perform indigenous ceremonies. On Dec. 10, 2020, Dan and Mary Lou received the Atlhosa Peace Awards for their work in truth and reconciliation.