#ForestCityTattooProject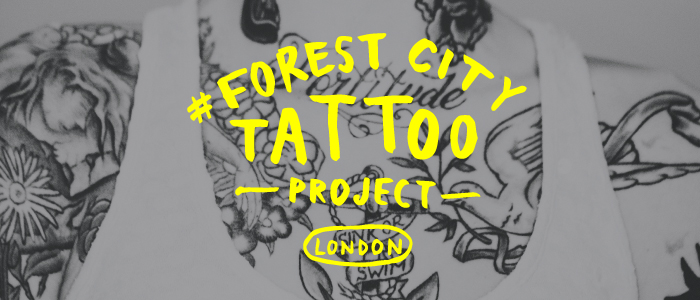 The #ForestCityTattooProject is an interactive, community-based project that uses social media platforms to generate dialogue about tattoo culture, one of the most widespread and diverse forms of visual expression in contemporary society.
The popularity of tattoos raises many questions about their role in the expression of personal identity and the construction of communities through visual representation. The #ForestCityTattooProject will connect Londoners by creating an interactive map of London's vibrant tattoo culture via social media where images, ideas, and opinions on the topic will be shared.
London residents are invited to post anonymous tattoo photographs on Instagram, Twitter, and Tumblr using the hashtag #ForestCityTattooProject and indicate their approximate location in the city by providing a major street intersection.  After several months of collecting and plotting images, Heidi Kellet, PhD candidate in Art and Visual Culture at Western University, will produce a virtual tattoo map of London, along with an online discussion exploring tattoos as visual culture.
If you would like to participate by anonymously sharing images of your tattoo art, please submit a colour photograph to the #Forest CityTattooProject via Instagram, Twitter, or Tumblr with the hashtag #ForestCityTattooProject. To privately submit your image(s), please email: forestcitytattooproject@gmail.com.
If you would like to stay up to date with the project's development, please subscribe to our mailing list by emailing mcintoshgallery@uwo.ca.
For more information, please contact Lucas Cabral, Communications and Outreach Coordinator, at lcabral3@uwo.ca
---
Heidi Kellet is a PhD candidate in Art and Visual Culture in the Dept. of Visual Arts Dept (UWO) who studies the human skin and contemporary portraiture. She is the co-principal coordinator of (sk)interlocutors, an interdisciplinary skin research group, and was co-curator of Art of the Human Canvas (2007) at the Museum of Canadian Contemporary Art, Toronto