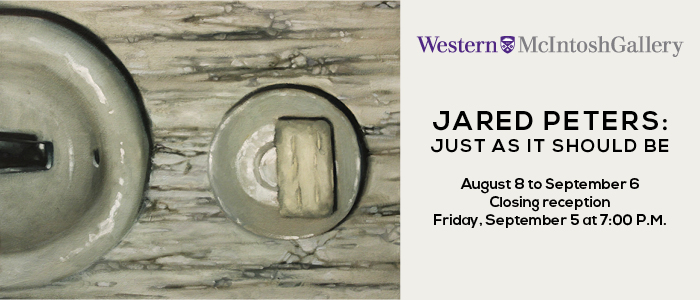 Jared Peters: Just as it should be
August 8 to September 6, 2014
Closing reception | Friday, September 5 at 7:00 P.M.

Painting has a long and distinguished history of drawing our attention to the overlooked aspects of everyday life. From Roman depictions of the scattered remains of feasts to the kitchen still lifes of 18th-century French painter Jean-Baptiste-Siméon Chardin, artists have interpreted the mundane residue of daily existence as evidence of the ephemeral nature of life itself.
Jared Peters' paintings of well-used kitchen stoves and still-damp bars of soap provide evidence of the recent presence of anonymous activity. These small, intimate close-ups, typically rendered straight from above, evoke both the deadpan matter-of-factness of documentary, and the provocative drama of mystery writing, in which the action has already occurred and we are left to assemble the clues.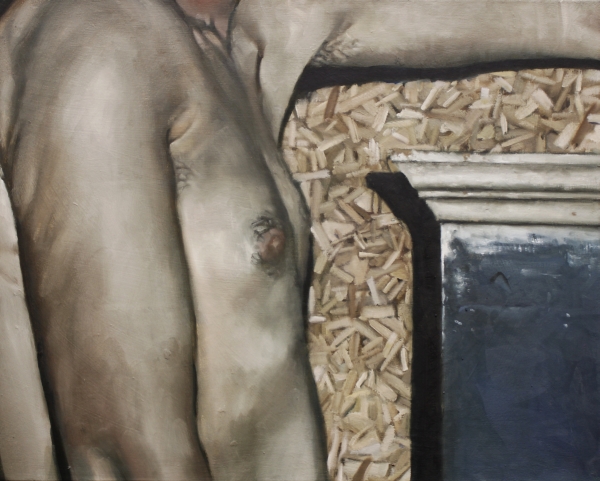 Jared Peters,
Dresser
, 2014. Photo courtesy of the artist.
As Peters puts it: "My paintings are concerned with the role of everyday objects and spaces in directing our behaviour and ways of seeing. The paintings are sourced from my immediate encounters with daily experience and interactions with the conventional arrangements of contemporary life."
Through the practice of painting, Peters reveals and questions the aesthetic and formal logic of everyday living, permitting an active grappling and negotiation with the normalizing conventions of contemporary society.
Jared Peters is a contemporary artist engaged with themes of painting, history, power and identity. He received a BA in history from the University of New Brunswick, a BFA from NSCAD University, and is currently an MFA candidate at Western University. His work has been collected by the New Brunswick Art Bank and private collections across Canada. In 2011, Peters was a semi-finalist in the prestigious RBC Canadian Painting Competition.
---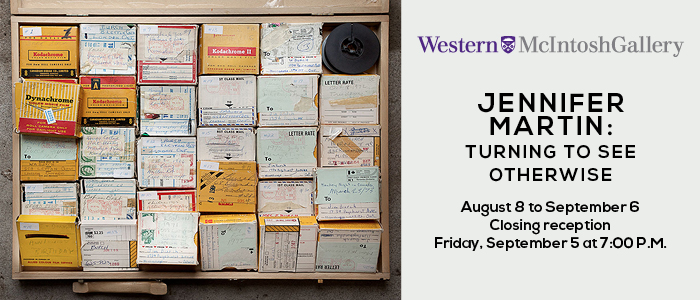 Jennifer Martin: Turning to see otherwise
August 8 to September 6, 2014
Closing reception | Friday, September 5 at 7:00 P.M.

When does a personal photograph cease to circulate within everyday life and become part of an archive? And how does its meaning change in the process? These are two key questions raised by Vancouver photographer Jennifer Martin in her solo McIntosh Gallery exhibition Turning to see otherwise.
Martin is specifically interested in the way in which discrete moments of everyday life captured in photographs are re-contextualized through their inclusion in an archive, with its own inherent organizational structure and narrative. As the exhibition title suggests, Martin's focus is that elusive moment when meaning "turns", or changes, as a photograph moves from one context to the other.
Using materials from her own family's archive, which includes thousands of negatives, photographs, and Super 8 films representing multiple generations, Martin edits this extensive collection to focus on what she describes as the gesture of the turn.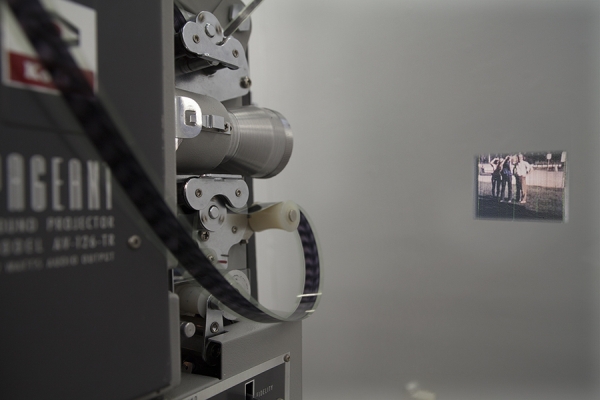 Jennifer Martin,
Looking back,
2013. Photo courtesy of the artist.
As Martin puts it: "I am interested in the transformation of single moments of the everyday into archival materials that then inform a collection's narrative.  By examining this turning point both formally and metaphorically, we can consider how our orientation, or rather disorientation, to the materials presented affects our understanding of the narrative."
Any archive, including a collection of family photographs such as the one Martin uses as source material, has a narrative function. Determining what will be included or excluded can define the limits of its given history, and thus determine how its story is told. Martin questions how we, in turn, change our relationship to such images, as we become enmeshed in the fluidity of memory and meaning.
Jennifer Martin is a Vancouver artist, currently based in London, Ontario. She received her BFA in photography from Emily Carr University of Art and Design and is currently an MFA candidate at Western University.
---
Jared Peters: Just as it should be and Jennifer Martin: Turning to see otherwise are organized by McIntosh Gallery in collaboration with Western University's Department of Visual Arts MFA program in Art and Visual Culture uwo.ca/visarts.
Join us on Friday, September 5 at 7:00 P.M. for a public reception with the artists in attendance.  For more information, please contact Kay Nadalin, Communications and Outreach Coordinator, at 519-661-3181 or knadali@uwo.ca.