Over several decades, Peggy Reuber and Grant Reuber, former Economics professor, Provost and Chancellor of Western University, assembled a remarkable collection of major works on paper. Internationally renowned artists, including Richard Hamilton, Toulouse Lautrec, Roy Lichtenstein, Pablo Picasso, Georges Rouault, and Frank Stella are joined by outstanding Canadian artists Clarence Gagnon, Jean Paul Lemieux, and David Milne. The first public display of the Reuber Collection, this exhibition demonstrates the remarkable results of a life-time commitment to collecting art with passion, conviction and a perceptive eye.
---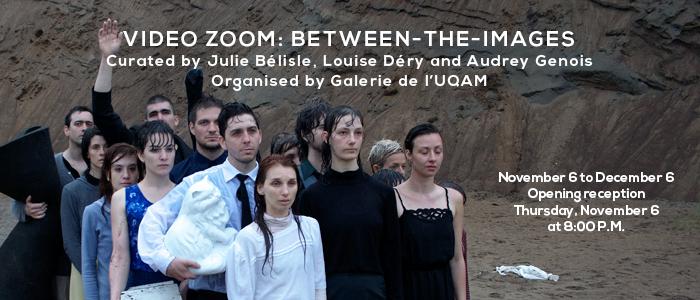 VideoZoom: Between-the-Images
Curated by Julie Bélisle, Louise D

éry and Audrey Genois


Organised by Galerie de l'UQAM
November 6 to December 6, 2014
Opening reception | Thursday November 6 at 8 P.M.
This anthology of video includes the work of seven Quebec artists who define themselves not as filmmakers but as visual artists motivated by the exploration of the image in motion. Their short videos deal with a variety of subjects in the realm of politics, popular culture, and television, as well as poetically charged images. The emphasis is sometimes on form, sometimes on narrative or content, with additional compositional elements of sound, time, the archive, landscape, and performance.  The title, Between-the-Images, is from the writing of theorist Raymond Bellour, who urges us not to pass distractedly from one image to the next but to seek in depth understanding from below their surfaces.
A free public lecture by Louise Déry takes place on Thursday November 6 at 7 P.M. in the North Campus Building (NCB-113) as part of the Art Now! Speakers' Series organized by the Department of Visual Arts. A public opening reception at McIntosh Gallery follows at 8 P.M. All are welcome.
---
For more information about Louise Déry's lecture, please contact Christof Migone at cmigone@uwo.ca or visit http://www.uwo.ca/visarts/speakers.html.

For more information about the exhibition, please contact Lucas Cabral, Communications & Outreach Coordinator, at 519-661-3181 or lcabral3@uwo.ca.
---
Sophie Bélair-Clément  (b. 1978, Montreal)
Sophie Bélair-Clément holds an MA in visual and media arts from Université du Québec à Montréal and is currently working toward a PhD in literary and intermedia studies from Université de Montréal and Université Rennes 2. Grounded in the performative experience, her body of work raises questions of artistic licence and historiography. Her work has been presented in solo and group shows in Quebec and abroad: Künstlerhaus Bethanien (Berlin), Hartware Medien Kunstverein (Dortmund, Germany), Aboa Vetus & Ars Nova Museum (Turku, Finland). In 2010 she participated in the Galerie de l'UQAM group show Expansion.
Olivia Boudreau (b. 1979, Montreal) 
Olivia Boudreau holds an MA in visual and media arts from Université du Québec à Montréal. Her videos explore the notions of presence, intimacy and slowness, with the minimalist narratives finding their meaning in the duration, the refined details and the contemplative mindset they demand. She has exhibited frequently in Montreal, shown her work at the Loop Festival, in Barcelona, and Néon diffuseur d'art contemporain, in Lyons, and carried out a residency in Valencia. At Galerie de l'UQAM, she exhibited solo in 2009 and presented one of her videos in the 2010 group show Expansion. www.oliviaboudreau.com
Jacynthe Carrier (b. 1982, Quebec City)
Jacynthe Carrier holds a BA in visual and media arts from Université du Québec à Montréal and an MFA from Concordia University. She makes true tableaux vivants, staging characters in performative situations. Each character is tasked with performing a specific action or manipulating an evocative object in an often rural environment. Territorial appropriation is central to the artist's concerns. Her videos have been part of programs in France, Brazil, the United States and elsewhere. In 2010 she participated in the Galerie de l'UQAM group show Expansion. www.jacynthecarrier.com
Michel de Broin (b. 1970, Montreal)
Michel de Broin holds an MA in visual and media arts from Université du Québec à Montréal. With sculpture, installation and video, he subverts or appropriates everyday objects to create a point of disruption or reversal of meaning that questions the systems in which we live. His work has been shown at venues including MASS MoCA (North Adams), Mac/Val (Paris), Musée Tinguely (Basel), Villa Arson (Nice), Berlinische Galerie and Haus Am Waldsee (Berlin), Exit Art and On Stellar Rays (New York), Villa Merkel (Esslingen) and Center for Curatorial Studies (Annandale-on-Hudson). At Galerie de l'UQAM, he exhibited solo in 2007 and presented one of his videos in the 2010 group show Expansion. www.micheldebroin.org
Pascal Grandmaison (b. 1975, Montreal)
Pascal Grandmaison holds a BA in visual and media arts from Université du Québec à Montréal. Known for his videos and photographs, he deploys exacting precision and poetic sensibility in exploring the boundaries of the perceptible, things hidden in the interstices. His works question the relationship between sign and meaning, form and function. He has exhibited extensively in Canada and at Jack Shainman Gallery (New York), Centre Pompidou (Paris), Whitworth Art Gallery (Manchester, England) and Casino Luxembourg. In 2010 he participated in the Galerie de l'UQAM group show Expansion. (89 words) www.pascalgrandmaison.com
Frédéric Lavoie (b. 1976, Montreal)
Frédéric Lavoie holds a BSc in anthropology from Université de Montréal and an MA in visual and media arts from Université du Québec à Montréal. For his videos, he captures images in the urban landscape or in quotidian banality and pairs them with a recreated soundtrack to explore issues related to listening and observing. His work has been shown in exhibitions in Montreal and at international video events including European Media Art Festival (Germany), Split Film Festival (Croatia), Antimatter Film Festival (Victoria, BC) and Signal + Noise Media Art Festival (Vancouver). At Galerie de l'UQAM, he exhibited solo in 2007 and presented one of his videos in the 2010 group show Expansion. www.fredericlavoie.net
Aude Moreau (b. 1969, Montreal)
Aude Moreau holds an MA in visual and media arts from Université du Québec à Montréal and BFA from Université Paris 8. Over the past decade, she has produced a body of work that draws on her dual training in stage design and the visual arts. Her multidisciplinary, often monumental works are imbued with poetic sensitivity and cast a critical eye on society. She has exhibited in Quebec, France, the United States, Luxembourg and the Czech Republic. This is her first showing at Galerie de l'UQAM. www.audemoreau.net