Current

Roly Fenwick Lilacs (On the Road to Big Bay) 1996, The Flora and Ian Tripp Collection (promised gift to McIntosh Gallery)
The Flora and Ian Tripp Collection: Art, Friends, and Memories
Curated by Catherine Elliot Shaw
April 5, 2018 - May 26, 2018
Opening Reception: Saturday April 8, 2-4 PM
This exhibition reveals one London couple's approach to assembling an art collection based largely on longstanding friendships with the artists. Encouraged by former McIntosh director, Maurice Stubbs, Ian and the late Flora Tripp began collecting art soon after their arrival in London in the 1960s. They attended exhibition openings and often acquired a key work of art from each show, often the one illustrated on the invitation. Over the decades, they added international works discovered on their travels. But it largely remained a collection of London artists and friends including Eric Atkinson, Roly Fenwick, and Maurice Stubbs. The Flora and Ian Tripp Collection: Art, Friends, Memories displays most of their collection publically for the first time in celebration of its future bequest to McIntosh Gallery. We thank Paula, Tim and the late Greg Child, for their generous financial support of this exhibition.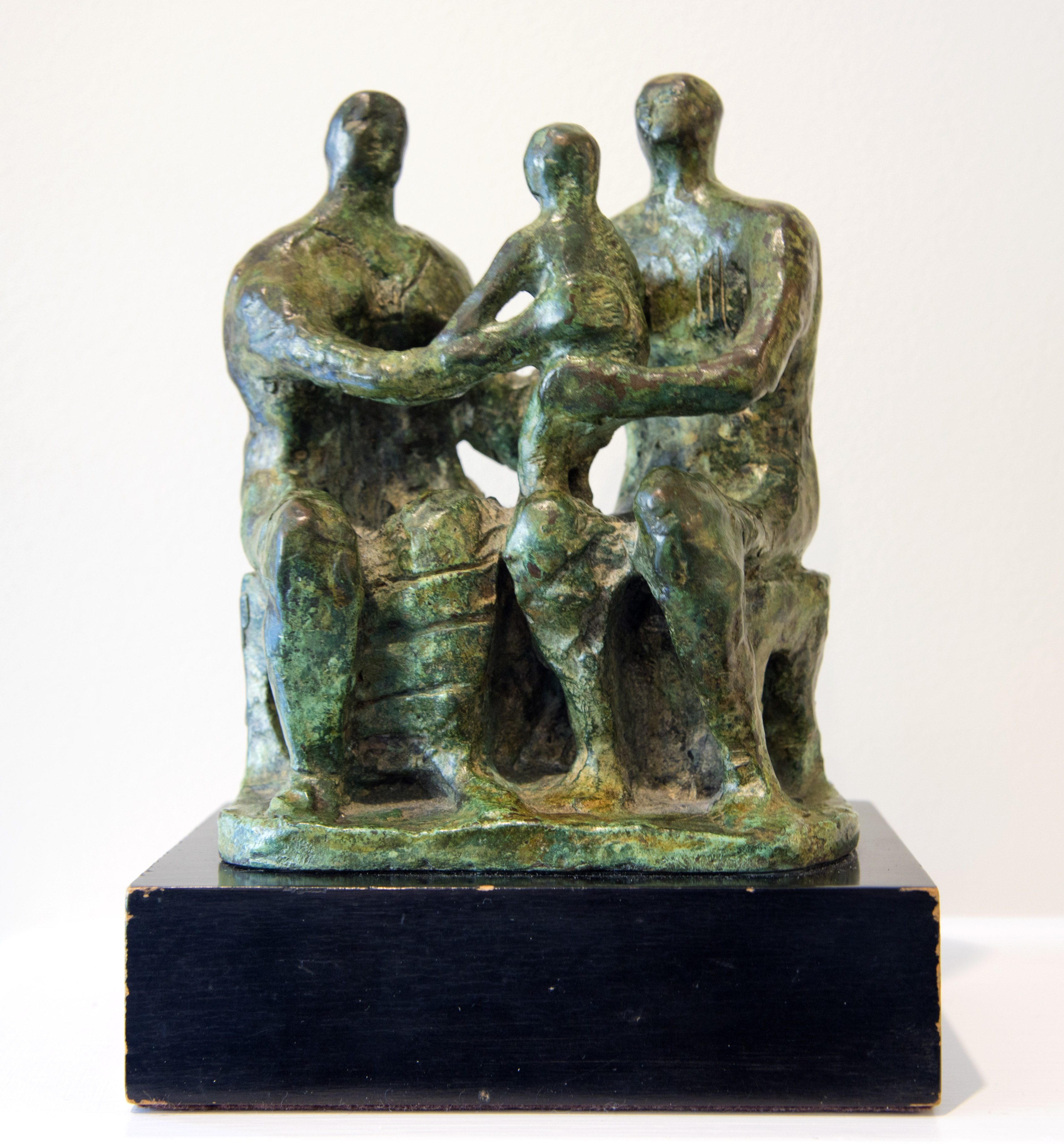 Henry Moore (British, 1898-1986), Family Group, 1945, bronze. Collection of McIntosh Gallery, Western University. Gift of the Estate of Shirley Elizabeth Moore (S. Elizabeth Moore), 2017
Recent Acquisitions
Curated by Catherine Elliot Shaw
April 5, 2018 - May 26, 2018
Opening Reception: Saturday April 8, 2-4 PM
Since 2010 collectors from London and region have donated over 550 works of art to the McIntosh Gallery Collection. Most have enhanced in significant ways our existing holdings of Canadian artists such as Carl Beam, Greg Curnoe, Jamelie Hassan, and Norval Morrisseau. Some are the only representations of fine local artists like the outstanding and beautiful James Griffiths. Works by distinguished international artists, including Richard Hamilton, Marino Marini, and an exceptionally rare and early Henry Moore bronze, help situate Canadian art practices within a global context.
McIntosh Gallery thanks all of our generous donors who make it possible for us to collect, maintain, preserve and develop a permanent collection. A rich resource for the promotion and appreciation of local, regional and national artists, it is widely recognized for its unique holdings which are featured regularly in curated exhibitions across Canada and in prestigious publications. 
For more information contact Abby Vincent, Communications and Outreach Coordinator at avince5@uwo.ca  or 519.661.2111 ext. 87576