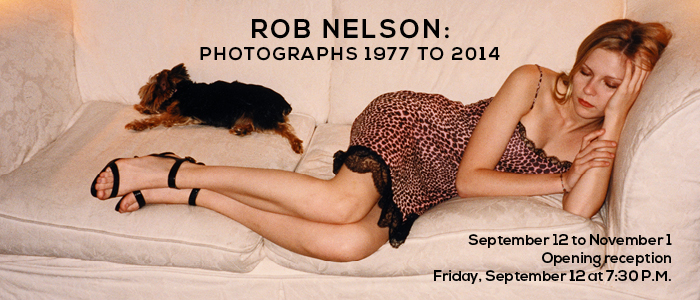 Rob Nelson: Photographs 1977 to 2014
September 12 to November 1, 2014
Opening reception | Friday, September 12 at 7:30 P.M.
Since the 1970s, London, Ontario photographer Rob Nelson has infused fashion and portrait photography with a unique combination of sensitivity towards his subjects and, in contrast, an edgy, candid immediacy. Nelson is credited with reinventing the often stilted formalism of conventional portraits and fashion photography by moving his subjects out of the studio and into the street. His enigmatic images of luminaries such as Prince Andrew, Margaret Atwood, and Kirsten Dunst, have appeared in numerous publications including Saturday Night, Interview, and Canadian Art magazines. But it is his experimental work with anonymous subjects that best reveal Nelson's remarkably sympathetic depictions of struggling actors, models, and other creative types as they reinvent themselves for the camera.
Nelson is a London-based photographer whose work has greatly influenced portraiture and fashion photography with an emphasis on melding traditional styles of editorial photography with street photography.  His photographs have been featured in major publications such as Interview Magazine, Canadian Art, Saturday Night, Flare, and Chatelaine. Nelson has been credited with playing a crucial role in the portrayal and chronicling of rising young stars such as singer-songwriter and two-time Polaris Prize nominee Basia Bulat and has also photographed established luminaries such as Kirsten Dunst, Karen Kain, Margret Atwood, and Prince Andrew.
---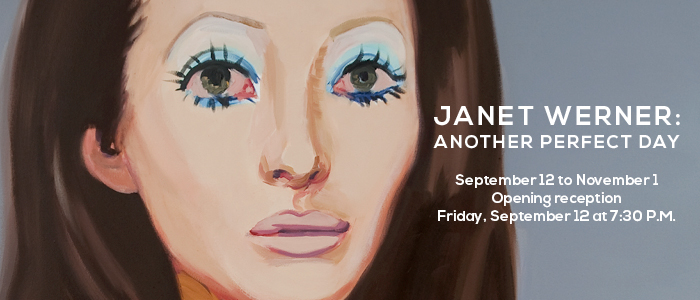 Janet Werner: Another perfect day
Curated by Kent Archer
Circulated by Kenderdine Art Gallery

September 12 to November 1, 2014
Opening reception | Friday, September 12 at 7:30 P.M.
Janet Werner's work as a painter focuses on the fictional portrait as a vehicle to explore notions of subjectivity and desire. Her paintings operate within and against the genre of conventional portraiture, taking found images of anonymous figures in popular culture and imbuing them with fictional personalities. The process of painting is a way of investigating the iconic power of the image, invoking imagination, memory, and projection to invest the nameless figure with human subjectivity and emotion. The final paintings are composite portraits that retain aspects of the original while also embodying notions of transformation, innocence, and loss.
In Werner's recent paintings there is an argument between beauty and the grotesque, where the figure itself has become the site of contest. Folded, cut, occluded, or altered, with colours ranging from luminous to ashen, and scale shifting from pixie to giant, these figures possess an otherworldly aspect. There is a subtle suggestion of witchcraft in these portraits, though it is not clear if these beings are the ones casting spells or the ones upon whom the spell is cast.
Werner was born in Winnipeg and lives and works in Montreal. She received her BFA from the Maryland Institute College of Art in Baltimore and her MFA from Yale University in New Haven, CT. Werner has shown widely in Canada including solo shows at the Art Gallery of Windsor, The Mendel Art Gallery in Saskatoon, The Contemporary Art Gallery in Vancouver, The Ottawa Art Gallery, and Plug In Institute of Contemporary Art in Winnipeg. Recent group exhibitions include Generation at the Art Gallery of Alberta, Intrus/Intruders at Musée du Québec, and Entre/Voir at Galerie de l'UQAM in Montreal. Internationally, her work was presented at the Prague Biennale and was featured in the survey exhibition Oh, Canada at MASS MoCA, North Adams, MA.
---
Join us on Friday, September 12 at 7:30 P.M. for a public reception with the artists in attendance. For more information, please contact Lucas Cabral, Communications & Outreach Coordinator, at 519-661-3181 or lcabral3@uwo.ca.