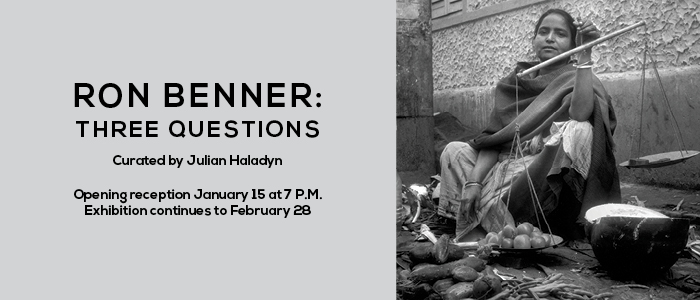 Ron Benner: Three Questions
Ron Benner: Three Questions
Curated by Julian Haladyn
January 15 to February 28, 2015
Interview between Ron Benner and curator Julian Haladyn
London Ontario artist Ron Benner has been producing mixed-media photographic installations, including gardens and site-specific projects, for over three decades. His recent practice focuses on an examination of the politics of food and related topics, interrogating systems of knowledge connected to histories of farming, agriculture, plant science and the movement of plants around the globe. By his own account, Benner has travelled the world following the trade routes of primarily plants native to the Americas. This exhibition of gallery installations highlights key questions raised by his studio practice, research and travel.
Ron Benner: Three Questions presents three recent mixed-media photographic installations, produced between 2009 and 2014, each relating to a specific question. In the first, Why is the Tomato to Blame?, a series of tomato plants accompany two juxtaposed images of a photograph taken in 1997 by the artist that depicts a woman in Mysore, India selling tomatoes on a scale and a photograph taken by Bill Madison of a woman killed in 1960 when a pyramid of tomato cans fell on her in a supermarket. The second, Wh…?, explores the artist's connection to a question presented on the side of a barn outside London, Ontario, which asked: "Where Will You Be In Eternity?" Benner presents photographs of the barn along with the material fragments of the question, collected after the structure was blown down in a storm. The final installation Transend: Meeting Room is created as a space for questioning in which Benner makes available part of his personal library that deals with food, farming, agriculture and the political economy related to these issues. 
To read an interview between Ron Benner and curator Julian Haladyn click here.
For more information, contact Lucas Cabral, Communications and Outreach Coordinator, at 519-661-3181 or lcabral3@uwo.ca.