Current
Storms and Bright Skies: Three Centuries of Dutch Landscapes
Organized by the National Gallery of Canada
February 13 to April 5, 2014
Opening reception | Thursday, February 13 at 7:30 P.M.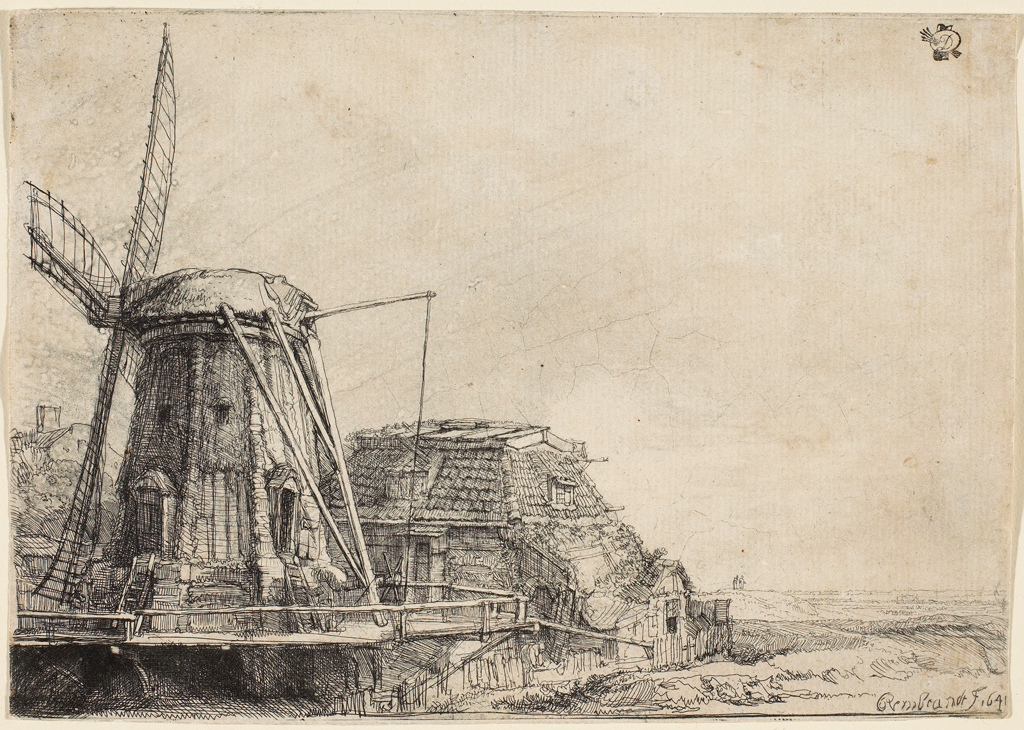 Rembrandt van Rijn,
The Windmill,
1641.
Etching on cream laid paper, 14.7 x 20.7 cm, National Gallery of Canada, Ottawa, Gift in memory of Margaret Wade Labarge from her collection, 2010 Photo © NGC

Harbinger of danger and symbol of pride, the Dutch landscape with its typical motifs, such as canals and windmills, has been a source of infinite inspiration for Dutch artists. Storms and Bright Skies: Three Centuries of Dutch Landscapes explores the emergence of this landscape tradition in the early 17th century, its blossoming during the Golden Age, and its continuation during the 18th and 19th centuries.
Some of the greatest Dutch artists, such as Jacob van Ruisdael and Rembrandt, both represented in the exhibition, brilliantly contributed to the rise of landscape as a major pictorial genre. The exhibition includes prints and drawings from the National Gallery of Canada that capture the beauty and character of the Dutch landscape over three centuries, while demonstrating its significance to the region's economic, military and scientific development.
Join Mr. Richard Dirk ter Vrugt, Netherlands Council and Her Worship Joanne Vanderheyden, Mayor of the Municipality of Strathroy-Caradoc, and Member, Western University Board of Governors, for the opening reception Thursday, February 13 at 7:30 P.M.
---
Complementary Programs
In recognition of the Ontario Arts Council's 50th anniversary, join Western Visual Arts alumna Carolyn Vesely, Director of Granting at the Ontario Arts Council, for the McIntosh Gallery Distinguished Lecture 2014 featuring:
Storms and Bright Skies: The Dutch Landscape Tradition
A lecture by Sonia Del Re, Assistant Curator
European, American and Asian Prints and Drawings
National Gallery of Canada
Sunday, March 2, 2014 at 2 P.M.
Conron Hall, University College, Western University
Free admission
The exhibition, curated by Ms Del Re, Storms and Bright Skies: Three Centuries of Dutch Landscapes, organized by the National Gallery of Canada, will be available for viewing on Sunday March 2nd from noon to 5:00 P.M. and then during regular gallery hours until April 5th.
 
---
Three London artists offer their personal responses to Storms and Bright Skies: Three Centuries of Dutch Landscapes in a series of artist-led exhibition tours:
Wyn  Geleynse
Tuesday, March 11 at 12:30 P.M.
Born in Rotterdam, Netherlands, Wyn Geleynse and his family emigrated to Canada in 1953, before relocating to London in 1956.  With a career in film and video spanning nearly three decades, he is considered a pioneer in multimedia artistic practices in Canada.
Gerard  Pas
Tuesday, March 18 at 12:30 P.M.
Born in the Netherlands, Gerard Pas has lived in Amsterdam and New York City. He is an internationally acclaimed visual artist in a variety of media including painting, sculpture, performance and video.
Rosemary  Sloot
Tuesday, March 25 at 12:30 P.M.
Born to Dutch parents after their post-war emigration to southwestern Ontario, Rosemary Sloot has received degrees from Nova Scotia College of Art and Design, Western University, and the University of Alberta. Her third touring exhibition, IMMIGRANT, recently opened at Strand Fine Art.
---
For more information, contact Kay Nadalin, Communications and Outreach Coordinator, at 519-661-3181 or knadali@uwo.ca.