Jason Stovall: THIN SKIN August 5 – September 10, 2016 Closing reception: Friday, September 9th at 7PM The work of Jason Stovall explores the psychological underpinnings of how different people relate to one another. Stovall's formative years were spent in Fort McMurray, a Canadian city located in northern Alberta, with a disproportionately high ratio of transient male workers employed by the oil sands corporations. His experience of growing up queer in this environment is where his research unknowingly began. As he struggled to understand his own gay identity his early life experience helped to construct a sensitivity towards the intersections of sexuality, gender and visual culture. Utilizing an auto-ethnographic approach to his work Stovall explores his relationships with others through figurative painting devoid of superfluous detail. By including powerful, yet minimal signifiers such as colour and silhouettes he evokes questions about the perception of space we inhabit, the people around us, and the relationships we form with others. Stovall's paintings ask the viewer to consider how a lack of visual information can bring about a deeper understanding of one's position in life. Playing with the push-and-pull between presence and absence he investigates how concealing and revealing significant forms of information can alter our experience of his work. Jason Stovall received his BFA from the University of Alberta in 2012, and is currently an MFA candidate at Western University, London Ontario. Thin Skin is organized by McIntosh Gallery in collaboration with Western University's Department of Visual Arts MFA program. We acknowledge with gratitude the financial support of the Social Sciences and Humanities Research Council of Canada, the Canada Council for the Arts and the Ontario Arts Council. Mina Moosvipour: Emphatic Tension August 5 – September 10, 2016 Closing reception: Friday, September 9th at 7PM Mina Moosvipour's work stems from an interest in the representation of personal and psychological issues. Her recent body of figurative painting investigates a pictorial record of both inward and outward manifestations of human psychological characteristics, exploring the way mundane activities are sparked by inner motivations. Her paintings portray environments made up of seemingly generic representations of personal relationships, punctuated by simultaneous contradictions in the situations. In these highly coloured pictures, she has attempted to signify the continuity between intimacy, enmity, happiness, and absurdity in images of people in everyday settings. Her ultimate aim is to draw attention to the interplay between individual and collective memory and experience, in light of the social constructiveness of situations. Mina Moosvipour received her BA in Painting from Sooreh University, Iran (2004) and a MA in Illustration from Tehran University of Art (2008). She is currently an MFA candidate at Western University, London Ontario. Emphatic Tension is organized by McIntosh Gallery in collaboration with Western University's Department of Visual Arts MFA program. We acknowledge with gratitude the financial support of the Social Sciences and Humanities Research Council of Canada, the Canada Council for the Arts and the Ontario Arts Council.
The Vancouver Carts: Photographs by Kelly Wood
November 3 to December 10, 2016
Opening reception: November 3 at 7:00 P.M.
Kelly Wood began photographing Vancouver's "cart culture" in 2004, documenting the urban phenomenon of repurposed shopping carts used by people experiencing homelessness and others involved in underground economies such as collecting recyclables. Over the next six years, she shot more than 100 carts to produce a series of large-scale photographs emblematic of the conjoined realities of homelessness and gentrification. In so doing, The Vancouver Carts implicitly asks us to consider the problematic physical and social presence of the contemporary art world in such contested urban spaces.
The Vancouver Carts: Photographs by Kelly Wood is also a book, which expands upon the exhibition, reproducing over 100 images selected by the artist and featuring essays by Clint Burnham, Max Haiven and Kirsty Robertson. It will be launched at Art Toronto 2016 by McIntosh Gallery and Black Dog Publishing and available at the exhibition opening reception on November 3rd at 7:00 P.M.
Wood's work has been widely exhibited in Canada at the Canadian Museum of Contemporary Photography, the Art Gallery of Ontario, The Power Plant, the Musée des beaux-arts de Montréal, the Vancouver Art Gallery and the Morris and Helen Belkin Gallery. Her work has been shown internationally at: the Akademie der Künste, Berlin; Museum Van Hedendaagse Kunst Antwerpen, Antwerp; Nederlands Fotomuseum, Rotterdam; and Artspace in Sydney, Australia. Kelly Wood lives in London, Ontario where she is a professor in the Department of Visual Arts, Western University.
---
Below The Belt: Film/Video from the Great Lakes Region
Curated by Christine Negus
November 3 to December 10, 2016
Opening Reception: November 3 at 7:00 P.M.
Below the belt is a term used to describe a resolutely lawless level of cruelty. It's kicking you when you're down. It's adding insult to injury. Basically, it's just plain unfair. But do the sadistic wallops describe a swift kick to the ankle or do they refer to a specifically stinging target that is often and eloquently danced around?
Low blows always hit where it hurts. We have seen the same strikes delivered time and time again in slapstick comedies and cartoons. In the 105th episode of King of the Hill, Bobby Hill—a loveable, sensitive and often bullied character—tries to enroll in boxing lessons to defend himself against his hyper-masculine aggressors. The class turns out to be full, and Bobby, stricken with panic, takes the next best course—women's self-defense. With the command to hit "the most vulnerable areas of male anatomy" Bobby and the class master the art of hitting below the belt as they are expertly instructed to kick a defense dummy in the groin.
What does it mean to attack the "epicentre of virility"? Purportedly, it is a hit reserved only for the weak. Yet, if pain is the name of game then this is a home run. Bobby successfully continues breaking down both men and teenage boys alike, as they crumble to the ground. Within this new landscape of broken totems of masculinity, Bobby finds new life.
As everyone knows, to be a good capitalist you must be a bit of a dick. Towering phallic buildings pump life into the economy, while the means of creation and production dangle underneath. But what happens when these things are damaged? Are we simply left on our knees, reduced to aching, empty shells?
In this screening, like for Bobby, pain is gain.
By focusing on the canted lens of contemporary video and filmmakers from the Rust Belt, this screening looks at production and degradation not simply as causal effects of industrialization, but as reflexive lines of inquiry. The Rust Belt geographically encompasses the Great Lakes region of Canada and the United States, and was the main locus of urban industrialization. Hosting a variety of endeavors ranging from the extraction and refinement of raw materials to more recent modes of manufacturing, such as the auto industry, these cities flourished with economic fecundity. Yet, this momentum could not be maintained. As production fragmented and became decentralized, cities fell victim to decline, and those once shining examples of economic growth turned into corroded sites of loss.
In the face of decay, works in this screening recontextualize industrialization, situating it within fundamental ideas around creation. These works stress the haptic and tactile in opposition to distant, mechanistic modes of production, bringing industrialization down to the grassroots level of craft. The artists in this screening inhabit these various sites of loss to not only interact with the products forged through industry, but to reclaim the broken and abandoned, creating new meaning. The fallacy of progress is coopted – Beckett's famous line "the end is in the beginning" has been divisively flipped to suggest the beginning is in the end – and these works reveal that processes of destruction are actually fertile.
-Christine Negus
 Guest Curator
Christine Negus is a multidisciplinary artist and writer who won the National Film Board of Canada's Best Emerging Canadian Video/Filmmaker award at Images Festival in 2008. She received her MFA from Northwestern University in Chicago IL and her BFA from Western University in London ON. Some of her notable exhibitions include: CROSSROADS, Queer City Cinema, MIX NYC, Artists' Television Access, Milwaukee Underground FF, Images Festival, Galleri CC, Microscope Cinema and Kasseler Dokfest. She has had solo exhibitions at Forest City Gallery, Gallery TPW, gallerywest and Julius Caesar. Her work has been featured in numerous publications, including The Globe and Mail, BlackFlash Magazine and Modern Painters.
Programme

Jesse McLean
The Invisible World, 2012, 20 min.

Jean-Paul Kelly
A Minimal Difference, 2012, 5:10 min.

Robert Chase Heishman and Megan Schvaneveldt
ibid., 2011, 6:08 min.

Stephanie Gray
I luved this city, 2000, 3:30 min.

Christina Battle
Never trust someone who reinvents themself, 2014, 0:48 min.

Annie MacDonell
The Fortune Teller, 2015, 15 min.

Steve Reinke
Living, Loving, Learning, 2010, 0:27 min.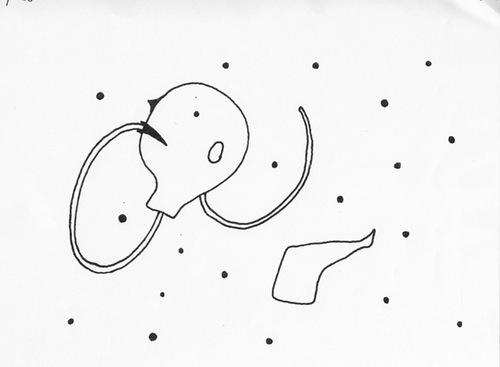 Jim Trainor
The Presentation Theme, 2008, 14 min.
Artist Biographies
Originally from Edmonton (AB), Christina Battle is currently based in London (ON). She has a B.Sc. with specialization in Environmental Biology from the University of Alberta, a certificate in Film Studies from Ryerson University and a MFA from the San Francisco Art Institute. Her works are often inspired by the role of official and non-official archives, our notions of evidence and explore themes of history and counter-memory, political mythology and environmental catastrophe. She has exhibited internationally in festivals and galleries, most recently at: Le Centre des arts actuels Skol as part of Le Mois de la Photo à Montréal (Montreal), Thames Art Gallery (Chatham, ON), Casa Maauad (Mexico City); SOMArts (San Francisco); Third Space Gallery (New Brunswick); RL Window Gallery (New York); Redline Gallery (Denver); Deluge Contemporary Art (Victoria, BC); The ODD Gallery (Dawson City, YT); Gallery 44 (Toronto); WNDX Festival of Moving Image (Winnipeg); The Images Festival (Toronto); MCA Denver; the Aspen Art Museum; and the Ryerson Image Centre (Toronto). Christina is currently working toward a Ph.D. in Art & Visual Culture at the University of Western Ontario.
Stephanie Gray is a poet-filmmaker and the author of a poetry collection, Heart Stoner Bingo (Straw Gate Books, 2007), and a chapbook, I Thought You Said It Was Sound/How Does That Sound? (2012), published by Portable Press at Yo-Yo Labs, which also published her second full-length collection with images from her films, Shorthand and Electric Language Stars (June 2015). A chapbook from Argos Books, A Country Road Going Back in Your Direction, was also published in June 2015. Her short super 8 experimental films, often about the city, class, and queer or feminist themes, have screened internationally. She had a film retrospective at Anthology Film Archives (NYC) in June 2015.
Robert Chase Heishman is an artist working in Chicago, Illinois. He completed his BFA from the Kansas City Art Institute in 2008 and his MFA from Northwestern University in 2012. He has collaborated with the Merce Cunningham Dance Company as a Décor artist on the work, Split-Sides, provided artwork for Icelandic band Sigur Rós' album BA BA TI KI DI DO, and exhibits both nationally and internationally. His work is held in the collections of the Nelson-Atkins Museum of Art and the Walker Art Center.
Jean-Paul Kelly (Canadian, b. 1977) is an artist exploring the relationship between materiality and perception. The videos, drawings, and photographs that Kelly makes pose questions about the limits of representation by examining complex associations between found photographs, videos, and sounds from documentaries, photojournalism, and online media streams. His work has exhibited at the Wexner Center for the Arts (Columbus), The Power Plant (Toronto), Vox Populi (Philadelphia), Scrap Metal Gallery (Toronto), Mercer Union (Toronto), Gallery TPW (Toronto) and Tokyo Wonder Site. Recent screenings include New York Film Festival, Toronto International Film Festival, SBC Gallery (Montreal), Nightingale Cinema (Chicago), the Seoul Museum of Art, and the International Film Festival Rotterdam. He was a guest artist at the 2013 Robert Flaherty Film Seminar and will be a resident at the Delfina Foundation (London) in 2015. Kelly received the 2014 Kazuko Trust Award from the Kazuko Trust and the Film Society of Lincoln Center.
Annie MacDonell is a visual artist whose practice includes photography, film, installation, performance and sculpture. MacDonell's work questions the constitution, function, and circulation of images in the 21st century. She received a BFA from Ryerson University's School of Image Arts in 2000, followed by graduate studies at Le Fresnoy, Studio National des Arts Contemporains, in France. Recent performances have been presented at le Centre Pompidou, in Paris, and the Scotiabank Contact Festival, in Toronto. Recent solo shows have been held at Mulherin New York, the Art Gallery of Ontario, the Art Gallery of Windsor and Mercer Union Gallery, in Toronto. She has participated in recent group exhibitions at la Bibliothèque National in Paris, The Power Plant, Toronto, the MOCA Cleveland, the Daegu Photo Biennale in South Korea and Le Grand Palais, Paris. In 2012 and 2015, she was long-listed for the Sobey Art Award. In 2012 she was short-listed for the AGO AMIA prize for photography. She teaches in the photography program at Ryerson University and her work is represented by Katharine Mulherin Contemporary Art.
Jesse McLean (born 1975, in Philadelphia) is a media artist and educator whose research is motivated by a deep curiosity about human behavior and relationships, especially as presented and observed through mediated images. Interested both in the power and the failure of the mediated experience to bring us together, McLean's work asks the viewer to walk the line between voyeur and participant. She has presented her work at museums, galleries, and film festivals worldwide, including the International Film Festival Rotterdam, The Netherlands; Venice Film Festival, Italy; Transmediale, Berlin; 25 FPS Festival, Zagreb, Croatia; European Media Arts Festival, Osnabrück, Germany; Contemporary Art Museum, St. Louis; Interstate Projects and PPOW Gallery, New York; Museum of Contemporary Art, Detroit; Gallery 400, Chicago; Impakt, Utrecht, The Netherlands; CPH:DOX, Copenhagen; Kassel Documentary Film and Video Festival, Kassel, Germany; and the Contemporary Arts Center, Cincinnati, OH. She was the recipient of the Ghostly Award at the 2011 Images Festival and the Barbara Aronofsky Latham Award for Emerging Experimental Video Artist at the 2010 Ann Arbor Film Festival. She is assistant professor in the Department of Cinema and Comparative Literature at University of Iowa.
Megan Schvaneveldt is an artist living and working in Kalispell, Montana. She holds her MFA from Northwestern University (2012). Her work has been shown at 'Painting in Time', Sullivan Galleries, Chicago, 2016 and the Tetley Gallery, Leeds, UK, 2015;  'PLAY', Columbus Museum of Art, Columbus, OH, 2014; 'Rough and Ready', Museum of Contemporary Art, Chicago, 2014; 'Of This Place, Or Thereabouts', Roots & Culture, Chicago, 2013; 'for those who believe in telekinesis, raise my hand', Propeller Centre for Visual Arts, Toronto, 2013; and 'Fakin' It', Meyers Gallery, University of Cincinnati,2012.
Steve Reinke is an artist and writer best known for his videos. His work is screened widely and is in several collections, including the Museum of Modern Art (New York), the Pompidou (Paris), and the National Gallery (Ottawa).  His tapes typically have diaristic or collage formats, and his autobiographical voice-overs share his desires and pop culture appraisals with endearing wit. Born in a village in northern Ontario, he is currently associate professor of Art Theory & Practice at Northwestern University. In the 1990s he produced the ambitious omnibus The Hundred Videos (1996), and a book of his scripts, Everybody Loves Nothing: Scripts 1997-2005 was published by Coach House (Toronto). He has also co-edited several books, including By the Skin of Their Tongues: Artist Video Scripts (co-edited with Nelson Henricks, 1997), Lux: A Decade of Artists' Film and Video (with Tom Taylor, 2000), and The Sharpest Point: Animation at the End of Cinema (with Chris Gehman, 2005).
Jim Trainor is a filmmaker, mostly an animator, living in Chicago.  He is completing a series of films called The Animals and their Limitations, of which Harmony is the latest installment, with The Bat and the Virgin, The Bats, The Moschops and The Magic Kingdom its predecessors.  Most recently, he has been working on a long comic strip project called Sun Shames Headhunting Moon.   Jim Trainor teaches at the School of the Art Institute of Chicago. Trainor is the recipient of the Alpert Award in the Arts for Film/Video, 2010.