News
---
The Keeper of Culture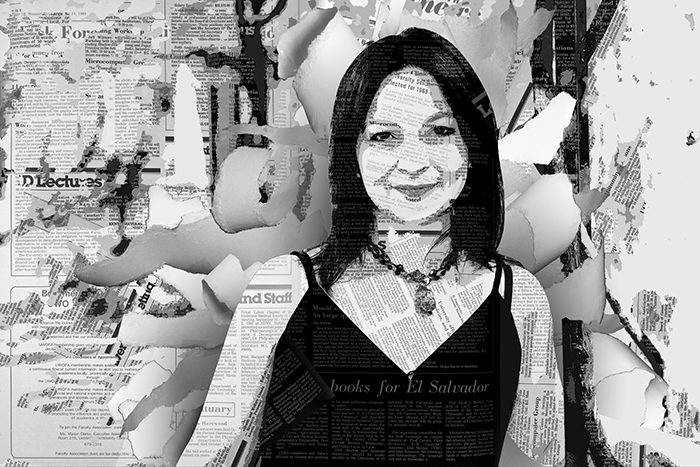 Helen Gregory became the McIntosh Gallery's new curator, after working in the gallery for two years. "I was given an enormous body of really practical skills. There is so much involved with working within the gallery; it's well beyond the curating of exhibitions," said Gregory, who replaced Catherine Elliot Shaw, who retired after 35 years at Western.

Gregory holds a BFA in painting and art history from Concordia University, an MPhil in humanities from Memorial University and a PhD in Visual Culture from the Department of Visual Arts at Western. In addition to her academic background in museum and curatorial studies, she has an extensive visual-art practice. Her work can be found in several major public collections including the National Gallery of Canada, the Victoria and Albert Museum, the Beaverbrook Art Gallery and The Rooms Provincial Art Gallery.

Click here to visit the entire collection of 2018 Newsmakers of the Year. 
---
Chief Poundmaker (Pîhtokahanapiwiyin), exonerated from treason conviction
Image: John Bernard Boyle,
Poundmaker
(detail), 1971, oil on canvas on wood. Collection of McIntosh Gallery, Western University.
Chief Poundmaker, also known as Pîhtokahanapiwiyin, is remembered by his people as a peacemaker who endured a life of hardship. This year, Chief Poundmaker will be exonerated of a guilty conviction enforced after the North-West Rebellion in 1885.
"To celebrate the exoneration, [Floyd] Favel, [a member of Poundmaker First Nation,] organized an arts and storyteller's festival on Poundmaker Cree Nation. He says he wanted to organize an arts festival to both celebrate the "enduring spirit of Indigenous people" and to showcase Indigenous performance and art.
"This is what our people need. They need to hear the universal truths within our Indigenous beliefs so they themselves could see themselves in reflection."
McIntosh Gallery is honoured to have a work depicting Chief Poundmaker in its permanent collection, by artist Bernard Boyle.
To learn more, and read the full CBC News article,
click here
.
---
Researcher, curator, Jessica Cappuccitti looking to re-frame Detroit Images
Aniruddho Chokroborty Hoque, for Western News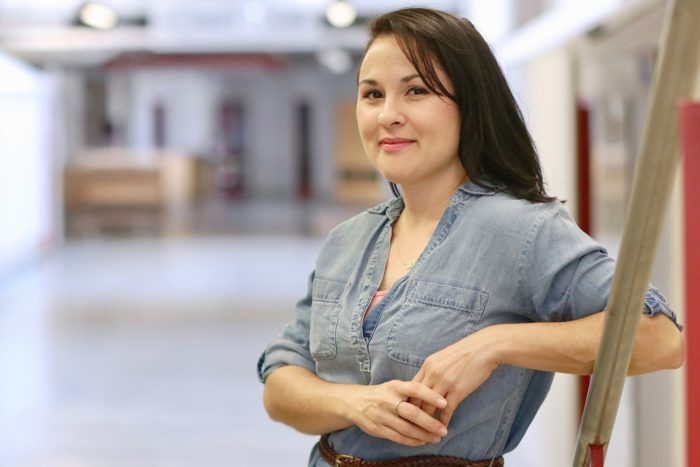 Earlier this summer, Visual Arts graduate student Jessica Cappuccitti curated an exhibition,
Welcome to Detroit: Suzy Lake and Orlando Ford
, at McIntosh Gallery. The exhibition offered viewers an opportunity to understand how these images – some of Detroit's decay and others that capture people with smiling faces and open arms – shape ideas about the city.
Learn More
---
Visual Arts student shortlisted for national painting competition
Adela Talbot, for Western News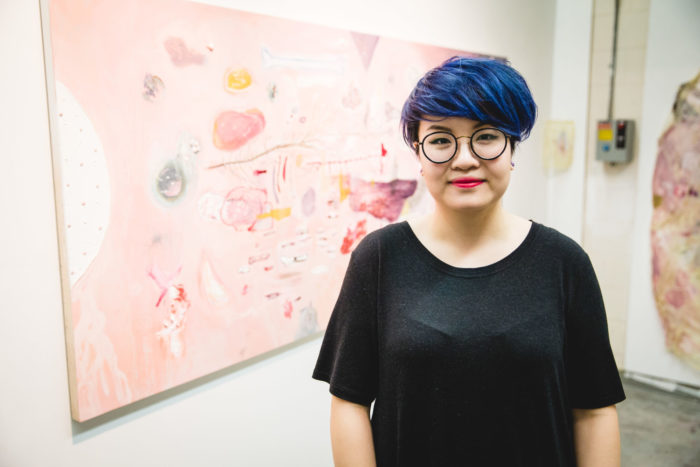 Joy Wong, a Visual Arts MFA candidate at Western, has been named a finalist for the 20th annual RBC Canadian Painting Competition. The winner, to be announced Sept. 18, will receive $25,000 and a residency at Banff Centre for the Arts.
Learn More
skim, Joy Wong's MFA thesis exhibition
, opens at McIntosh Gallery on August 10, through to September 8, 2018. A closing reception will be held on Friday, September 7 from 5 to 7 p.m. 
---
Obituary
Marion Woodman, 89, Art Collector, Professor, Writer, Analyist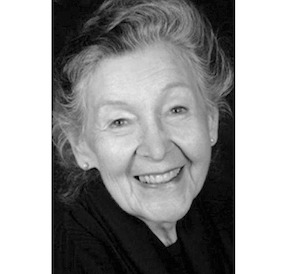 Marion Jean Woodman (nee Boa) died peacefully July 9, 2018 at Mount Hope Centre for Long Term Care, London. Marion was born August 15, 1928, in London, Ontario. Marion studied at the University of Western Ontario, and taught English for more than twenty years at South Collegiate Institute in London, Ontario, where she taught poetry and drama. Her theatre productions at South have become the stuff of legend, and through them she transformed countless students' lives. In the early 1970s, Marion began analysis with Dr. E. A. Bennett in London, England, which inspired her to train as an analyst with Barbara Hannah at the C. G. Jung Institute in Zurich. After receiving her Diploma in 1979, Marion opened a practice in Toronto. Her first manuscripts, published by Daryl Sharp with Inner City Books, became bestsellers and pioneered subsequent work on the feminine, addiction, and the relationship between body and mind. She taught and lectured on this work to students and audiences worldwide. With Ann Skinner and Mary Hamilton she developed her BodySoul workshops, which they taught internationally. Along with her brother Fraser Boa she was one of the founders of The Ontario Association of Jungian Analysts (OAJA). Her many books have been published worldwide and translated into multiple languages.
Marion was predeceased by her husband Ross Greig Woodman, Professor Emeritus in the Department of English at the University of Western Ontario; her father and mother, Rev. Andrew D. Boa and Ila J. Phinn; and brothers Bruce, a Canadian and British actor, and Fraser, a Jungian analyst. Marion is survived by nieces and nephews David and Janet, Luke and Robyn, Marion, Paul and Kathryn, Quint and Karen, Shelley, and Siobhan and Jacques; great-nieces and nephews Aidan, Anouk, Connor, two Ellas, Emma, Finlay, Loveday, Marlow, Marion, and Sam. Visitation is at Harris Funeral Home, 220 St. James St. at Richmond, London on Sunday, July 15, from 2-4 p.m. The family wishes to thank the staff of the Mount Hope facility for the loving and compassionate care Marion received. In honour of Marion, please donate to the charity of your choice.
---
Art, Friends and Memories: The Flora and Ian Tripp Collection
Debora Van Brenk, for Impact Western Summer 2018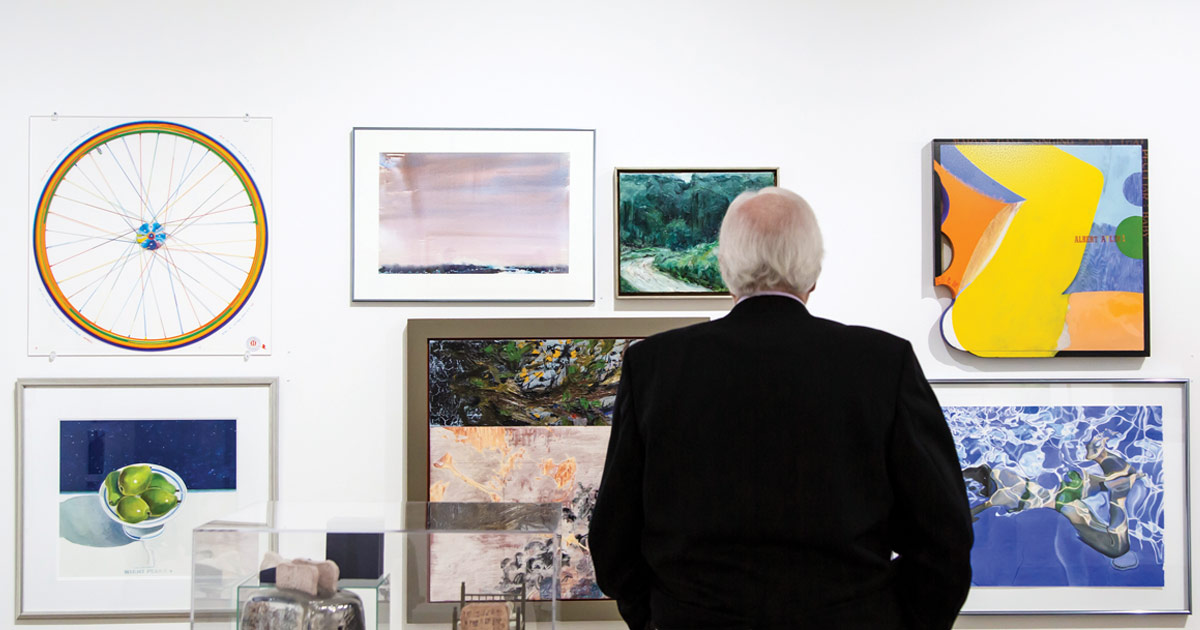 Ian Tripp, BA'65, and his late wife Flora collected more than 165 pieces of art over the course of 40 years. Recently, he left the entire collection as a bequest to the McIntosh Gallery. Read more
---
Attention all artists!
McIntosh Gallery is a third-party recommender for Zone 1 of the Ontario Arts Council Exhibition Assistance Program

Through these grants, McIntosh Gallery aims to cultivate and support practising artists, including emerging artists, who reside in Zone 1 (as described by the OAC). Learn more 


---
McIntosh Gallery is pleased to announce the appointment of Dr. Helen Gregory to the position of curator



Gregory holds a BFA in painting and art history from Concordia University, an MPhil in humanities from Memorial University, and a PhD in visual culture from the Department of Visual Arts at Western University. Her research to date has been rigorously interdisciplinary, exploring the intersections of art, science, and museology with a specific focus on natural history and biotechnology in contemporary art. She is also interested in the built spaces of knowledge production–universities, laboratories, museums–as well as taxonomy and systems of display from both contemporary and historical perspectives.
Gregory served as curator-in-residence at McIntosh Gallery between 2017 and 2018. In addition to her academic background in museum and curatorial studies, she has an extensive visual art practice. Her work can be found in several major public collections, including the National Gallery of Canada, the Victoria and Albert Museum, the Beaverbrook Art Gallery, and the Rooms Provincial Art Gallery. Originally from St. John's Newfoundland, she has been an active member of the London, Ontario visual arts community since moving here in 2011. Gregory replaces Catherine Elliot Shaw, who recently retired after 35 years as McIntosh Gallery curator.
For more information, contact Abby Vincent, Communications and Outreach Coordinator, avince5@uwo.ca, 519 661-2111 ext. 87576


---

The Department of Visual Arts, Western University, continues to celebrate its 50th anniversary with Looking Back, an exhibition featuring works from the McIntosh Gallery Permanent Collection. The organizing principle for this exhibition focuses on works produced by former faculty members which were collected between the late 1960s – mid 2000s. Never shown together before, the artworks in this group exhibition offer new points of view, and some unexpected connections. In conjunction with the exhibit a recent McIntosh acquisition will be unveiled at the opening reception. 

Finally, Looking Back will also include a representative selection of publications by the Department's art historians who, like their studio colleagues have made a substantial contribution to their field.
Contact

Susan Edelstein, Gallery Director 
artlab@uwo.ca 
(519) 661-2111 x86186
John Labatt Visual Arts Centre 
University of Western Ontario 
Perth Drive, N6A 5B
Gallery Hours
Monday - Friday > 12 noon - 6pm
Thursday > 12 noon - 8pm 

Artlab Gallery
John Labatt Visual Arts Centre
Western University
London, ON, N6A 5B7

Web: http://www.uwo.ca/visarts/artlab/
Email: artlab@uwo.ca
Facebook: https://www.facebook.com/artLabGallery.WesternU
https://www.facebook.com/events/173915600025987/
Twitter: https://twitter.com/artlab_gallery


GALLERY HOURS
Monday to Friday > 12noon – 5pm & Thursday > 12- 8pm

The Artlab Gallery & Cohen Commons are wheelchair accessible.
Admission to all areas is FREE. All are welcome.

For more information, please contact: Susan Edelstein, Artlab Gallery Director, sedelst@uwo.ca
Obituary
Doreen Curry, 93, Art Collector, Musician, Librarian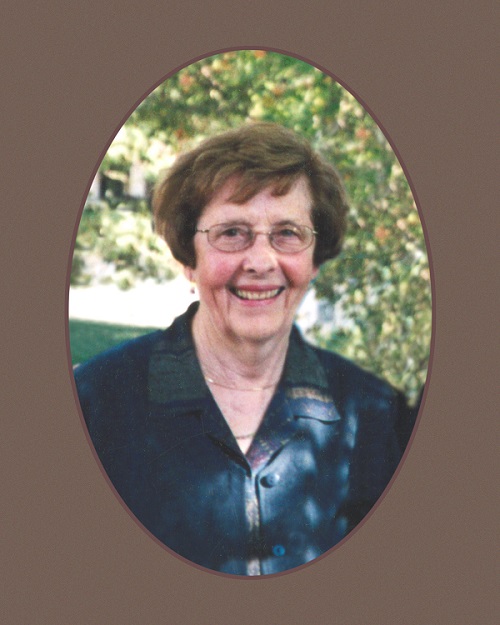 Doreen Curry was well known to Music and Art patrons of the London Public Library, where she worked for over forty years. As supervisor for Arts and Science, Doreen made London an early leader in its circulating collection of recorded music and films. Born in Orangeville in 1924, Doreen finished her Music B.A. at the University of Toronto in 1946, and her Library Science degree in 1947. She travelled to Vienna to study with celebrated organist Anton Heiller, and returned to London as organist at Redeemer Lutheran Church. She was involved in Gordon Jeffrey's pioneering baroque revival movement, and she became close friends with leading figures in London's vital arts and culture scene from the 1960s on – Greg Curnoe, Paterson Ewen, Ron Martin, kerry ferris, Ron Benner, David Gordon, and Jamelie Hassan. The old library building on Queens Ave. with its upstairs art gallery was a pivotal gathering place for the artists. Doreen bought their art before they became well-known, witnessed their Happenings at LPL, and supported the Nihilist Spasm Band. When she bought her own harpsichord in 1977, she commissioned Jamelie Hassan to paint the lid. The harpsichord is now housed at the Faculty of Music, Western University. After retirement, Doreen joined the Center for Activity and Aging at the Mount and, not content to be just a client, trained as an aerobics instructor and led classes for several years. Her valuable collection of artworks by London artists has been donated to the McIntosh Gallery at Western University, which honored her with an exhibition of her collection in spring 2013. Doreen died peacefully at the Highview Residences on October 30. She is survived by her sister, Mary Allan of Mayne Island B.C., and her niece, Kim Allan Farebrother of Somerset, England. Doreen requested no funeral, but a celebration of her life will be scheduled at a future date.

 
---
McIntosh Gallery at the Toronto International Art Book Fair
October 27 to 30, 2017
Metro Toronto Convention Centre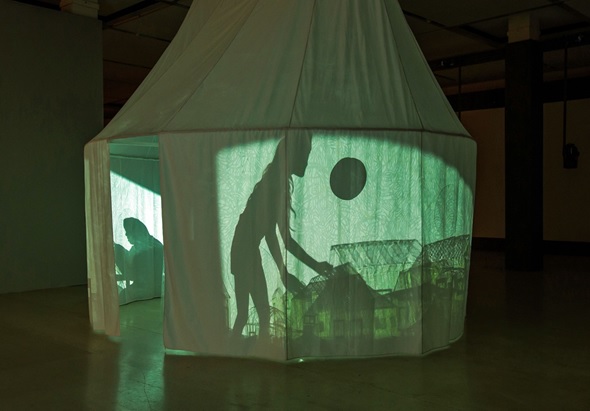 Image Credit: Ed Pien, Imaginary Dwelling, McIntosh Gallery Installation 2015 image: courtesy of the artist
McIntosh Gallery will be returning to /edition Toronto International Art Book Fair with a selection of our publications featuring artists: Ed Pien, Janice Gurney, Ron Benner, Kelly Wood, Amin Rehman, Jason McLean, Parker Branch, Barbara Astman, Brendan Fernandes, Kent Monkman, and Janet Jones; and writers Catherine de Zegher, Angela Kingston, Jeanne Randolph, Dot Tuer, Tony Weis, Clint Burnham, Max Haiven, Kirsty Robertson, David Liss, Sarah Milroy, Christine Walde, E.C. Woodley, Jen Hutton, Georgiana Uhlyarik, Judith Rodger, Anna Hudson, Ben Portis, Josée Drouin-Brisebois, Susan Edelstein, Patrick Mahon, Stuart Reid, and Nell Tenhaaf. Up to 66% off the price of selected titles. New zines by Toronto artist Jamie Q, and Forest City Gallery's latest volume of DIGEST will also be available.
Events
Friday, October 28 at 1:00 P.M. In celebration of the gallery's 75th anniversary, McIntosh will launch a digital version of Nancy Geddes Poole's landmark book, The Art of London 1830-1980. Originally published by Blackpool Press in 1984, this 269-page volume remains the definitive history of the visual arts in London, Ontario. Thanks to the generosity of an anonymous donor, this new digital version, will be available as a free download at: http://mcintoshgallery.ca/
 3:00 to 6:00 P.M. Artist Christine Negus will perform i've been waiting to smile for a long time. Visitors are asked to describe a fondly remembered lost object from their childhood to the artist, who will re-make it in clay and give it to them. The performance continues at the same time on Saturday and Sunday.
Saturday October 28 from 4:00 to 5:00 P.M.
Editions Library/Lounge
Ed Pien: Luminous Shadows book launch. The artist will be available to autograph your copy of the latest McIntosh Gallery book (also available online at Black Dog Publishing).
For more information contact Mitra Shreeram, Communications and Outreach Coordinator, mshreera@uwo.ca, 519 661-2111 ext. 87576
McIntoshGallery.ca
Facebook / Twitter / Instagram: @McIntoshGallery

---
In Memoriam: Shelagh Jean Martin-Mclaren
Past Chair of the McIntosh Gallery Art & Travel Committee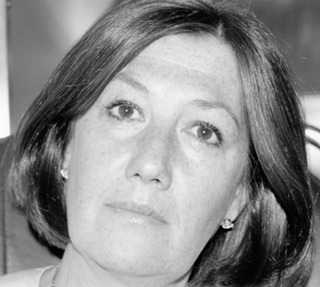 Peacefully with family by her side in London, Ontario on May 24, 2017. Beloved mother of Morgan and his wife Lisa Martin. Cherished 'Abadou' of Russell, Avery and Sawyer. Loving and proud wife of Richard and stepmother of Josh and his wife Victoria (grandmother of Alexis and Evatt) and Zachary and his wife Jessica. Dear sister of Gehl (John), Melanie (the late Michael), and Richard. She will be fondly remembered by her many nieces and nephews around the globe.

A graduate of Fine Arts at Western, Shelagh was a lover of the arts and an avid collector of antiquities and artwork. Her sense of style and appearance was impeccable. She enjoyed travel, gardening, bridge and backgammon, and playing with her dog Ginger. Most of all she loved gathering with family and entertaining her many friends at a beautifully set table. Shelagh was very grateful to her close friends who supported her every day.

A Service to Celebrate her Life will be held at St. John the Evangelist Anglican Church, 280 St. James St. at Wellington, London on Monday, May 29 at 11 am. Party to follow at the London Club, commencing at 1 pm. In lieu of flowers, memorial contributions to McIntosh Gallery at Western, Mission Services of London, May Court Club of London or a charity of your choice would be appreciated.

-Obituary from http://yourlifemoments.ca/sitepages/obituary.asp?oId=1022017 
Imperial Oil Ltd. Gives Major Painting to McIntosh Gallery
March 23, 2017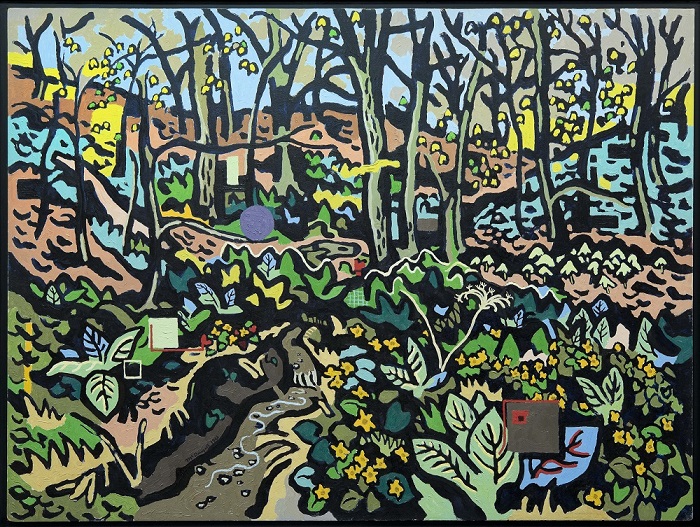 To celebrate Canada's sesquicentennial, Imperial Oil Ltd has donated an important painting, Summer Wildflowers 1961, by St. Thomas artist Clark McDougall to McIntosh Gallery at Western University.
McIntosh is one of fifteen galleries including the National Gallery of Canada, The McMichael Canadian Collection, Judith & Norman Alix Gallery, and the Glenbow Museum to receive works from the company which had collected art for more than 70 years.
"Imperial is pleased to give back to the communities in which we do business by honouring the legacy of Canadian artists from both past and present. This showcase of art will start conversations and honour our rich Canadian history at galleries nationwide." - Rich Kruger, Chairman, President and CEO of Imperial
St. Thomas native Clark McDougall rose to prominence in the 1960s for his Elgin County landscapes executed in his signature style.  He has been the subject of three retrospective exhibitions, most recently Fugitive Light: Clark McDougall's Destination Places co-curated by Dr. Anna Hudson and McIntosh Curator Catherine Elliot Shaw in 2011.  McIntosh's collection of over 4,000 works include 117 by McDougall. His archives are held by Western Archives.
In Memoriam kerry ferris (1949-2016)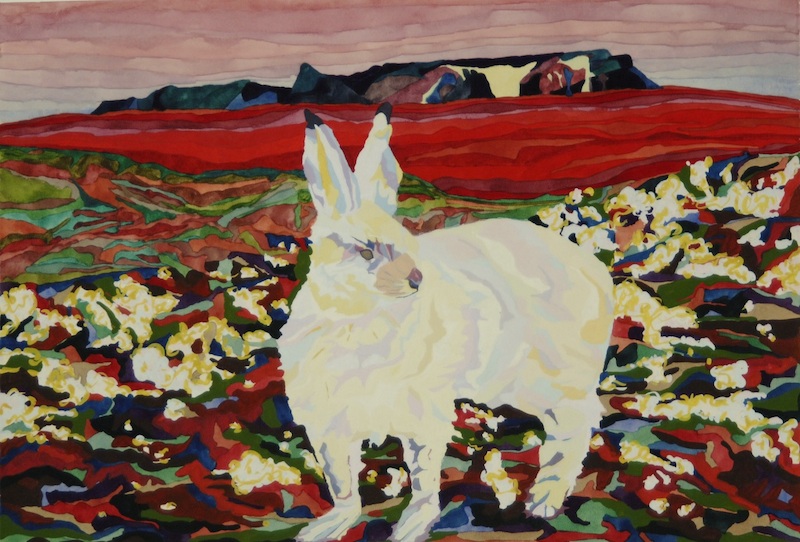 kerry ferris (Canadian, 1949-2016), Arctic Hare 1981. watercolour and graphite on paper, 45.7 x 66.3 cm, McIntosh Gallery, Western University. Purchase, W. H. Abbott Fund, 1983
McIntosh Gallery is saddened by the recent loss of local artist kerry ferris. The thirteen works representing her in the McIntosh Collection arose from her many travels including to the Canadian Arctic, Newfoundland, and the Galapagos Islands. Kerry's paintings embodied her belief that everything is connected by a cosmic life force, that a back yard, riverbank, glacier or beach is as important as any other place. We had the pleasure of presenting two solo exhibitions of kerry's work, Arctic Paintings in 1983 and Connections in 1996.  In her own words:
i remember through webs of light the calm
intensity of a knowledge of oneness—totality of
breath—all back yards or gardens are different,
but our own special to each heart—and the
heart and soul is the energy of silent movement
between nature and human beings who truly
care and love their environment—there is no
difference when one sees with light
kerry ferris
July 1999
In addition to her career as an artist, kerry was also a valued Western employee for 28 years in the Library Information Resources Management Department at Western Libraries.
Great Pile of Aging Flesh by Quintin Teszeri
McIntosh Gallery is pleased to present its latest publication,
Great Pile of Aging Flesh
, by Quintin Teszeri in response to the exhibition
Jewels in the Crown: The Western Alumni Association Art Collection
presented September 17 to October 24, 2015.
Click here to view.