Programs & Events
Glimmers of the Radiant Real
Opening Reception & Performance
Sunday, January 20, 2019 from 2-4 pm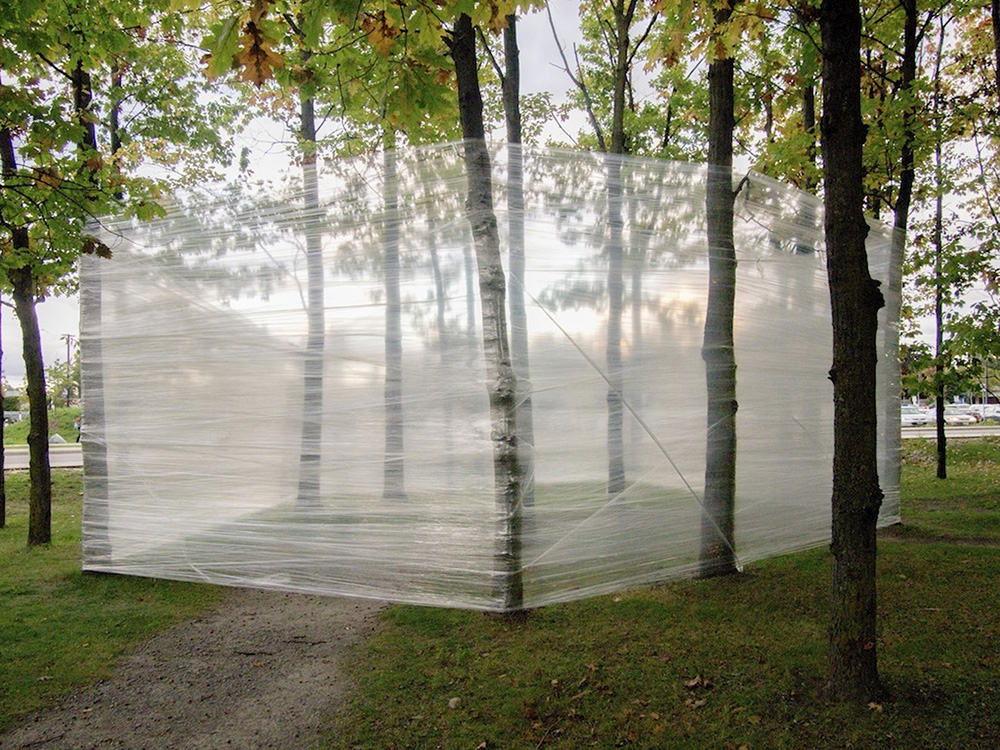 Image: Daniel Griffin Hunt, Portal, stretch wrap, installation and performance, 2015-ongoing. Courtesy of the artist.
Artist Daniel Griffin Hunt will be present to stage his durational performance Portal in the wooded area near the gallery leading up to the opening event, beginning Thursday, January 17. An opening reception for Glimmers of the Radiant Real will be held on Sunday, January 20, between 2 and 4pm at McIntosh Gallery, during which Hunt will stage the conclusion of his performance.
Through his performance of Portal, Daniel Griffin Hunt seeks to mediate a conversation between ecological awareness, commerce, and the politics in the middle. Portal calls attention to the discrepancy between labour, the global circulation of objects, and the conflicting economic and ecological implications of wrapping, shipping and moving cargo with thermo-polymer-plastic film.
For more information about McIntosh Gallery and its version of Glimmers of the Radiant Real, contact Abby Vincent, Communications and Outreach Coordinator, avince5@uwo.ca, 519.661.2111 ext. 87576
---
Dusty Stacks of Mom: The Poster Project
+ other colourful creations by Jodie Mack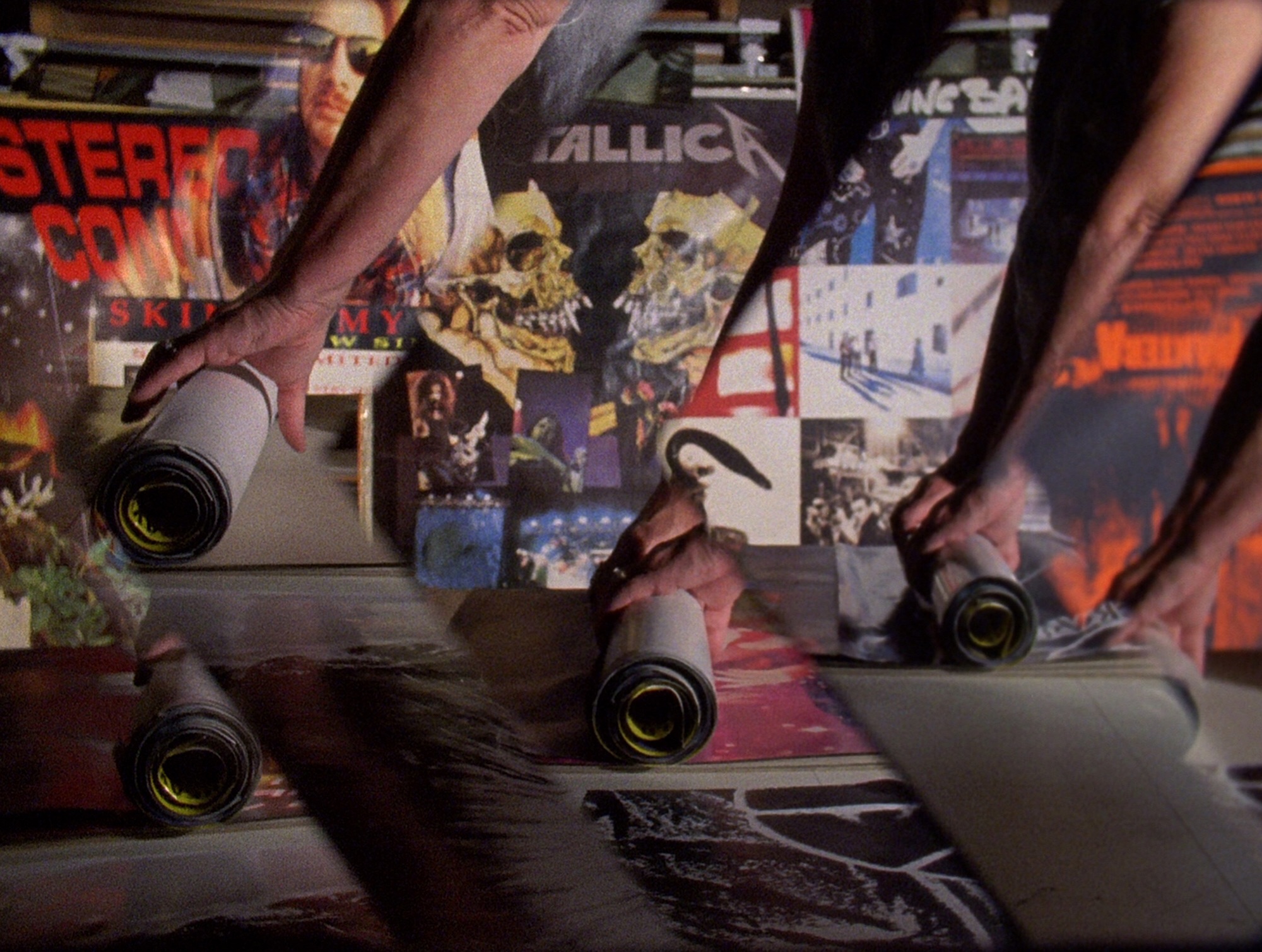 Image: Jodie Mack, Dusty Stacks of Mom: The Poster Project (film still), 2013, 41min, sound, 16mm. Image courtesy of the artist.

Friday, December 21, 2018
London Fringe Festival Theatre
207 King Street, London, Ontario
7:00 - 8:30pm
$5 admission (although no one will be turned away)

Presented in collaboration with McIntosh Gallery, this London Ontario Media Arts Association (LOMAA) screening features a selection of New Hampshire-based artist Jodie Mack's quirky and colourful hybrid-animations, which engages audiences to partake in her stunningly vibrant visual experiments. The highlight of the programme is a whimsical stop-motion animated rock opera performed by the artist.

Screening programme (approximately 56 minutes):
Posthaste Perennial Pattern (2010, 4min, sound, 16mm)
Rapid-fire florals and morning bird songs bridge interior and exterior, design and nature.

Glistening Thrills (2013, 8min, sound, 16mm)
A shiny otherworld of holographic reverie pairs dollar-store gift bags and haunting resound, unfolding an effervescent melancholy in three parts. Featuring compositions for bowed vibraphone by Elliot Cole.

Let Your Light Shine (2013, 3min, sound, 16mm)
A spectacle for prismatic spectacles. Handmade optical polyrhythms and a thousand rainbows explore the grating equation.

Dusty Stacks of Mom: The Poster Project (2013, 41min, sound, 16mm)
Interweaving the forms of personal filmmaking, abstract animation, and the rock opera, this animated musical documentary examines the rise and fall of a nearly-defunct poster and postcard wholesale business; the changing role of physical objects and virtual data in commerce; and the division (or lack of) between abstraction in fine art and psychedelic kitsch. Using alternate lyrics as voice over narration, the piece adopts the form of a popular rock album reinterpreted as a cine-performance.

About the artist:
Jodie Mack is an experimental animator who received her MFA in film, video, and new media from The School of the Art Institute of Chicago in 2007. Combining the formal techniques and structures of abstract/absolute animation with those of cinematic genres, her handmade films use collage to explore the relationship between graphic cinema and storytelling, the tension between form and meaning. Her films study domestic and recycled materials to illuminate the elements shared between fine-art abstraction and mass-produced graphic design. The works unleash the kinetic energy of overlooked and wasted objects and question the role of decoration in daily life.

Mack's 16mm films have screened at a variety of venues including the Ann Arbor Film Festival, Edinburgh International Film Festival, Images Festival, Projections at the New York Film Festival, and the Viennale. She has presented solo programs at the 25FPS Festival, Anthology Film Archives, BFI London Film Festival, Harvard Film Archive, National Gallery of Art, REDCAT, International Film Festival Rotterdam, Shenzhen Independent Animation Biennale, and Wexner Center for the Arts among others.

Her work has been featured in publications including Artforum, Cinema Scope, The New York Times, and Senses of Cinema. Named one of Filmmaker Magazine's 2014 "25 New Faces to Watch" and one of the Yerba Buena Center for the Arts' YBCA 100 in 2015, she is an associate professor of animation at Dartmouth College. She is a 2017/18 Film Study Center Fellow and Roberta and David Logie Fellow at the Radcliffe Institute for Advanced Study at Harvard University.
LOMAA wishes to thank the London Arts Council's Community Arts Investment Program for their continued financial support. Additional thanks to London Fringe, Canyon Cinema & McIntosh Gallery in co-organizing this event. The screening venue is partially accessible.

Dusty Stacks of Mom: The Poster Project + other colourful creations by Jodie Mack is organized by the London Ontario Media Arts Association in partnership with McIntosh Gallery. For more information, contact Abby Vincent, Communications and Outreach Coordinator, McIntosh Gallery, avince5@uwo.ca, 519.661.2111 ext. 87576.
---

McIntosh Gallery returns to the Metro Toronto Convention Centre for this year's 3/edition Toronto International Art Book Fair, running October 26 – 28, 2018. A selection of McIntosh publications featuring artists Ed Pien, Kelly Wood, Jason McLean, Parker Branch, James Kirkpatrick,Jay Isaac, Luis Jacob, Olia Mischenko, Camal Pirbhai and Camille Turner, and Dan Young and Christian Giroux; and writers Catherine de Zegher, Angela Kingston, Clint Burnham, Max Haiven, Kirsty Robertson, David Liss, Sarah Milroy, Christine Walde, E.C. Woodley, Jen Hutton, Matthew Purvis, Rhiannon Vogl, Anna Hudson, Ben Portis, Brian Lambert, Mike Neiderman, James Patten and Adam Lauder will be available for sale. Up to 50% off the price of select titles.
Events:
Futurisms Book launch and Signing with Curator, Adam Lauder
Saturday, October 27: 12 PM
Curated by Adam Lauder, Futurisms sets out to both recover and challenge the avant-garde's potential to engage and transform the social. Luis Jacob, Jay Isaac, Olia Mishchenko, Turner & Pirbhai, and Young & Giroux rewrite familiar histories of the future by offering critical perspectives on the recent and distant past while weaving futural fictions. The exhibition revisited the mixed legacies of historical futurist movements as a framework for situating metamodernist inquiry within Canada's highly conflicted histories of technonationalism, colonialism, and slavery. The catalogue plots these concerns within a trajectory emanating from the visionary speculations of the London, Ontario-based radical psychiatrist R.M. Bucke.

WHISPAIR
Faith Patrick
Co-presented with Forest City Gallery
Friday October 26 - Sunday, October 28, 2018
Based on the childhood game of Broken Telephone, artist Faith Patrick will create an experimental text founded on chance, Fluxus poetry, and collaborative error. Over the course of the fair, a participant will write down what they hear whispered from the artist, only to relay that back to the artist, and so on. Involving many fairgoers, this interactive performance involves the enjoyment of play and relies on curious mistakes in translation. The spelling of the title of this interactive performance work is taken from a poem by Maxwell Lucas.
---
Guided Tour with Malcolm Pate and Gallery Director James Patten
"620 to 550"
&
"Steve's Farm, Steveston"
Saturday, September 29 from 1-2 p.m.
---
Opening Reception for:
"620 to 550"
&
"Steve's Farm, Steveston"
Thursday, September 20 from 5-8 p.m.

---
Closing Reception for:
"skim"
&
"Next to a River - Embroidery as Map and Shelter"
Friday, September 7 from 5-7 p.m.
---
We are Womyn with a Path Leading into the Future
Presented by +Positive Voice at Nokee Kwe
London Public Library, Central Branch Third Floor
251 Dundas Street London, Ontario
Exhibition Celebration: Saturday, July 14 from 1-4pm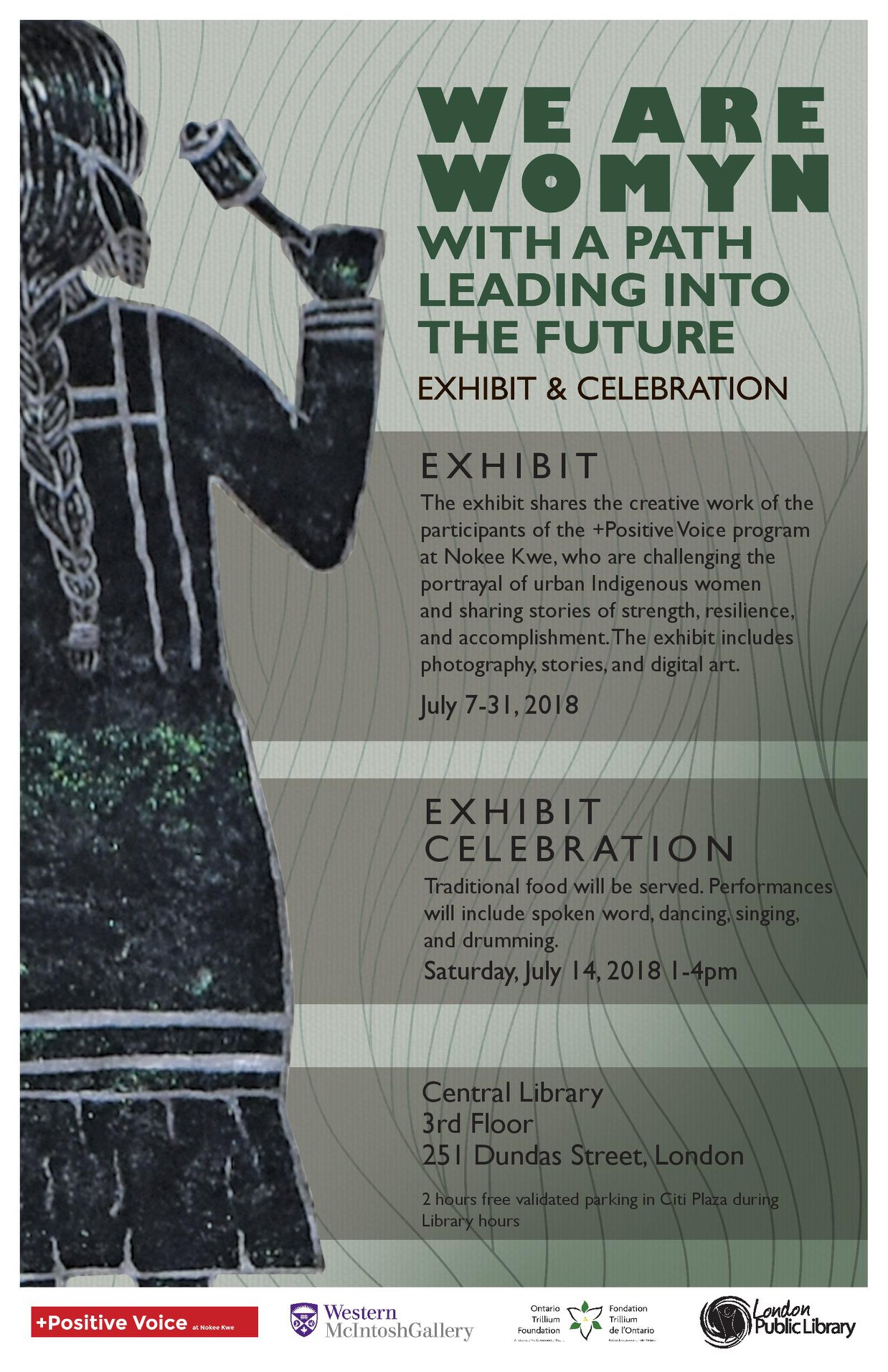 McIntosh Gallery is thrilled to partner with +Positive Voice at Nokee Kwe to present their exhibition, We Are Womyn with a Path Leading into the Future. This exhibition features the creative work of the participants of the +Positive Voice program at Nokee Kwe, who are challenging the portrayal of urban Indigenous women and sharing stories of strength, resilience, and accomplishment. The exhibit includes photography, stories, and digital art.
A celebration will be held on Saturday, July 14 from 1-4pm, where traditional food will be served, and performances will include spoken word, dancing, singing, and drumming.
Facebook Event link: https://www.facebook.com/events/319574711906784/
---
Opening Reception for:
Condensation (A Cove Story)
Thursday, July 5, 7PM
@ Satellite Project Space
---
Film Screening of Works by Alexandra Gelis
Friday, February 2 7:30 - 9:30 PM
London Fringe Festival Theatre
207 King Street, London
Collaboration with LOMAA (London Ontario Media Arts Association)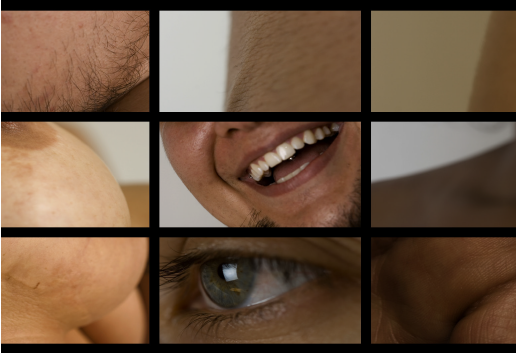 Image: Alexandra Gelis, Borders/ Bordes (still from video), 2010. Courtesy the artist 
LOMAA is excited to welcome Toronto-based filmmaker Alexandra Gelis to London to present a screening of her recent works. This event is presented in partnership with McIntosh Gallery. The artist will be in attendance to introduce the works and answer questions, following the program.
Facebook Event Link: https://www.facebook.com/events/762582620603231/
LOMAA: https://lomaa.ca/event/works-by-alexandra-gelis 

Program details:

English for Beginners 2:32 minutes 2009 video
The beginning, the first border crossing, the first video made after the artist's move to Canada. Language, country, identity. It is composed in three frames, an echo of the Canadian flag. The speaking face is also divided, cut in half by the landscape that pours into the new wound of identity. (Mike Hoolboom)

Rhizomatic Directed Simulation 6 minutes 2014 16mm
The movie opens with a quote from Borges: "The best imitation consists of the original's destruction and the creation of a self referential text." While a galaxy of Super 8 luxuries erupt, the film hand processed, the emulsion cracked in order to reveal its silver secrets, a silhouetted camera operator attempts to contain the experience, even as he is subjected to the same chemical disintegrations. (Mike Hoolboom)

Rayado en Queer 1:43 minutes 2014 video
A remix of the previous movie (a famous American Super 8 movie from the 70s, scratched up by the artist), this time narrating the body. Fleeting texts conjure a space between genders that creates poetry out of theory: " …the materialization of the political … increasing the level of testosterone… different than a cis-female." The quotes are drawn from Paul Preciado's devastating theory confessional Testo Junkie: Sex, Drugs and Biopolitics in the Pharmacopornographic Era. (Mike Hoolboom)

Bridge of the Americas 2:30 minutes 2015 video
Part of an ongoing series of works made in Panama. Live animations re-animate this international bridge and border. The persistent background of life in the Panama Canal Zone are these passing ships crammed with waving travellers, the most temporary of citizens, their eyes like rain. (Mike Hoolboom)

Casiteros
1 min, 2011
The body as an immanent part of the landscape. About tenderness and innocence. Two Channel Video Installation. Casiteros is an observational video introducing Pachito and his kitten. They both live in a disadvantaged neighborhood called El Bosque (The Woods) in Cartagena, Colombia. In Pachitos house, there are approximately 150 roosters bred for cockfighting that sing in unison each morning. The work deals with tenderness, vulnerability, and innocence and hidden traumas. 

Conchitas/ Conchs (with Jorge Lozano) 5:50 minutes 2010 video
Double screen movie about composition, memory and drowning. Like so many of this artist's movies, these pictures are gathered as part of her living, collected with her reliable camera accompaniment. Alexandra becomes the beach sand while Jorge dissolves the picture into a gummy bear colour screen, as we hear memories of drowning on the soundtrack, the casual terror lurking in the light of the everyday. (Mike Hoolboom)

Estera (Mat)
Dual screen super 8mm, 3:43 m 
As part of my investigation on the use of weeds for medicinal purposes I asked Alejandro a traditional mat maker in San Basilio de Palenque (Colombia) to make one using weeds. These plants are commonly used to shield children from wicked witches - the Mohana's kidnappings, bad eye and other forms of evil spirits. The film registers the making of the mat and the activities going on around its making.

San Rafael 4:20 minutes 2010 video
Made in a single shot from a chance laundromat encounter. The black eye of desire. Rafael offers a reaction shot to his street cruising efforts, and the unwanted fight that ensued. In his extravagant speaking he names himself as an archangel, his chest open so that the wings of his words can lift every ordinary encounter into a queer sublime. (Mike Hoolboom)

Borders/ Bordes 3 minutes 2010 video
A masterpiece of multi-screen bodily decomposition, Borders offers a nine-screen collective portrait, made entirely out of photographs. Inviting six of her queer feminist housemates who identified as women for a suite of portrait sessions, the artist pictures the borders of skin, and by recombining them into a grid creates an always shifting composite body that floats between genders. The soundtrack is created out of the spaces between words, the beginnings of sentences, the pauses and hesitations, where the unconscious lives. (Mike Hoolboom)

Walking in circles
3:54. Super 8 mm film. 5.1 Surround sound. 2015
Experimental documentary based on the circles at York University Strike 2015.

One Dollar Click 2 minutes 2009 video
The artist makes an approach to the indigenous triumph of the Kuna on the San Blas Islands, a string of 365 islands that run between Colombia and Panama. Nearly every frame has come from a still camera, as we are led across sand and water into village life. The artist appears as an animated apparition, portraits, posters and landscapes float through her. The feeling of the land, the roots of collective experience and identity. A passing banner announces: "People who lose their tradition, lose their place." (Mike Hoolboom)

How to make a beach (for a perfect suntan) (with Jorge Lozano)
4min, 2017, video
It is an intervention that deals with the disorientation of feeling lost at odds with
one's immediate transformation of the environment. And the orientation, or being pointed toward a distant and disruptive possibility.

La Casa de Olga/The House of Olga 6:18 minutes 2010 video
In the most direct frames possible the movie brings us into an intimate encounter with Olga, elegant and proud, thoughtfully articulate. How happy she is that Alexandra has come at last to see her house, which she shows off with all the grace of an estate holder. She points to the rock which was her bed for many years, and which cured her of every physical ailment. Her home used to be part of the old monastery in Panama City called Ruins of the Society of Jesus, but the walls and ceilings were blown away, she lives now in the former interior, exposed to every element, taking shelter occasionally beneath her yellow umbrella, her scant belongings placed in the cracks of a wall. (Mike Hoolboom)

The island
super 8mm film hand processed, 5 min, 2018


Alexandra Gelis is a Colombian-Venezuelan artist living and working in Toronto, Ontario. Her studio practice combines new media, installation, and photography with custom built interactive electronics. Her projects incorporate personal field research as a tool to investigate the ecologies of various landscapes through examining the traces left by various socio-political interventions. She uses data capture techniques, video, sound, and spatial and electronic media to create documentary based immersive installations; single-channel videos, and experimental photography. She has exhibited internationally in North and South America as well as Ethiopia in Africa.

Alexandra Gelis has been the recipient of numerous prizes and awards, including the prestigious Canada Council for the Arts, Ontario Arts Council, Toronto Arts Council, Colombian MInister of Culture. Her research has been supported by the Canada Council for the Arts, the ministry of Culture of Colombia. She also won the Colciencias Doctoral Fellowship Program for her PhD research "Environmental History and Aesthetics of Invasive Plants in Equinoctial America: An Arts-Based Inquiry" .


A university-based, public art gallery since 1942, McIntosh Gallery collaborates with artists, curators and academics to develop innovative strategies to interpret and disseminate visual culture. Exhibitions, educational programs and special events provide a platform for engagement with visual art and artists. 

http://mcintoshgallery.ca/

LOMAA is an emerging, enthusiastic and devoted non-profit artist-run collective that fosters collaboration, investigation and innovation by tapping into the talent and serving the needs of media artists in the London region. 

www.lomaa.ca

LOMAA would like to thank London Arts Council for their support of this program, as well as Ontario Arts Council and Canada Council for the Arts for this continued backing.
---
Opening Reception for:
"If You've Got It, Flaunt It"
&
"Michael Bidner: Raw"
Thursday January 25, 7pm
---
Art Now! Speaker Series 
with Deirdre Logue 
& 
Allyson Mitchell
Thursday January 25, 7 PM
NCB 113
---
---
---
Art Installation & Music Premiere
for Canada 150 and Western International Week
November 15, 12:30-2PM
International and Graduate Affairs Building Atrium
As part of Canada 150 and International Week celebrations, Western will unveil an original work of art and premiere five six-minute works written by Don Wright Faculty of Music PhD student composers.
The unique work of art by Western Visual Arts student, Paul Chartrand, is the result of a campuswide competition held earlier in 2017.
The original music compositions were commissioned by the School of Graduate and Postdoctoral Studies. Featured performer: Anita Krause, mezzo-soprano.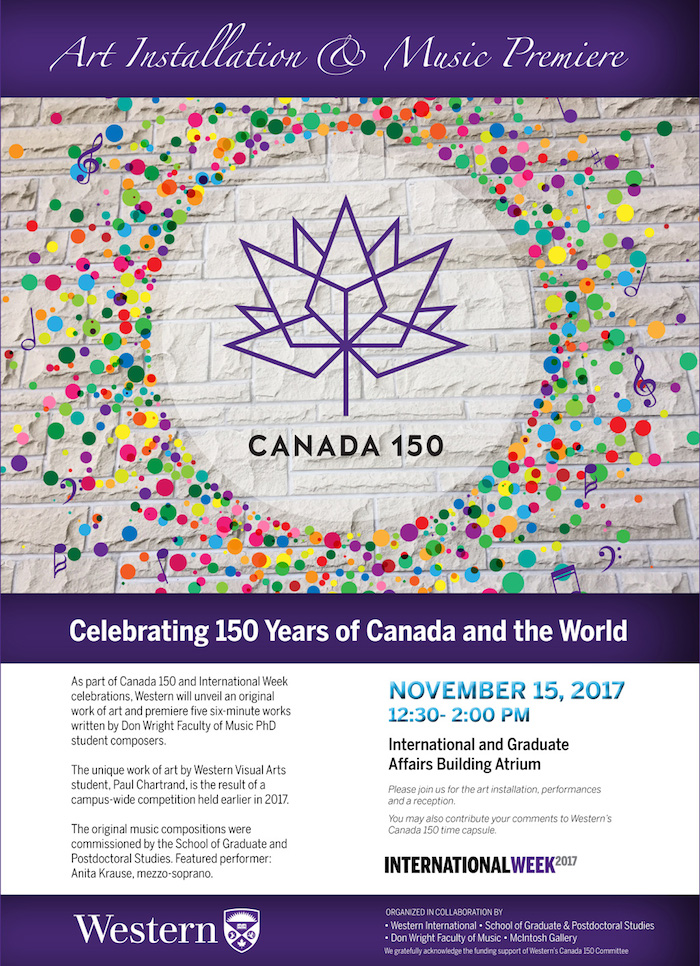 ---
As our 75th anniversary comes to a close, we are pleased to launch this richly illustrated, 300-page hard cover publication based on the exhibitions presented earlier this year. Featuring essays and articles by some of Canada's most distinguished historians and scholars, this new resource provides Londoners and other Canadians with insights into the pervasive influence, unprecedented change, and upheaval of Canadian home life during both world wars including little known stories and contributions of diverse communities:
• First Nations involvement
• Women in the workforce
• Japanese internment camps
• German Prisoner of War camps
• Canadian Jewish women during the Second World War
• First World War postcards between the home front and the battlefield
• Artists' depictions of the home front
• War production and consumer culture
 In addition, there are special highlights on the wartime contributions of Western University including the development of radar, the special chemistry course designed to train the female lab technicians who developed synthetic rubber, and the legacy of two field hospitals staffed by our medical faculty and students. And there are many stories brought to life through rare artefacts: flying ace Eddie McKay, Canadian Army Chaplain Fr. Walter Brown who landed at Normandy, even the address by General Sir Arthur Currie when he dedicated the Middlesex County tower of University College in 1924.
Please join us anytime between 1 and 3:30 PM to meet the authors and have your copies signed.
Many of the authors (Dr. Laura Brandon, Dr. Graham Broad, Dr. Susan Butlin, Olivia Chlebicki, The Rt. Rev. William G. Cliff, Catherine Elliot Shaw, Dr. Helen Gregory, Evan Habkirk, Dr. Andrew Iarocci, Dr. Amber Lloydlangston, Alan Noon, Michael O'Hagan, James Patten, Nancy Geddes Poole, Dr. Aldona Sendzikas, Jennifer Shaw Lander, Dr. Jonathan F. Vance) will be in attendance. After the launch, the book will be available at Brown & Dickson Booksellers https://www.brownanddickson.com/
McIntosh Gallery thanks the Western Canada 150 Committee for its generous support of this project. For more information, higher resolution images, or to receive a complimentary review copy, please contact Mitra Shreeram, Communications and Outreach Coordinator, mshreera@uwo.ca, 519 661-2111 ext. 87576 McIntoshGallery.ca
Facebook / Twitter / Instagram: @McIntoshGallery
---
May Gallery Tours
for "In the Beginning, 1942" and "Behind the Lines"
Monday May 15 @ 5PM &
Wednesday May 17 @ 2PM
Please join us for a free guided tour led by curator Catherine Elliot Shaw. The tour will last approximately 30 minutes. Bring a friend, all are welcome! Unfortunately, the gallery is not wheelchair accessible. Contact Mitra at mshreera@uwo.ca with any questions. Sign up here: http://bit.ly/2pUIOjv 
---
/edition Toronto International Art Book Fair
October 27 to 30, 2017
Metro Toronto Convention Centre
---
Clothing Repairathon 
with Filthy Rebena
Thursday October 26, 1-5 PM
---
Curator-led Tour of FUTURISMS
with Adam Lauder
Saturday September 30, 12 PM
---
Warrior Womyn: Honouring the Journey
September 2, 1-4 PM at Central Branch of London Public Library
Exhibition opening and performances by Positive Drum Group
and Tunchai Redvers from the "We Matter Campaign"
---
MEDIATIONS II: Jamelie Hassan and Rehab Nazzal on Art and Activism
July 27, 7-9 PM at McIntosh Gallery
Artist talk presented in partnership with LOMAA
---
---
---
Curator led tour of "Cold Front" with Kelsey Perreault and 




"Shelley Niro: Battlefields of my Ancestors" with James Patten




Friday, January 27, 12:30 PM




McIntosh Gallery
---
"Battlefields: Physical and Political Struggles of the Haudenosaunee"
Lecture by Evan J. Habkirk 


January 19, 12:30PM


McIntosh Gallery

Battlefields are more than historic places of war and sacrifice. For Haudenosaunee, they denote a larger political struggle to be recognized by non-Native governments as equal partners within their own lands. From the destruction of their homelands during the Clinton and Sullivan Campaign of the American Revolution to the great battles of the First World War, members of the Haudenosaunee Confederacy have put their lives on the line to protect their lands and communities. This struggle, however did not end with the signing of peace treaties, but continues today. Taking their lead from veterans and political leaders, like Chief Deskaheh and Frederick Loft, the Haudenosaunee continue their fight for recognition through protest and political engagement, bringing the battlefield to the home front.
---
Parker Branch, a project by artists Anna Madelska and Jason Hallows, looks at the meaning-producing property of things through an ongoing dialogue between works of art and found objects. Parker Branch: Has things in Common documents and reflects upon over thirty exhibitions organized by Madelska and Hallows in collaboration with other artists and contributors, which were presented in their small storefront space on Stanley Street in London, Ontario, between 2007 and 2014.  The book will be launched 6PM on Friday January 13 at YYZ Gallery in Toronto coinciding with their exhibition at the gallery.  The book includes a complete chronology of Parker Branch exhibitions and essays by Jen Hutton and E.C. Woodley.  This illustrated, 102-page volume was designed by Danielle St. Amour and published by the McIntosh Gallery Curatorial Study Centre (MGCSC) at Western University.
Soft cover. First edition, 2014. ISBN: 9780771430848. $20.
---
Joe Roberts will speak at Western University's McIntosh Gallery as he stops in London on his cross country tour, 
The Push for Change
, to end youth homelessness in Canada. Roberts is pushing a shopping cart across Canada to raise awareness of youth homelessness. His talk coincides with McIntosh's exhibition, 
The Vancouver Carts: Photographs by Kelly Wood
. The show documents the urban phenomenon of repurposed shopping carts used by people experiencing homelessness. Roberts's homelessness in Vancouver when he was young is the impetus for 
Push for Change
. As McIntosh director 

James

 

Patten

 puts it "The talk and exhibit provide an opportunity to reflect on the critical issue of youth homelessness in Canada. The shopping cart, as a symbol of want in a society of plenty, is particularly meaningful during the holiday season." 
The Vancouver Carts: Photographs by Kelly Wood
 continues at McIntosh until December 10th. 
For more information, contact Mitra Shreeram, Communications and Outreach Coordinator, at 
mshreera@uwo.ca
 or at 519 661 3181.
Art Now! Speakers' Series: Kelly Wood
Thursday, November 24 7:00 PM - 8:30 PM
North Campus Building (NCB) Room 113
Kelly Wood is an Associate Professor in the Dept. of Visual Arts at Western. She is a photographer and practicing artist whose research focuses on subjects that relate to the environmental impact of waste accumulation, waste economies, and all forms of visible and invisible pollution. As an art practitioner and educator, she has a commitment to analogue and digital photography and contemporary art and art theory. Presented in collaboration with the McIntosh Gallery.
The Fall 2016 Art Now Speakers' Series is organized and curated by Professor Susan Edelstein as a component of ongoing academic offerings in the Department of Visual Arts at Western University. The Series is generously supported by The Faculty of Arts and Humanities. Click here to find out about upcoming Visual Arts events.
---
Lecture: Seeing Through The Skiascope with Steven Lubar
Tuesday October 18 at 5:30 PM
John Labatts Visual Arts Centre - Room 100
Panel Discussion: Public Dialogue 'Engaging Our Communities: Museums, Galleries, and the Humanities'
Wednesday October 19 at 5:30 PM
McIntosh Gallery
Steven Lubar is a professor in the departments of American Studies, History, and the History of Art and Architecture at Brown University as well as a current Guggenheim Fellow. His lecture on October 18 is presented by the Public Humanities at Western and will be followed by a reception at McIntosh Gallery immediately after. The following day, McIntosh Gallery will host the panel discussion Public Dialogue 'Engaging Our Communities: Museums, Galleries, and the Humanities' featuring Steven Lubar, Michelle Hamilton, Brian Meehan, and Patrick Mahon. The discussion starts at 5:30PM and will food provided during the intermission. Please see the Facebook page for more details.
/edition Toronto: International Art Book Fair
October 28-31 at the Metro Toronto Convention Centre
McIntosh Gallery will be sharing a booth with Brown and Dickson at Edition Toronto, the first annual Toronto international book fair, where we will be launching 3 new publications by Ed Pien, Kelly Wood, and James Kirkpatrick. Present for book signing on Saturday, October 29 will be: Ed Pien at 1PM, James Patten (author of Kelly Wood's book) at 3PM, and James Kirkpatrick at 5PM.  Brown and Dickson will also be carrying our entire back catalogue for sale.  This event coincides with Art Toronto. 
---
Past Programs and Events 
Open Studios and Graduate Conference
Friday March 11, 2016
Western University Arts & Humanities and the Department of Visual Arts invite you to attend the 2016 BFA/MFA/PhD Open Studios and Graduate Symposium.
Last year's Open Studios was a HUGE success, and this year we want to make it even better. To do so we've planned to show a ton of great art by a ton of talented artists in the BFA Practicum, MFA, and Studio PhD programs! This year's Open Studios (1-8pm) will run in conjunction with the 2016 Visual Arts Graduate Symposium, Upset & Disarray: Re-Presenting the Museum (10am-5pm).
Mindful of the stakes at play in the museum's role as cultural conduit, Upset and Disarrayinvestigates diverse and challenging strategies that promote innovation rather than stagnation, fluidity rather than austerity. This symposium collects timely graduate presentations that address a range of topics, reconfiguring relations between the institutional, the curatorial, and the cultural.
Our professional panel is comprised of Lisa Daniels (Curator and Director of the Judith & Norman Alix Art Gallery), Sophie Quick (PhD candidate at Western University, Board Member at Forest City Gallery, founding member of Good Sport), and artist and writer Josh Thorpe (Dan Graham Pavilions: A Guide; A dog at sea; The Unexpected). Our professional panel will be from 2:00-3:45, followed by our keynote at 4:00. Curator and writer Srimoyee Mitra is the keynote speaker for the Art History Graduate Symposium. She is currently the Curator of Contemporary Art, Art Gallery of Windsor. Her most recent exhibition is Wafaa Bilal: 168: 01 on view at the AGW until April 10, 2016 in Windsor, Ontario. She has worked as the Art Writer for publications in India such as Time Out Mumbai and Art India Magazine. From 2008-2011 she was the Programming Co-ordinator of SAVAC (South Asian Visual Arts Centre) in Toronto. In 2015, she edited a multi-authored book, Border Cultures, co-published by the Art Gallery of Windsor and Black Dog Publishing.
Kangaroo Variety
Live interview with Kim Moodie by James Patten
March 26 at 6:30PM
Brown and Dickson, 211 King Street, London, Ontario
Kangaroo Variety is a live monthy magazine hosted by Brown & Dickson Booksellers and UnLondon/121 Studios in the old Novack's building (211 King Street). Just like a print magazine, KV offers interviews, features, reviews, investigative reports, satire and editorial pieces. The only difference is, it's completely live!
This month features an interview with artist Kim Moodie by James Patten of the McIntosh Gallery; a discussion of racism in the LGBTQ community with Ryan Flex; another great film review by Chris Hachey; food from the Boombox Bakeshop featuring local artists Megan Arnold and Joel Thibert; a live advice column by sexologist Dr. Carlen; and DJ stylings by Harina Mokanan, Queen of the Empyrean.
For those who love Hachey's reviews, please know that he will also be viewing movies live in the front window display of 211 King Street from 4 pm on Friday, March 25 until his live review on Saturday night. His viewing will be live streamed, and we will post the link as soon as it is available.
Doors Open at 6:30. Event begins at 7:00 pm. Cash bar.
Tickets available in advance or at the door.
Symposium Launch Party
Presented by the Arts and Humanities Student Council
March 31 at 7PM
Join the Arts and Humanities Students' Council and McIntosh Gallery in celebrating the launch of two great, student-run publications with food, drinks, and performances. Publications are free. If you are interested in reading a work of poetry, prose, or spoken word, or performing music at the event please email Sarah Botelho at sbotelh@uwo.ca to sign up
Karin Jones: Worn
Presented in collaboration with the Department of Visual Arts
Karin Jones is a Vancouver-based artist with a background in jewellery and metalsmithing. While in the Master of Fine Arts program at NSCAD University in Halifax in 2012/2013, she began exploring hair as a craft medium, a marker of race and culture, and an expression of feminine identity. Halfway through her MFA, she was hired as an instructor at Vancouver Community College's Jewellery Art and Design program, where she now teaches part-time, and will return to Halifax to complete her degree in 2017. Her work has been exhibited internationally, most recently at the Royal Ontario Museum, and the National Ornamental Metal Museum in Memphis, Tennessee. Presented in collaboration with the McIntosh Gallery. See Karin's Exhibition on view, January 21st to March 12th, 2016.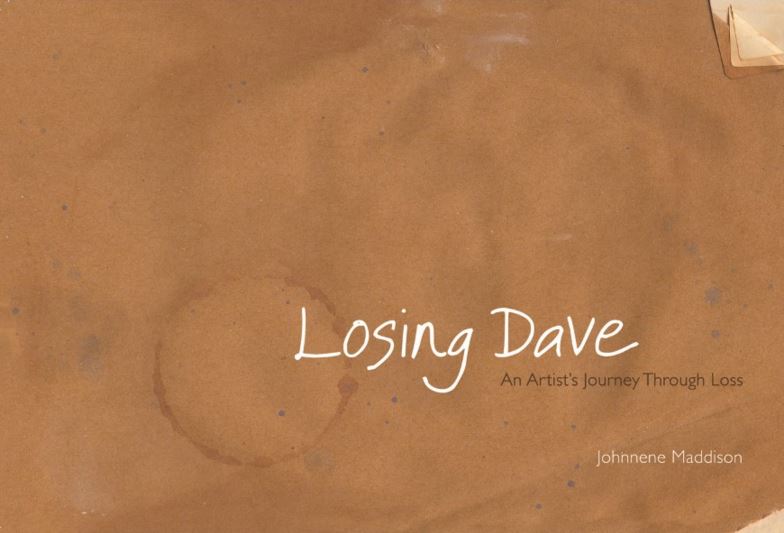 Johnnene Maddison,
Losing Dave: An Artist's Journey Through Loss
Sunday May 1, 2016
Johnnene's husband, David Falls, was McIntosh Gallery's registrar and installation officer for 27 years before he passed away from cancer in 2009. Essentially an illustrated journal, this book brings together Johnnene's remarkable works of art and her intimate writing about their seven-year personal journey through what is ultimately a universal story of love, resilience and loss.
Join us at McIntosh Gallery for the launch of this special book on Sunday May 1st at 2:00 P.M. Johnnene will be available to sign copies and refreshments will be served. In memory of Dave's outstanding contributions to the gallery, a memorial oak tree will be planted in the sculpture garden at 3:30 P.M. Everyone is welcome to attend. 
For more information, contact Lucas Cabral, Communications and Outreach Coordinator, at lcabral3@uwo.ca