2012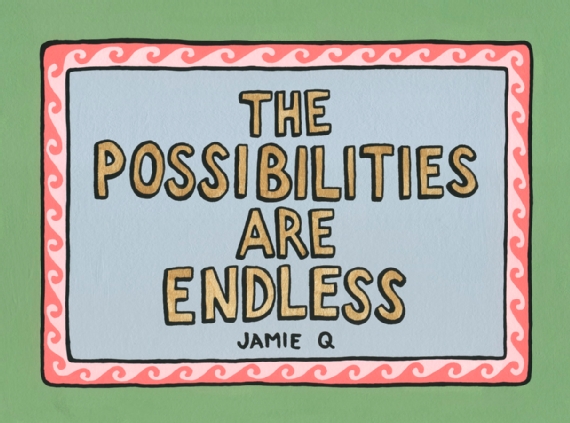 McIntosh Gallery Curatorial Study Centre presents:
The Possibilities are Endless
, a new artist's book by Jamie Q in October 2012.
Jamie Q created the art for this publication through an open-ended process. The results are not preconceived, nor are they end points; instead, they might be described as visual records of experiments, imaginings, and decisions. Focussing on the act of creating while not knowing where the process will lead, each image is like a map of the route that journey took. A language emerges with its own symbols and strategies, but there remains room for surprise. The possibilities are endless, and they are also unpredictable. As a sampling of those possibilities, this book points us outward: to the unknown, to the could-be, and to the yet-to-come.
Jamie Q has self-published zines and art books for the past ten years as part of a studio practice that also includes painting, drawing, printmaking, and sculpture. The artist is interested in the social potential of art objects and DIY distribution strategies, and in publication as "the creation of a public." Jamie Q holds a BFA from the Alberta College of Art & Design (2002) and an MFA from Western University (2010).
Published by the McIntosh Gallery Curatorial Study Centre in October, 2012. Edition: 500. 32 pages, full colour with gold spot, singer sewn binding, 16.5 x 22 cm. The Possibilities are Endless is available online at http://jamieq.net
Meet the artist at one of the book events happening this fall:

Toronto, October 21:
Canzine, 918 Bathurst Street, 1:00 to 7:00 P.M.
London, October 26:
Forest City Gallery, 258 Richmond Street, at 7:00 P.M. in conjunction with the opening of Graphic Underground: London 1977-1990
Halifax, November 15:
launch and exhibition reception, Parentheses Gallery, 2180 Gottingen Street, at 7:00 P.M. Jamie Q's exhibition at Parentheses Gallery is made possible through the support of the OAC Exhibition Assistance Program
Montreal, November 17 and 18:
Expozine, 5035 rue St-Dominique, 12:00 to 6:00 P.M.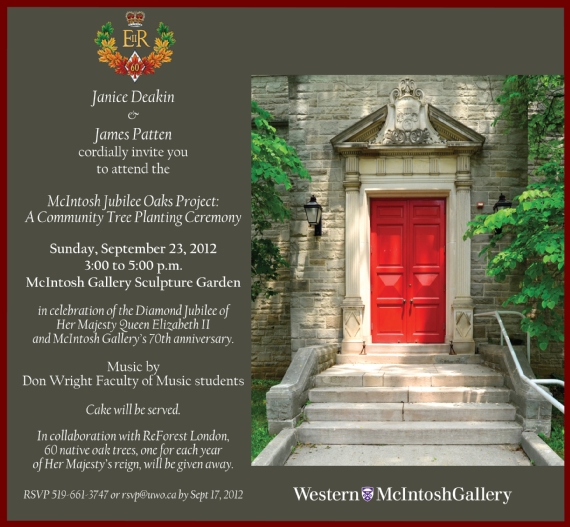 Queens Jubilee Tree Planting Ceremony
Sunday, September 23 at 3:00 P.M.
McIntosh Sculpture Garden
In celebration of the Diamond Jubilee of Her Majesty Queen Elizabeth II and McIntosh Gallery's seventieth anniversary, the public is invited to attend a tree planting ceremony in our new sculpture garden situated at the centre of Western University's park-like campus. Don Wright Faculty of Music students will perform and cake will be served.
In addition to planting a large oak on site, McIntosh Gallery, in collaboration with Reforest London, will give 60 small native burr oak trees, one for each year of Her Majesty's reign, to those attending the event to plant throughout London, the Forest City. Participants in the McIntosh Jubilee Oaks Project will be asked to register the location of their newly planted oak on The Million Tree Challenge website, along with photographs and comments. The site will track the ultimate location of all the McIntosh Jubilee Oaks as a virtual forest. This community-based, green activity will commemorate the Jubilee and contribute to the natural environment of London for generations.
Western University has a long tradition of honouring Royal occasions with tree plantings: the Coronation Coppice along Middlesex Drive was planted in 1937 to celebrate the coronation of George VI and Queen Elizabeth. It remains an area of natural beauty on campus to this day.
We acknowledge the financial support of the Government of Canada through the Department of Canadian Heritage through the 2012 Diamond Jubilee Community Celebrations Program. Nous reconnaissons l'appui financier du gouvernement du Canada par l'entremise du Fonds du Canada pour les périodiques (FCP) pour nos activités d'édition.
For more information, contact James Patten at jpatten2@uwo.ca or (519) 661-2111 ext. 84602.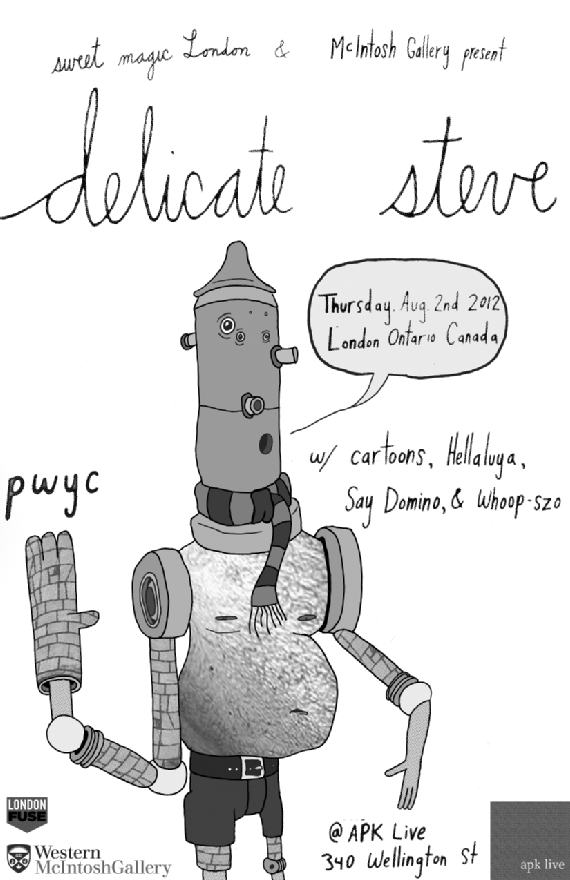 Delicate Steve
Thursday August 2, 7 P.M.
APK Live - 340 Wellington Street 
Admission by donation
Sweet Magic London and McIntosh Gallery present Delicate Steve, at APK Live Craft Thursdays.  Also featured are Say Domino, Cartoons, Whoop-Szo and Hellaluya. 
Brooklyn-based Delicate Steve has been described as a hybrid of Animal Collective's dense experiments and the African-influenced pop of bands like Dirty Projectors and Vampire Weekend.  Chuck Klosterman described the band as the "manifestation of artistic truth ... a truer kind of truth ... the only kind of truth that cannot lie".   
Craft Thursday at APK Live is a weekly event that celebrates locally brewed craft beers while showcasing a diverse selection of musical samplings.  
Sweet Magic London is is a music, art, and film micro-festival.  More like an art project than a festival, Sweet Magic London's aim is to make the city more interesting by collaborating and experimenting with its artists, organizers, and spaces.  In August, Sweet Magic London is exploring the city's creative past and present through a series of micro-events including bands, art installations, film screenings, pop-up galleries, exhibits, and retrospects.
This event is also presented by APK Live, LondonFUSE, Half a Dino, and Out of Sound Records.  For more information, visit Sweet Magic London's website at sweetmagiclondon.com.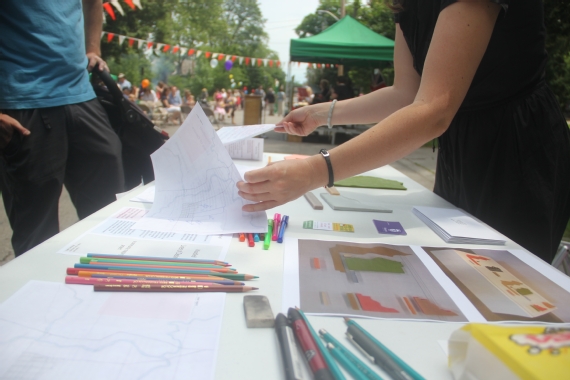 2012 Artist in the Community Kyla Brown explains her Woodfield: Lines of Desire project. Photo: Diana Yoo.
Presented as part of the McIntosh Gallery 2012 Artist in the Community project, artist and Western University graduate student Kyla Brown investigates mapping and spatial issues connected to constructions of home in the Lines of Desire community mapping project.  
Shapes generated from drawn routes throughout the city will be interpreted by Brown into an installation of cast wax relief sculptures, and an exhibition in July will include these wax pieces and drawings. This McIntosh Gallery project is an artistic practice to create a cumulative source of imagery for shapes generated by community interaction and created maps of uses of the city of London.
Brown is asking community members to respond to the base map by drawing travel routes within the city, leaving directions or marking important places to walk, bike or visit. From the drawings contributors provide, moulds will be created to cast coloured wax shapes that then form another kind of map from an accumulation of shared and intersecting routes and uses of the city.  Based on the information and imagery gathered at community events, Brown will create interpreted low relief object shapes with those of others to create a larger context of a community map.
For more information on this project, contact Kyla Brown at lines.of.desire.woodfield@gmail.com, or call the McIntosh Gallery at (519) 661-3181.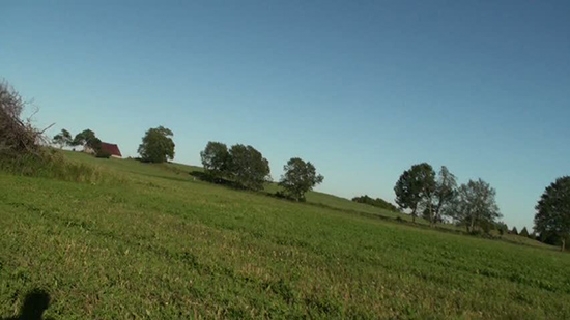 Deirdre Logue,
Path 2011
,HD video, duration: 6:10, Photo courtesy of the artist and Vtape.
7:00 P.M. April 3rd, room 84, University College, Western University
Free admission
No Place: Queer Geographies on Screen presents the work of 15 Canadian and international queer and transgender artists who examine ways in which queer notions of place, mapping, and geography are realized on screen. According to project curator Anthea Black, queerness is "simultaneously everywhere and nowhere", echoing the dual meaning of utopia as both an ideal and non-existent place.
The artists address the complex intersections of culture, orientation and geography as they are represented in current film and video. They deal with issues such as migration, displacement, queer assimilation, and spatial politics. In some instances, the medium and mechanics of film and video itself becomes the subject of the work. A queerly re-embodied camera may be understood, for example, as an "orientation device" documenting the artist's position in relation to physical space.
No Place: Queer Geographies on Screen includes work by: Sharlene Bamboat, Kajsa Dahlberg, James Diamond, Vanessa Dion-Fletcher, Ali El-Darsa, Richard Fung, Dara Gellman and Leslie Peters, Guillermo Gómez, Peña and Gustavo Vazquez, Noam Gonick, Deirdre Logue, Mikiki, A.L. Steiner and robbinschilds, and b.h. Yael.

Artist and cultural worker Anthea Black works collaboratively to insert intimate gestures into public spaces. Her recent exhibitions include: PopSex! Responses to the History of Sexual Science (Illingworth Kerr Gallery, Calgary), Gestures of Resistance (Museum of Contemporary Craft, Portland), and QIY: Queer It Yourself –Tools for Survival (National Queer Arts Festival, San Francisco).
Originally from Alberta, Anthea Black was director of Stride Gallery, Calgary and exhibitions manager at Art Gallery of Alberta, Edmonton. She is currently pursuing an MFA at Western University. For more information, contact James Patten at: jpatten2@uwo.ca or 519.661.2111 x84602<./p>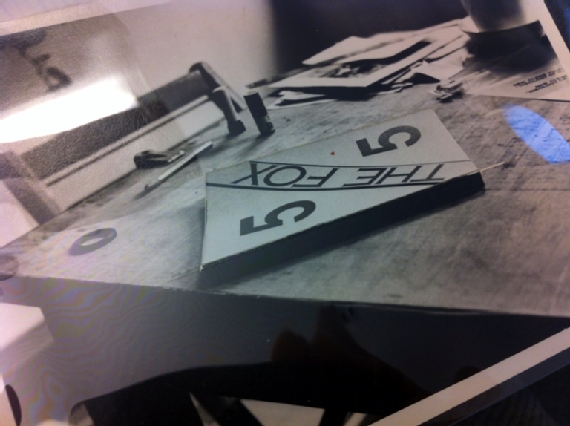 Kevin Rodgers,
The Fox Five
,2012. Photo ourtesy of the artist and Michael Corris.
Join us for this fascinating tour of Kevin Rodgers's Ph.D thesis exhibition, OUT OF ORDER, from the artist himself.  Kevin will be joined by special guest, Patrick Howlett, from Western's Department of Visual Arts.
Kevin Rodgers' exhibition OUT OF ORDER includes sculptures and drawings made from commercial signs, modified furniture and fragments of philosophical texts. With this new body of work, Rodgers explores the abstraction of politics and representation. While much of the exhibition indirectly refers to political and cultural events of the past 40 years, the artist questions conventional notions of chronological time. In this sense the exhibition can be seen as "untimely", where things are both no longer of the past and not yet of the future, and are thus "out of order".
This project is the culmination of the artist's doctoral research at Western's Department of Visual Arts.