Programs & Events
Art Installation & Music Premiere
for Canada 150 and Western International Week
November 15, 12:30-2PM
International and Graduate Affairs Building Atrium
As part of Canada 150 and International Week celebrations, Western will unveil an original work of art and premiere five six-minute works written by Don Wright Faculty of Music PhD student composers.
The unique work of art by Western Visual Arts student, Paul Chartrand, is the result of a campuswide competition held earlier in 2017.
The original music compositions were commissioned by the School of Graduate and Postdoctoral Studies. Featured performer: Anita Krause, mezzo-soprano.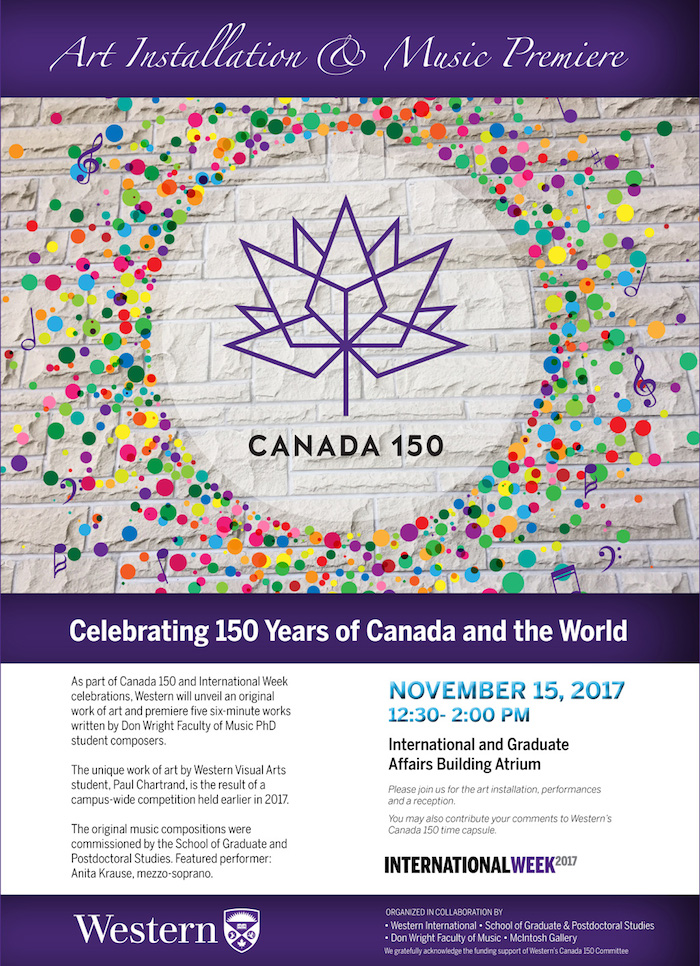 ---
As our 75th anniversary comes to a close, we are pleased to launch this richly illustrated, 300-page hard cover publication based on the exhibitions presented earlier this year. Featuring essays and articles by some of Canada's most distinguished historians and scholars, this new resource provides Londoners and other Canadians with insights into the pervasive influence, unprecedented change, and upheaval of Canadian home life during both world wars including little known stories and contributions of diverse communities:
• First Nations involvement
• Women in the workforce
• Japanese internment camps
• German Prisoner of War camps
• Canadian Jewish women during the Second World War
• First World War postcards between the home front and the battlefield
• Artists' depictions of the home front
• War production and consumer culture
 In addition, there are special highlights on the wartime contributions of Western University including the development of radar, the special chemistry course designed to train the female lab technicians who developed synthetic rubber, and the legacy of two field hospitals staffed by our medical faculty and students. And there are many stories brought to life through rare artefacts: flying ace Eddie McKay, Canadian Army Chaplain Fr. Walter Brown who landed at Normandy, even the address by General Sir Arthur Currie when he dedicated the Middlesex County tower of University College in 1924.
Please join us anytime between 1 and 3:30 PM to meet the authors and have your copies signed.
Many of the authors (Dr. Laura Brandon, Dr. Graham Broad, Dr. Susan Butlin, Olivia Chlebicki, The Rt. Rev. William G. Cliff, Catherine Elliot Shaw, Dr. Helen Gregory, Evan Habkirk, Dr. Andrew Iarocci, Dr. Amber Lloydlangston, Alan Noon, Michael O'Hagan, James Patten, Nancy Geddes Poole, Dr. Aldona Sendzikas, Jennifer Shaw Lander, Dr. Jonathan F. Vance) will be in attendance. After the launch, the book will be available at Brown & Dickson Booksellers https://www.brownanddickson.com/
McIntosh Gallery thanks the Western Canada 150 Committee for its generous support of this project. For more information, higher resolution images, or to receive a complimentary review copy, please contact Mitra Shreeram, Communications and Outreach Coordinator, mshreera@uwo.ca, 519 661-2111 ext. 87576 McIntoshGallery.ca
Facebook / Twitter / Instagram: @McIntoshGallery
---
May Gallery Tours
for "In the Beginning, 1942" and "Behind the Lines"
Monday May 15 @ 5PM &
Wednesday May 17 @ 2PM
Please join us for a free guided tour led by curator Catherine Elliot Shaw. The tour will last approximately 30 minutes. Bring a friend, all are welcome! Unfortunately, the gallery is not wheelchair accessible. Contact Mitra at mshreera@uwo.ca with any questions. Sign up here: http://bit.ly/2pUIOjv 
---
---
---
Curator led tour of "Cold Front" with Kelsey Perreault and 




"Shelley Niro: Battlefields of my Ancestors" with James Patten




Friday, January 27, 12:30 PM




McIntosh Gallery
---
"Battlefields: Physical and Political Struggles of the Haudenosaunee"
Lecture by Evan J. Habkirk 


January 19, 12:30PM


McIntosh Gallery

Battlefields are more than historic places of war and sacrifice. For Haudenosaunee, they denote a larger political struggle to be recognized by non-Native governments as equal partners within their own lands. From the destruction of their homelands during the Clinton and Sullivan Campaign of the American Revolution to the great battles of the First World War, members of the Haudenosaunee Confederacy have put their lives on the line to protect their lands and communities. This struggle, however did not end with the signing of peace treaties, but continues today. Taking their lead from veterans and political leaders, like Chief Deskaheh and Frederick Loft, the Haudenosaunee continue their fight for recognition through protest and political engagement, bringing the battlefield to the home front.
---
Parker Branch, a project by artists Anna Madelska and Jason Hallows, looks at the meaning-producing property of things through an ongoing dialogue between works of art and found objects. Parker Branch: Has things in Common documents and reflects upon over thirty exhibitions organized by Madelska and Hallows in collaboration with other artists and contributors, which were presented in their small storefront space on Stanley Street in London, Ontario, between 2007 and 2014.  The book will be launched 6PM on Friday January 13 at YYZ Gallery in Toronto coinciding with their exhibition at the gallery.  The book includes a complete chronology of Parker Branch exhibitions and essays by Jen Hutton and E.C. Woodley.  This illustrated, 102-page volume was designed by Danielle St. Amour and published by the McIntosh Gallery Curatorial Study Centre (MGCSC) at Western University.
Soft cover. First edition, 2014. ISBN: 9780771430848. $20.
---
Joe Roberts will speak at Western University's McIntosh Gallery as he stops in London on his cross country tour, 
The Push for Change
, to end youth homelessness in Canada. Roberts is pushing a shopping cart across Canada to raise awareness of youth homelessness. His talk coincides with McIntosh's exhibition, 
The Vancouver Carts: Photographs by Kelly Wood
. The show documents the urban phenomenon of repurposed shopping carts used by people experiencing homelessness. Roberts's homelessness in Vancouver when he was young is the impetus for 
Push for Change
. As McIntosh director 

James

 

Patten

 puts it "The talk and exhibit provide an opportunity to reflect on the critical issue of youth homelessness in Canada. The shopping cart, as a symbol of want in a society of plenty, is particularly meaningful during the holiday season." 
The Vancouver Carts: Photographs by Kelly Wood
 continues at McIntosh until December 10th. 
For more information, contact Mitra Shreeram, Communications and Outreach Coordinator, at 
mshreera@uwo.ca
 or at 519 661 3181.
Art Now! Speakers' Series: Kelly Wood
Thursday, November 24 7:00 PM - 8:30 PM
North Campus Building (NCB) Room 113
Kelly Wood is an Associate Professor in the Dept. of Visual Arts at Western. She is a photographer and practicing artist whose research focuses on subjects that relate to the environmental impact of waste accumulation, waste economies, and all forms of visible and invisible pollution. As an art practitioner and educator, she has a commitment to analogue and digital photography and contemporary art and art theory. Presented in collaboration with the McIntosh Gallery.
The Fall 2016 Art Now Speakers' Series is organized and curated by Professor Susan Edelstein as a component of ongoing academic offerings in the Department of Visual Arts at Western University. The Series is generously supported by The Faculty of Arts and Humanities. Click here to find out about upcoming Visual Arts events.
---
Lecture: Seeing Through The Skiascope with Steven Lubar
Tuesday October 18 at 5:30 PM
John Labatts Visual Arts Centre - Room 100
Panel Discussion: Public Dialogue 'Engaging Our Communities: Museums, Galleries, and the Humanities'
Wednesday October 19 at 5:30 PM
McIntosh Gallery
Steven Lubar is a professor in the departments of American Studies, History, and the History of Art and Architecture at Brown University as well as a current Guggenheim Fellow. His lecture on October 18 is presented by the Public Humanities at Western and will be followed by a reception at McIntosh Gallery immediately after. The following day, McIntosh Gallery will host the panel discussion Public Dialogue 'Engaging Our Communities: Museums, Galleries, and the Humanities' featuring Steven Lubar, Michelle Hamilton, Brian Meehan, and Patrick Mahon. The discussion starts at 5:30PM and will food provided during the intermission. Please see the Facebook page for more details.
/edition Toronto: International Art Book Fair
October 28-31 at the Metro Toronto Convention Centre
McIntosh Gallery will be sharing a booth with Brown and Dickson at Edition Toronto, the first annual Toronto international book fair, where we will be launching 3 new publications by Ed Pien, Kelly Wood, and James Kirkpatrick. Present for book signing on Saturday, October 29 will be: Ed Pien at 1PM, James Patten (author of Kelly Wood's book) at 3PM, and James Kirkpatrick at 5PM.  Brown and Dickson will also be carrying our entire back catalogue for sale.  This event coincides with Art Toronto. 
---
Past Programs and Events 
Open Studios and Graduate Conference
Friday March 11, 2016
Western University Arts & Humanities and the Department of Visual Arts invite you to attend the 2016 BFA/MFA/PhD Open Studios and Graduate Symposium.
Last year's Open Studios was a HUGE success, and this year we want to make it even better. To do so we've planned to show a ton of great art by a ton of talented artists in the BFA Practicum, MFA, and Studio PhD programs! This year's Open Studios (1-8pm) will run in conjunction with the 2016 Visual Arts Graduate Symposium, Upset & Disarray: Re-Presenting the Museum (10am-5pm).
Mindful of the stakes at play in the museum's role as cultural conduit, Upset and Disarrayinvestigates diverse and challenging strategies that promote innovation rather than stagnation, fluidity rather than austerity. This symposium collects timely graduate presentations that address a range of topics, reconfiguring relations between the institutional, the curatorial, and the cultural.
Our professional panel is comprised of Lisa Daniels (Curator and Director of the Judith & Norman Alix Art Gallery), Sophie Quick (PhD candidate at Western University, Board Member at Forest City Gallery, founding member of Good Sport), and artist and writer Josh Thorpe (Dan Graham Pavilions: A Guide; A dog at sea; The Unexpected). Our professional panel will be from 2:00-3:45, followed by our keynote at 4:00. Curator and writer Srimoyee Mitra is the keynote speaker for the Art History Graduate Symposium. She is currently the Curator of Contemporary Art, Art Gallery of Windsor. Her most recent exhibition is Wafaa Bilal: 168: 01 on view at the AGW until April 10, 2016 in Windsor, Ontario. She has worked as the Art Writer for publications in India such as Time Out Mumbai and Art India Magazine. From 2008-2011 she was the Programming Co-ordinator of SAVAC (South Asian Visual Arts Centre) in Toronto. In 2015, she edited a multi-authored book, Border Cultures, co-published by the Art Gallery of Windsor and Black Dog Publishing.
Kangaroo Variety
Live interview with Kim Moodie by James Patten
March 26 at 6:30PM
Brown and Dickson, 211 King Street, London, Ontario
Kangaroo Variety is a live monthy magazine hosted by Brown & Dickson Booksellers and UnLondon/121 Studios in the old Novack's building (211 King Street). Just like a print magazine, KV offers interviews, features, reviews, investigative reports, satire and editorial pieces. The only difference is, it's completely live!
This month features an interview with artist Kim Moodie by James Patten of the McIntosh Gallery; a discussion of racism in the LGBTQ community with Ryan Flex; another great film review by Chris Hachey; food from the Boombox Bakeshop featuring local artists Megan Arnold and Joel Thibert; a live advice column by sexologist Dr. Carlen; and DJ stylings by Harina Mokanan, Queen of the Empyrean.
For those who love Hachey's reviews, please know that he will also be viewing movies live in the front window display of 211 King Street from 4 pm on Friday, March 25 until his live review on Saturday night. His viewing will be live streamed, and we will post the link as soon as it is available.
Doors Open at 6:30. Event begins at 7:00 pm. Cash bar.
Tickets available in advance or at the door.
Symposium Launch Party
Presented by the Arts and Humanities Student Council
March 31 at 7PM
Join the Arts and Humanities Students' Council and McIntosh Gallery in celebrating the launch of two great, student-run publications with food, drinks, and performances. Publications are free. If you are interested in reading a work of poetry, prose, or spoken word, or performing music at the event please email Sarah Botelho at sbotelh@uwo.ca to sign up
Karin Jones: Worn
Presented in collaboration with the Department of Visual Arts
Karin Jones is a Vancouver-based artist with a background in jewellery and metalsmithing. While in the Master of Fine Arts program at NSCAD University in Halifax in 2012/2013, she began exploring hair as a craft medium, a marker of race and culture, and an expression of feminine identity. Halfway through her MFA, she was hired as an instructor at Vancouver Community College's Jewellery Art and Design program, where she now teaches part-time, and will return to Halifax to complete her degree in 2017. Her work has been exhibited internationally, most recently at the Royal Ontario Museum, and the National Ornamental Metal Museum in Memphis, Tennessee. Presented in collaboration with the McIntosh Gallery. See Karin's Exhibition on view, January 21st to March 12th, 2016.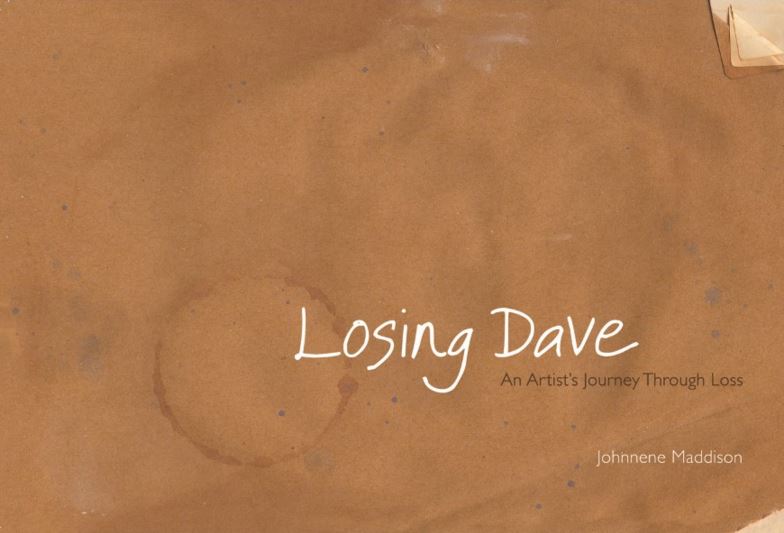 Johnnene Maddison,
Losing Dave: An Artist's Journey Through Loss
Sunday May 1, 2016
Johnnene's husband, David Falls, was McIntosh Gallery's registrar and installation officer for 27 years before he passed away from cancer in 2009. Essentially an illustrated journal, this book brings together Johnnene's remarkable works of art and her intimate writing about their seven-year personal journey through what is ultimately a universal story of love, resilience and loss.
Join us at McIntosh Gallery for the launch of this special book on Sunday May 1st at 2:00 P.M. Johnnene will be available to sign copies and refreshments will be served. In memory of Dave's outstanding contributions to the gallery, a memorial oak tree will be planted in the sculpture garden at 3:30 P.M. Everyone is welcome to attend. 
For more information, contact Lucas Cabral, Communications and Outreach Coordinator, at lcabral3@uwo.ca